Want to go directly to the banana buttermilk cake recipe? click here to skip to the recipe for this banana & cardamom buttermilk cake!
As an Amazon Associate I earn from qualifying purchases.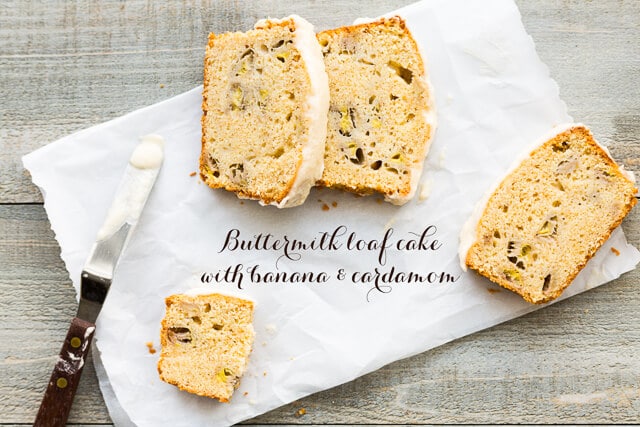 Not every recipe has to be complicated, and this one is quite simple. I wasn't going for banana bread when I worked on this. The internet has enough banana breads, and I honestly had something else in mind. I wanted a tangier cake, if that's possible, with chunks of banana.
I opted for a buttermilk cake base, with a little whole wheat pastry flour mixed in for good measure. I mixed the chopped banana into the batter just before baking to make sure this would be a buttermilk cake with banana and not a buttermilk banana bread. They are not the same thing. And because of my love of cardamom and my previous experience with this cardamom banana bread recipe, clearly cardamom and banana are magical when combined. So I added some freshly ground green cardamom for its floral notes. The recipe comes together like any other cake by the creaming method, and the glaze was a quick mix of icing sugar, melted butter, buttermilk, and a splash of vanilla.
Glazes are easy enough yet, I honestly find it quite difficult to get the texture just right. I lack practice. I'll get it right one day! Until then, this post is about the cake and not the glaze. Feel free to send me your glaze tips and tricks!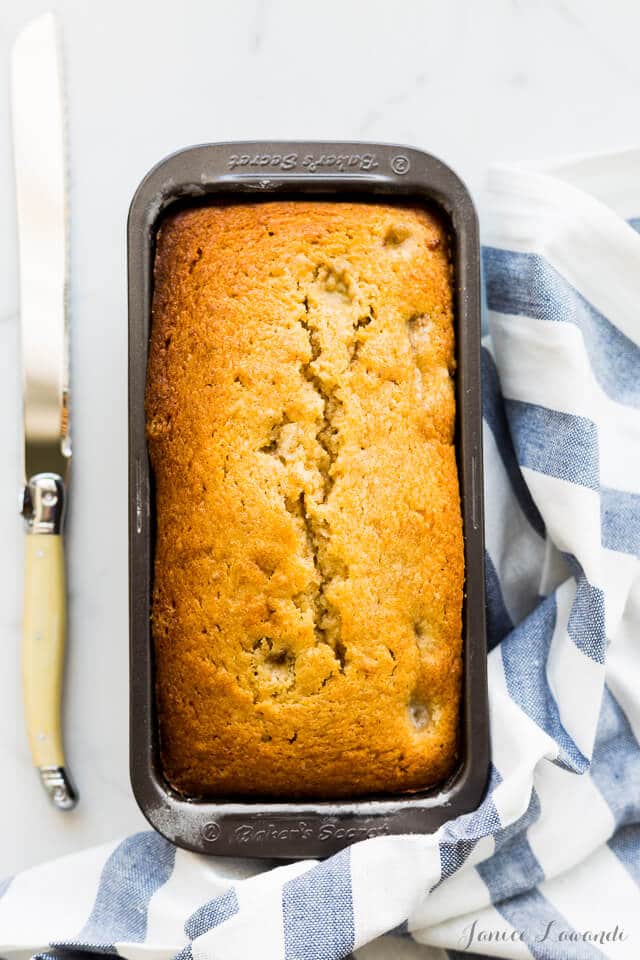 Disclosure: As an Amazon Associate, I earn from qualifying purchases.
The thing that surprised me about this cake is that I was certain that the banana chunks wouldn't discolour inside the cake as it baked. And there really was some thought behind that assumption. The first reason was that I peeled and chopped the banana right before working in the dry ingredients into the batter. I worked quickly to minimize the time the banana chunks were exposed to the air. The second reason that I thought the bananas would not brown is because I assumed the batter would be somewhat acidic (with a lower than neutral pH) because of the unbalanced buttermilk in the recipe. If you look at my list of ingredients (compared to most other buttermilk cake recipes), I didn't provide any sodium bicarbonate to balance out the acidity of the buttermilk. That was done on purpose. I didn't want any ingredients to mess with that acidity and I thought that given the unbalanced acid in this recipe, that acid would prevent (or slow) the browning process of the bananas enough that once the chunks eventually felt the heat of the oven, that those pesky browning enzymes (polyphenol oxidase) would denature and no longer cause browning. Does that make sense? Basically, I was banking on the combination of an acidic environment and the heat of the oven to prevent the browning of the fruit.
Apparently I was wrong. The banana chunks greyed a little around the edges. Conclusion: I really need to get a pH meter or even some pH paper to verify the pHs as I go. Or maybe I need to work more on my banana browning theory (or rather my banana greying theory in this case). Remember blueberries turn green with changes in pH.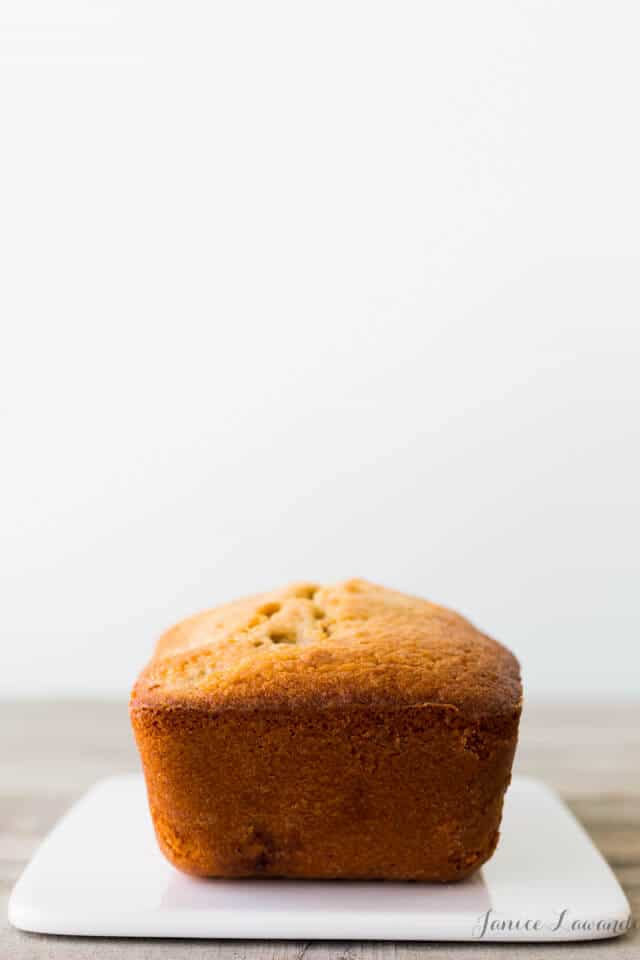 On the bright side, I wasn't wrong about everything. I omitted the baking soda that most buttermilk cake recipes tend to include because I felt like it was unnecessary. This cake is made with baking powder, so it has that perfect combination of bicarbonate and an acid. This cake also gets its lift from the rising power of eggs. As predicted, my little loaf cake rose beautifully in the oven, up and out of the pan, so my theory, that the extra bicarbonate in most buttermilk cake recipes isn't really necessary, was correct. At least I seem to have gotten that much right, and so I rewarded myself with cake.
Notes
I baked this loaf cake at 325ºF, and not the usual 350ºF, because I was using a Baker's Secret pan (available from Amazon), which has a darker finish. Remember darker baking pans are very good at browning cake edges, and even burning them, so if you are baking with a pan that has a dark finish, remember to lower your oven temperature by 25ºF. On the other hand, if you are baking this recipe in a light, aluminum pan, you can go ahead and bake it at 350ºF.
Another thing to keep in mind: my pan is an 8x4" loaf pan, medium size, not the typical 9x5" pan we bake our loaves in usually. If you are using a 9x5 pan, your cake might bake faster. I suspect that it might be done after an hour. Best check it earlier rather than later!
Got extra buttermilk after baking this cake? You might as well try my buttermilk pancake recipe to use it up.
📖 Recipe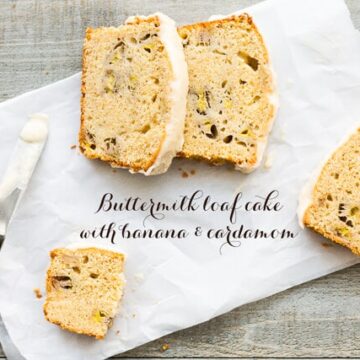 Banana buttermilk cake
This buttermilk cake is flavoured with cardamom and chunks of banana for a lovely afternoon snacking cake.
Ingredients
125

grams

bleached all-purpose flour

63

grams

whole wheat pastry flour

5

mL

baking powder

2.5

mL

freshly ground cardamom

115

grams

unsalted butter

room temperature

200

grams

granulated sugar

2

large egg(s)

whisked together

2.5

mL

pure vanilla extract

1

ripe banana(s)

this is equivalent to a heaping cup, ~150 grams, banana chunks, peeled and chopped into chunks

125

mL

buttermilk (1 % fat)
Cardamom glaze
160

grams

icing sugar

45

mL

whole milk (3.25 % fat)

1.25

mL

ground cardamom

to sprinkle on top
Instructions
Preheat the oven to 350 °F (175 °C) (or 325 °F (165 °C) if using a dark loaf pan). Grease, flour, and line the bottom of a medium (8x4") loaf pan. I like the pan from Baker's Secret (available from Amazon).

Sift together the flours, salt, and baking powder into a medium bowl, then whisk in the freshly ground cardamom.

In the bowl of an electric mixer fitted with the paddle attachment, beat together the butter and the sugar for 3 minutes then, with the mixer on low, gradually add the whisked egg, a little at a time, then the vanilla. Scrape down the bowl and beat for another 3 minutes.

In a small bowl, combine the banana chunks with 2 scoops of the dry mixture, and stir to coat the fruit.

With the mixer on low, add a third of the flour and mix until almost combined, followed by half the buttermilk. Mix until just combined. Add another third of flour, and then the last of the buttermilk. Take the bowl off the mixer and then add the last bit of flour, mixing it in with a spatula by hand. Before the last of the flour has disappeared, stir in the flour-coated banana chunks.

Transfer the cake batter to the prepared pan, smoothing the top and tapping the pan on the counter several times to try and remove air pockets.

Bake for about 80 minutes or until a cake tester comes out clean.

Let cool 15 minutes before unmolding on a wire rack to cool completely.
Milk glaze
In a small bowl or a measuring cup with a pouring spout, whisk together the icing sugar with the milk. Adjust the consistency with more milk or powdered sugar. It should be thick but pourable.

Set the wire rack with the cake over a big sheet pan, then pour the glaze over the cake.

Sprinkle with ground cardamom.
Nutrition