This frosted cranberry chestnut cake is a small loaf cake made with chestnut flour and frosted cranberries, with a rum frosting.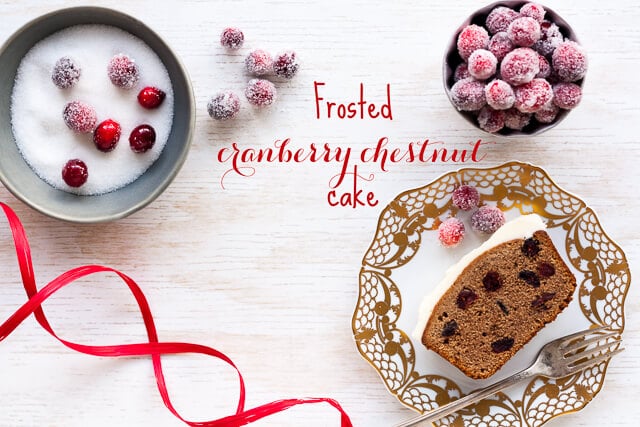 The only mature thing to do when one is dreading winter is to bake a festive cake. Something sweet and flavourful, and baked with ingredients that are very à propos for the season. Winter is coming. There is no doubt about it. But I am armed with sensible boots and festive cake, and I will plough through the season bravely with my face scrunched tightly and my shoulders raised up to my ears, dressed like I'm headed out into the cold of Antarctica.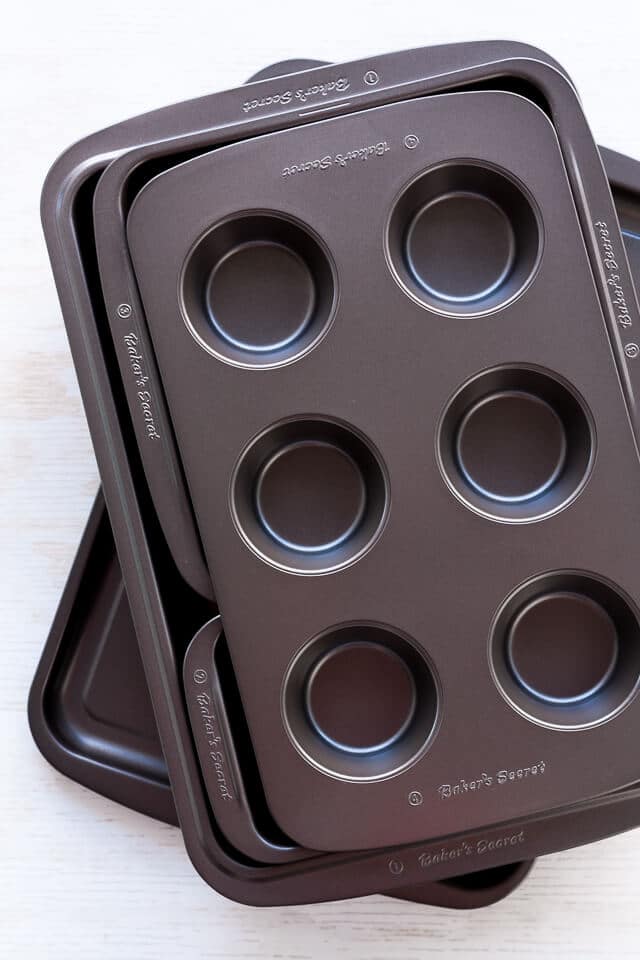 Disclosure: As an Amazon Associate, I earn from qualifying purchases.
I baked this cranberry chestnut cake to get me into the holiday spirit and to ease my way into the holiday baking. I think this is the perfect cake as we slowly transition from fall to winter. I used the medium loaf pan that is part of the 5-piece baking set from Baker's Secret pictured above (available through World Kitchen, but you can also pick up a set from Amazon). The neat thing about this baking set is that all the pieces fit into each other, so the set takes up virtually no space, which is awesome because who has cupboard space to spare these days? I certainly don't.
Tips for baking in pans with a dark finish
Because Baker's Secret pans have a dark, non-stick finish, I recommend that you lower your oven temperature by 25ºF to compensate. Remember, dark pans absorb more heat than light pans! So, I baked this loaf at 325ºF instead of the typical 350ºF. This way the outside doesn't get too dark before the middle is done baking. If you baked the cake at 350 ºF in a dark pan, the inside would still be raw when the outside is beginning to burn.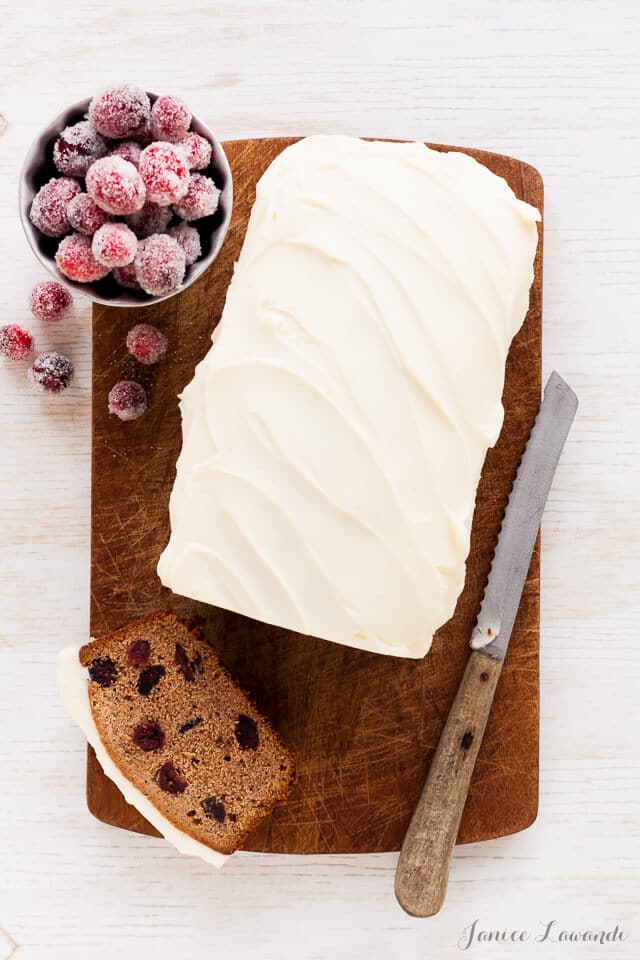 Chestnut flour gives this loaf cake a deep, nutty flavour, that reminds me of a dark molasses cake. This type of flour, being so fine and gluten-free, also gives this cake a much finer crumb and a more delicate texture than a cake made with 100% all-purpose flour. You can also bake these gluten-free cranberry chestnut financiers with chestnut flour.
I don't recommend using chestnut flour as a baking substitute for all-purpose, or at least, if you want to incorporate it in your baking, only replace a portion of the flour with chestnut flour. Chestnut flour is very flavourful and can be overwhelming, especially if you aren't accustomed to this flavour.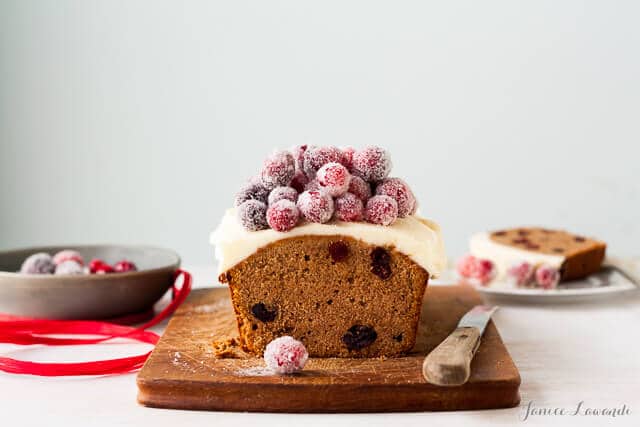 If you are a fan of cranberries and sugared cranberries, you can also use them as a garnish for this cranberry layer cake!
📖 Recipe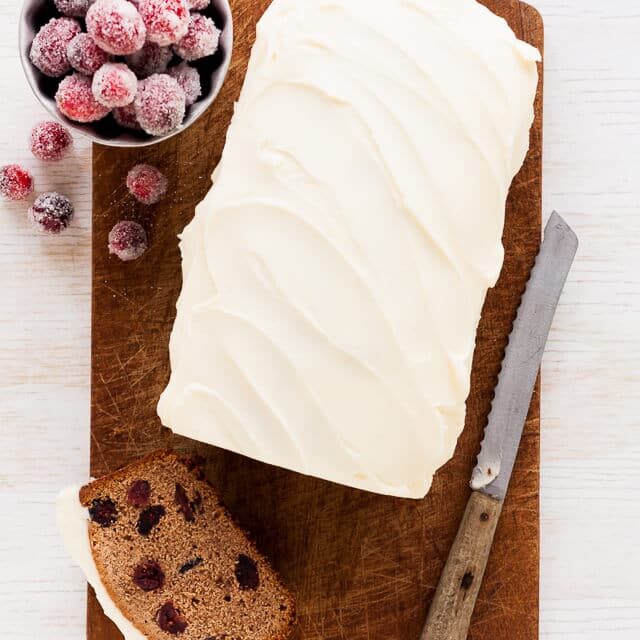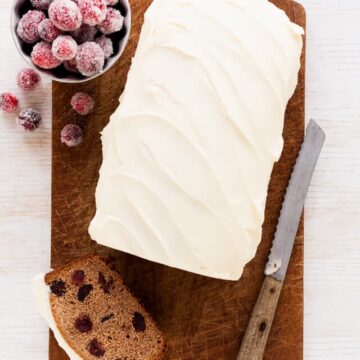 Frosted Cranberry Chestnut Cake
Chestnut flour adds a sweet nutty flavour to this loaf cake. It's the perfect balance for tart cranberries and rum frosting.
Ingredients
Rum frosting
115

grams

unsalted butter

room temperature

183

grams

icing sugar

1 ½

tablespoon

spiced or dark rum

Sugared cranberries

optional
Instructions
For the cake
Preheat the oven to 325 °F (165 °C). Grease and flour a medium loaf pan (8x4" Baker's Secret on Amazon). Line the bottom with parchment.

In a small bowl, combine the dried cranberries with the rum. Microwave to heat them for a minute or so, then let stand.

Meanwhile, whisk together the flours, baking powder, and salt in a medium bowl.

In the bowl of a stand mixer fitted with the paddle attachment, cream together the butter and the sugar. Scrape down the sides of the bowl with a spatula.

Add the vanilla, and strain off the rum from the cranberries into the mixer bowl.

Add the eggs, one at a time, scraping as needed and beating well until each egg is absorbed.

Take a scoopful of the dry ingredients and add to the bowl with the cranberries to coat them in flour. Then add one third of the dry ingredients to the mixer bowl. Mix on low to combine, then add half the milk. Scrape down the bowl and mix to combine.

Add half of the rest of the flour, continue mixing, then the last of the milk, and then finally the last bit of flour. Toss in the cranberries and mix to combine.

Pour the batter into the prepared pan, and bake the loaf cake on the middle rack until a cake tester inserted into the centre of the cake comes out clean. It takes 60–70 minutes.

Let the loaf cake cool completely.
For the frosting
In the bowl of a stand mixer fitted with the paddle attachment, cream the butter and the icing sugar, then add the rum and mix thoroughly until the frosting is creamy and light.

Smear the frosting over the top of the cake. Top with sugared cranberries (to make them, you can follow this method from Love and Olive Oil).
Nutrition
Calories:
335
kcal
Carbohydrates:
43
g
Protein:
3
g
Fat:
17
g
Saturated Fat:
10
g
Polyunsaturated Fat:
1
g
Monounsaturated Fat:
4
g
Trans Fat:
1
g
Cholesterol:
69
mg
Sodium:
68
mg
Potassium:
68
mg
Fiber:
1
g
Sugar:
32
g
Vitamin A:
535
IU
Vitamin C:
3
mg
Calcium:
36
mg
Iron:
1
mg
Baker's Secret sent me their 5-piece baking kit and offered me financial compensation to develop a recipe using their products. Thanks for supporting the sponsors that allow me to create new recipes for Kitchen Heals Soul. As always, please know that I wouldn't work with a sponsor or product if it wasn't worth it. I think the 5-piece baking kit is awesome and would make a great gift for somebody who is moving out on their own for the first time or even for somebody who's just starting to bake. Just sayin'.