Want to go straight to the recipe? Click here to go to the gluten-free lemon cake recipe.
I left the Chemistry department of McGill University in 2010, and at that time, the department was about to go through a major, much-needed renovation. So, just before I graduated, I helped move the lab, which to be honest felt like "my lab." My lab had to move to a temporary space so that the renovations could begin. I think moving the lab was the hardest thing because it meant my lab, including my fumehood and my desk were going to be demolished. I spent 6 long years in that space, and they were 6 years of an emotional roller coaster that culminated in a PhD in Chemistry. And though I was happy that the lab was finally getting the overhaul it needed, I couldn't imagine anybody destroying such a monumental part of my life and my history. I spent my last days at McGill taking apart my little corner of the building, stripping it bare.
Since I worked 7 days a week most of the time, I spent many, many Sunday mornings hidden in my little corner fumehood at McGill. Those peaceful Sunday mornings, when nobody was around, were my favourite. I would work silently and efficiently, completely undisturbed by anybody. I broke many rules on those Sundays, first and foremost because I was often doing chemistry alone (rule #1 always work in pairs in case of accidents). Usually, I was drinking a latte in the lab on those mornings (despite my firm "no drinking in the lab" rules that applied Monday to Friday when the younger students were around). I would sit at my fumehood on my tall, black Ikea stool, usually purifying something I made the day before, wearing my favourite goggles that had saved my eyes probably a million times over the years. Those goggles were etched from solvent splashes and reagents, proof of why you should always wear goggles in the lab. My Sunday mornings were spent mostly in solitude, just doing my thing, that thing I did best. That tiny corner of the building was mine. I knew its quirks and I was comfortable there. Those goggles were my security blanket. In those last days, as I emptied out the lab, removing every last trace of me and my old life, my goggles went missing and I never found them, much to my dismay. Oh, the irony of it all.
I find it very difficult to go back to that building at McGill and visit the lab that was home. In fact, I haven't even taken the tour to see how the space turned out, though I've been to the building for countless PhD defenses since. I don't think I want to visit my old lab made new. My fumehood is gone and so is my little corner. My goggles vanished long ago, and then this week, I think I attended my last Chemistry PhD defense. It all seems so very final now, four years later. And what better way to look back and mark the end of an era than with a cake? It seems fitting as my last years at McGill were also spent unwinding in the kitchen, baking cakes and cookies for my labmates whenever I could find a spare moment. Instead of quiet Sunday mornings in the lab, today I spend quiet Sunday mornings baking, and making cakes like this. I suppose that closing the previous chapter of my life isn't all bad.
I think my favourite cake combination is cake + lemon curd + berries. It's not a hard to make the components, and I've learned over the years that it's best kept simple: a single cake layer topped with a thick layer of lemon curd and a scattering of berries. And you can serve this with more lemon curd on the side for those who can't get enough of it, which is basically everyone.
I urge you to make your own lemon curd because the stuff in the jars just isn't right. In fact, the jarred commercial lemon curds are downright awful if you ask me. They taste artificial, they often contain all sorts of fillers, and sometimes, they are even fluorescent yellow. And I don't know about you, but I have no intention of eating anything that is fluorescent yellow, even if it's called lemon curd, because that's just wrong.
This cake is impressive because of it's height. I baked it in a tall 8-inch springform pan (from Kaiser, but you can also put it in a regular 9-inch cake pan and it will work just as well, if not better. The baking is a little easier in a 9-inch cake pan, like this one from Chicago Metallic (taking about 45–50 minutes, instead of over an hour).
I am not leading a gluten-free lifestyle, but I do find it interesting to try and bake gluten-free. If nothing else, it's a challenge, and also I think it's really exciting baking with different flour and starch sources than what a traditional kitchen would use. I've baked with chestnut flour to make gluten-free cranberry chestnut financiers, rice flour to make gluten-free pistachio financiers, and a combination of gluten-free whole grain flours to make this gluten-free raspberry cake. This gluten-free cake has the look of a good cake, the crumb of a good cake, and an impressive mouthfeel. It contains a lot of ground almonds so there is an almond flavour in it that is the perfect setting for a generous layer of lemon curd, and it's made with mashed potatoes (from yellow boiling potatoes). And there's no xanthan gum, which is a bonus for me. For now, I'm sharing with you this recipe, but if you the process for developing a gluten-free cake, you can find the process of how I got to this final recipe for a gluten-free mashed potato cake.
Congratulations D!
To bake this cake, use an 8-inch springform pan and take the time to properly prepare the springform pan for baking. Butter the pan all over and dust it with flour. Line the bottom with parchment paper so that you can get the cake off the springform bottom easily.
Gluten-free lemon cake with raspberries
This gluten-free cake has the look of a good cake, the crumb of a good cake, and an impressive mouthfeel. It contains a lot of ground almonds so there is an almond flavour in it that is the perfect setting for a generous layer of lemon curd, and it's made with mashed potatoes (from yellow boiling potatoes). Also, there's no xanthan gum, which means it has a better taste and texture.
Ingredients
Lemon curd ingredients
100

g

granulated sugar

½ cup

84

mL

fresh lemon juice

freshly squeezed

4

large egg yolk(s)

72

g

unsalted butter

~⅓ cup, cut into pieces
Gluten-free lemon cake ingredients
150

grams

unsalted butter

½ cup + 2 tbsp

200

grams

granulated sugar

1 cup

3

lemons

zested

4

large egg(s)

1

teaspoon

pure vanilla extract

175

g

ground almonds

1 ½ cups

75

g

sorghum flour

250

g

mashed potato

1 cup, packed, from about 400 g yellow potatoes that were peeled, boiled, passed through a ricer and then cooled to room temperature

2

teaspoon

baking powder
Garnish
2

pints

fresh raspberries
Instructions
For the lemon curd
Have a bowl ready with a strainer over top to strain the curd right away at the end of this recipe.

Combine half the sugar with the lemon juice in a saucepan. Begin to heat it on medium–high heat.

Meanwhile, beat the yolks with the rest of the sugar til they have lightened in colour.

When the lemon juice is steamy and just about boiling, dump it onto the light yolk mixture, and whisk to combine to temper the eggs.

Pour the lemon egg mixture into the saucepan and continue heating, whisking constantly, until it comes to a boil. Boil for 1 minute, whisking non-stop.

Turn the heat off, and add the butter a piece at a time while still whisking.

When all the butter is added, strain the mixture into the prepared bowl. Cover with cling film so that it touches the entire surface of the curd.

Refrigerate overnight.
To make the cake
Preheat the oven to 350ºF. Butter and flour (I used millet flour) an 8-inch springform pan, then line the bottom with a round of parchment. Set aside.

In the bowl of an electric mixer fitted with the paddle attachment, cream the butter and the sugar with the lemon zest until it is light and fluffy,

Add the eggs, one at a time, scraping down the sides of the bowl as needed and beating well between each addition.

Add the vanilla and the ground almonds and beat the mixture again, scraping down as needed.

Add the sorghum flour, beat again, then finish the cake batter by adding the mashed potatoes and baking powder. Continue mixing in the stand mixer until the batter is well mixed.

Pour the cake batter into the prepared pan and bake for about 65 minutes until the cake feels firm and a cake tester inserted into the middle comes out clean.

Let cool 10 minutes before unmolding onto a wire rack to cool completely.
To assemble the cake
Peel off the parchment lining from the cake and set it on a cake stand.

Top with a generous amount of lemon curd (half at least, if not all!) smoothing it over top, and then garnish with fresh raspberries.
Nutrition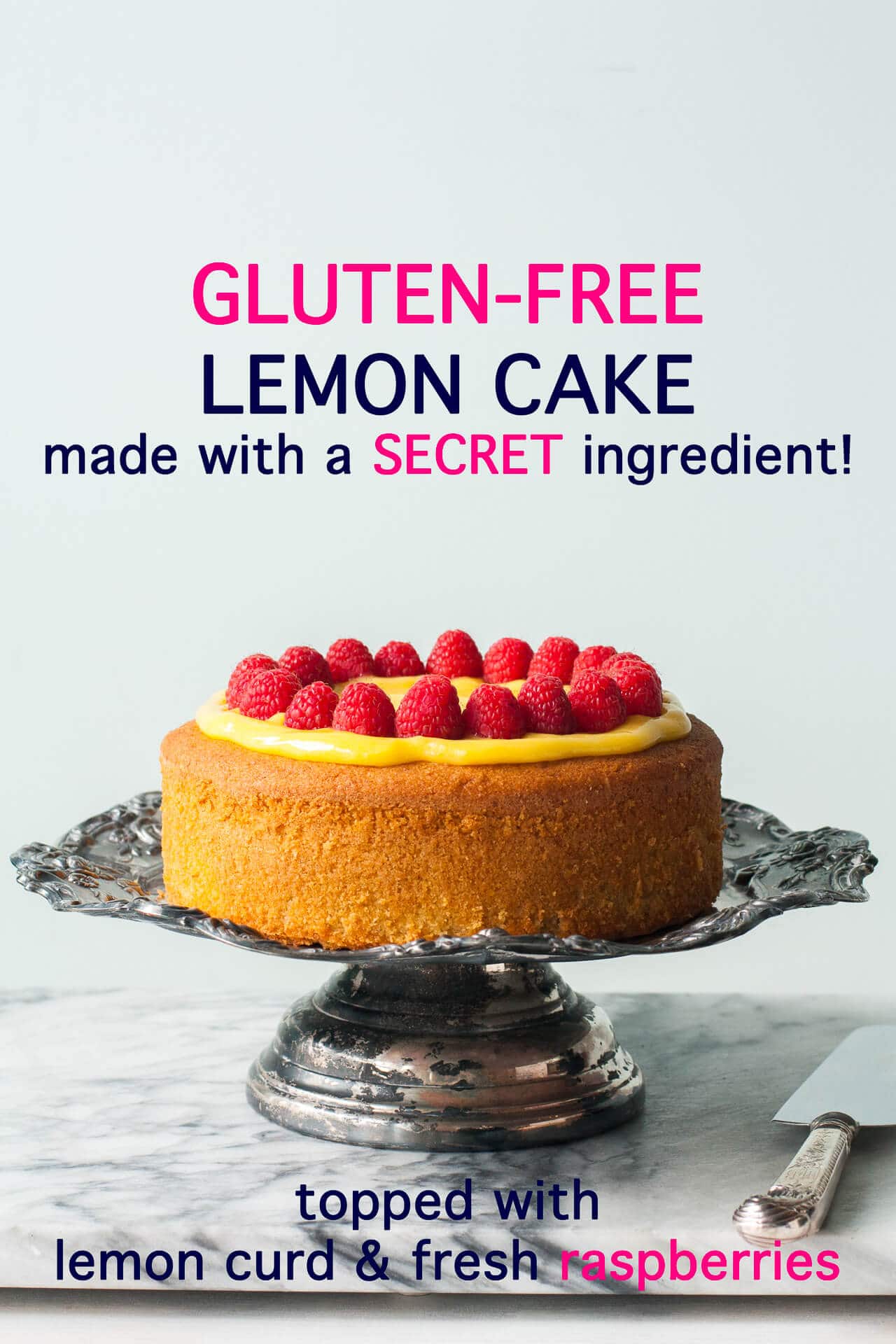 I do my best to bake with the finest ingredients. Stirling Creamery, a Canadian company, has provided the butter for this post.