Want to go directly to the smoothie bowl recipe? click here to skip to the recipe for this green smoothie bowl with matcha!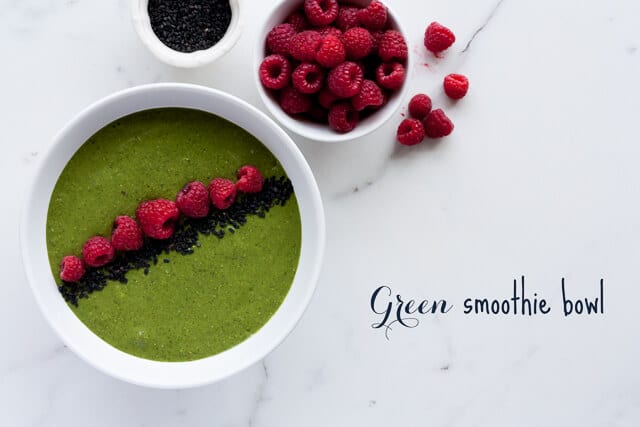 I bought orange "short shorts." OK, well, to be honest, they aren't really "short shorts," but they are significantly shorter than my usually shorts. Instead of half my legs being covered by my shorts, now I'd say only a third of them is covered. More exposed leg, people! This is progress in my world. Of course, I still don't do public pools or activities that involve bikinis unless I'm somewhere far, far away where nobody knows me, so clearly, there's a lot to work on here. I generally laugh when somebody asks me to go to the water parks with them, and when I finally manage to control my hysteria, I yell out a firm "Hell no!" So yes, my orange "short shorts" are a really big deal. They also have nothing to do with this smoothie bowl, except...
I'm on a temporary break from my beloved yogurt bowls mainly because I happened to be LOADING THEM with syrup (either maple or honey) every morning. It started with a little syrup, which is fine, but then a little become a lot, and then a lot became an obscene amount of honey, basically enough so that every bite had a big drizzle or more. And then I started topping the honey and yogurt with homemade granola that was coated in more honey or maple syrup or brown sugar.... and when you add a fruit to that mix? Well, I think you get my point. I needed a break from all that sugar. Plus I was curious about the smoothie bowl craze. Smoothie bowls seem to be popping up everywhere.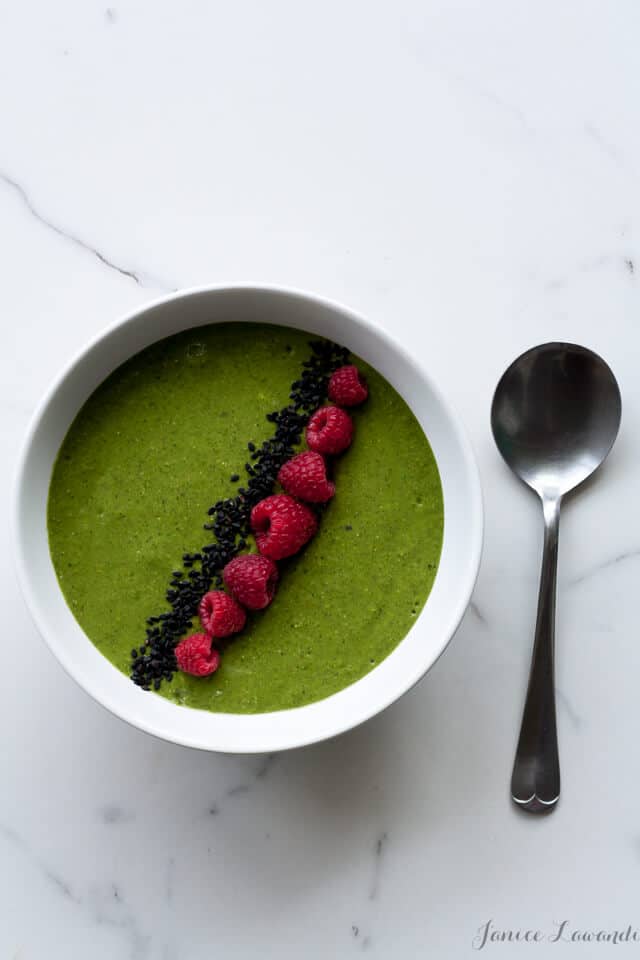 Disclosure: As an Amazon Associate, I earn from qualifying purchases.
I love a good smoothie or shake (like this coffee banana smoothie or this pumpkin spice shake). Yet I can't say that I am as obsessed as others are. But I can say that I'm totally hooked on smoothie bowls, as you can probably tell from my Instagram feed lately. These breakfast bowls are still loaded with fruit like my yogurt bowls and my yogurt parfaits were, but at least I'm not adding syrup and sugar on top of all that fruit. So, I feel like I've won this one battle, at least for now.
From my smoothie bowl experience, I'd suggest you not go straight to the green smoothie bowl because it will be shocking to your tastebuds. I recommend starting with this strawberry smoothie bowl I made for Food Bloggers of Canada and the Half your Plate initiative, and then slowly add in a little green here and there until you get used to it. I made sure to add matcha green tea powder, cinnamon, and vanilla, which all contribute a certain illusion of sweetness without adding actual sugar. Sneaky, aren't I?
I don't know if this smoothie bowl is really actually healthier than my yogurt bowls, but I think more "good" ingredients go into them, so there you have it. Plus, I suspect we could all stand to incorporate a few more greens into our diets. So without further ado, here's my version of the green smoothie bowl to go with my orange short shorts.

Green smoothie bowl with matcha recipe
📖 Recipe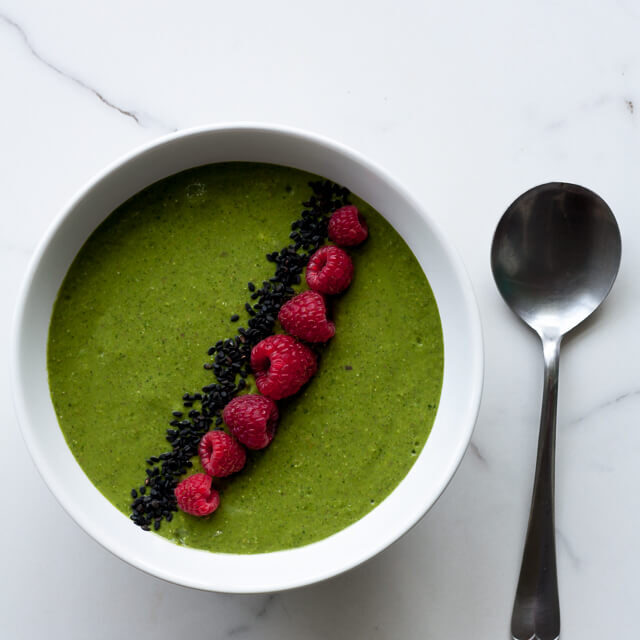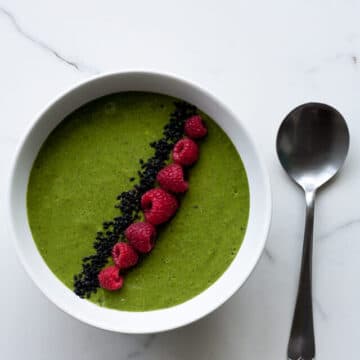 Green smoothie bowl
Green smoothie bowls are more filling than regular smoothies because they are made with oats and greens, like spinach. This one is flavoured with vanilla, a little cinnamon, and matcha tea powder.
Ingredients
25

grams

rolled oats (or large flake oats)

¼ cup

83

grams

whole milk (3.25 % fat)

⅓ cup

1

frozen banana

about 70 grams, chopped

1

peach or nectarine

chopped

78

grams

yogurt (2 % fat)

⅓ cup

2

teaspoon

chia seeds

½

teaspoon

matcha green tea powder

¼

teaspoon

vanila extract

¼

teaspoon

ground cinnamon

1

big handful mixed greens

~50 grams, like kale and spinach. If I have an excess of lettuce in my fridge, I toss some in. Sometimes I even add a little parsley or an herb to the mix
Topping suggestions
Fresh raspberries

Flaked coconut

toasted

Poppy seeds

Sesame seeds

black or white

Nuts

pecans, walnuts, or almonds
Instructions
Combine all the ingredients in a blender and mix on the pulse setting, stirring every so often until the greens are all blended and the smoothie is very green. You will have to be patient. A strong blender helps and make sure to set it to "pulse" so that you can stop and start it.

Serve in a bowl garnished with your favourite toppings.
Nutrition