These savoury hand pies with pork and apple call for a few shortcuts to make this recipe super easy! Use empanada dough and shredded pork from the grocery store, and your prep is almost done!
This post is sponsored by Maple Leaf Natural Selections.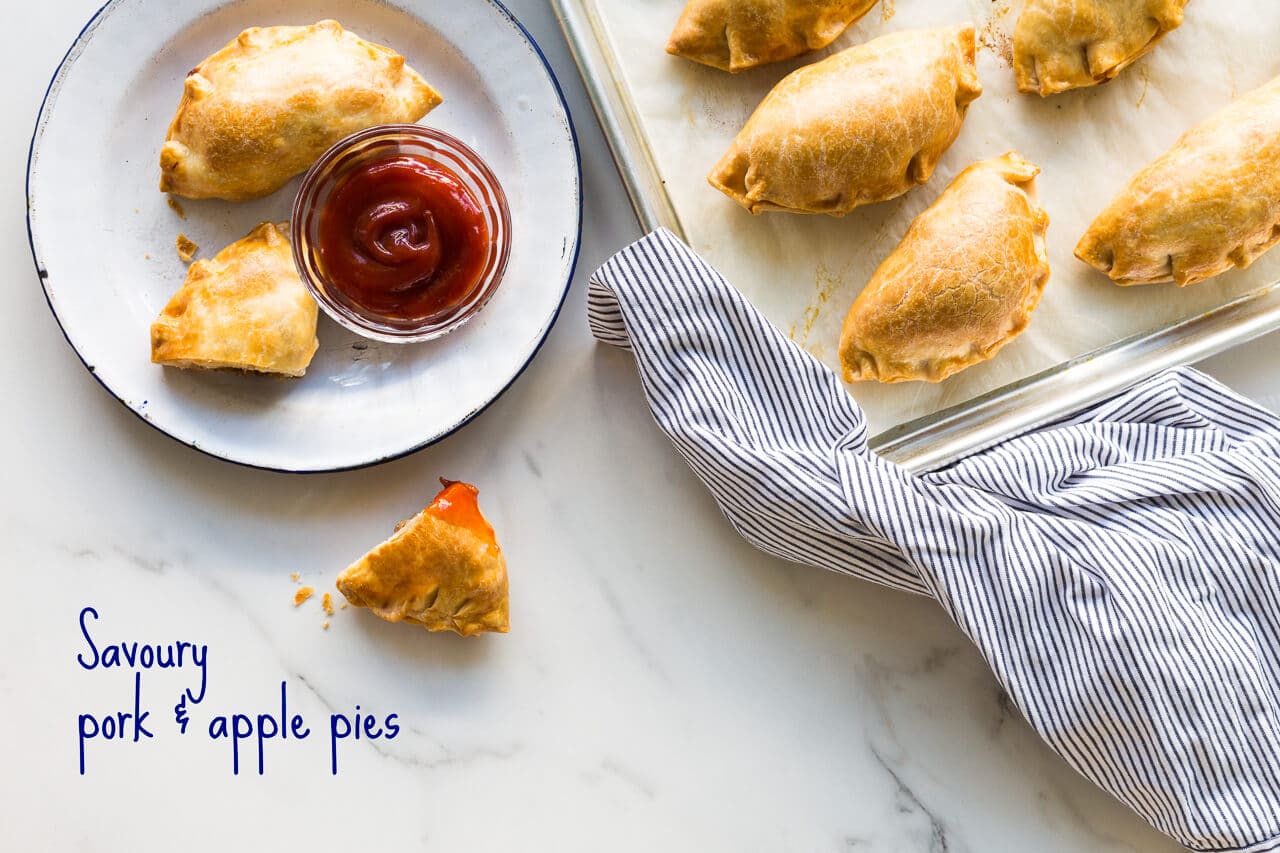 Disclosure: As an Amazon Associate, I earn from qualifying purchases.
Sometimes you've gotta take a few shortcuts when you're baking, and that's okay!
Take these savoury hand pies. Sure, you could roast pork for this recipe, make the crust by hand, bla bla bla... Right. But sometimes life is busy and you need to make adjustments. You can make the pork pies with good quality shredded pork that's already cooked and ready to use. You can invest in some pie dough or empanada dough too. If you make these simple adjustments, you can make the savoury hand pies and eat them, without losing sleep or running yourself into the ground.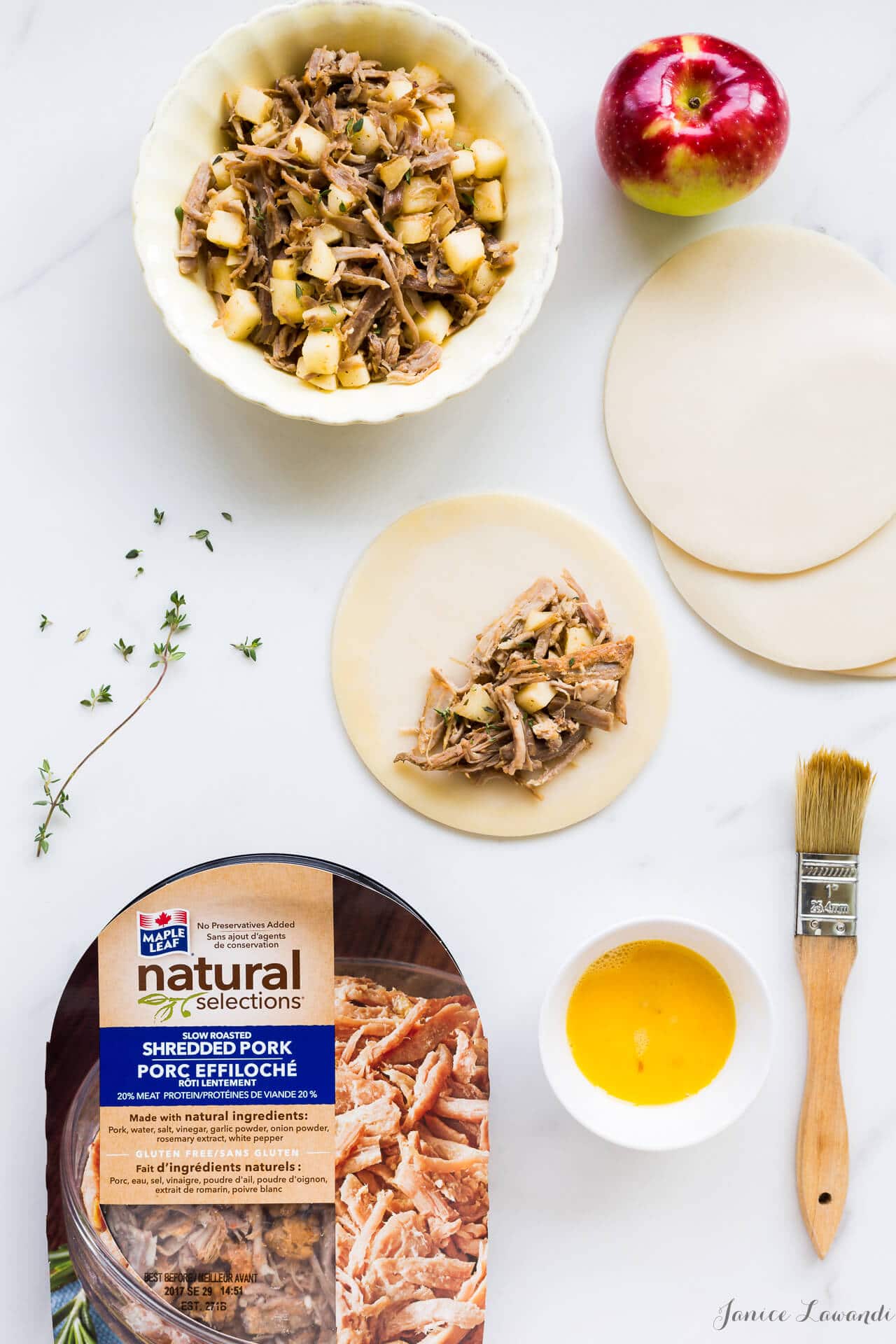 These savoury pork pies are filled with shredded pork and chunks of apple. I used frozen empanada wrappers at the grocery store, instead of homemade all-butter pie crust, and I chose Maple Leaf Natural Selections Shredded Pork for the filling because this is as close as you can get to homemade shredded pork, without the hassle of roasting and shredding a piece of meat.
Maple Leaf Natural Selections has a number of shredded cooked meats, specifically pork, turkey, and chicken, and I've been adding them in soups too. These products offer plain, shredded meats that aren't covered in any sauces. They are very convenient and not too salty. There are times in life when we can't do it all, and it's comforting to be able to lean on a good product so that you can bake something at home with a lot less effort.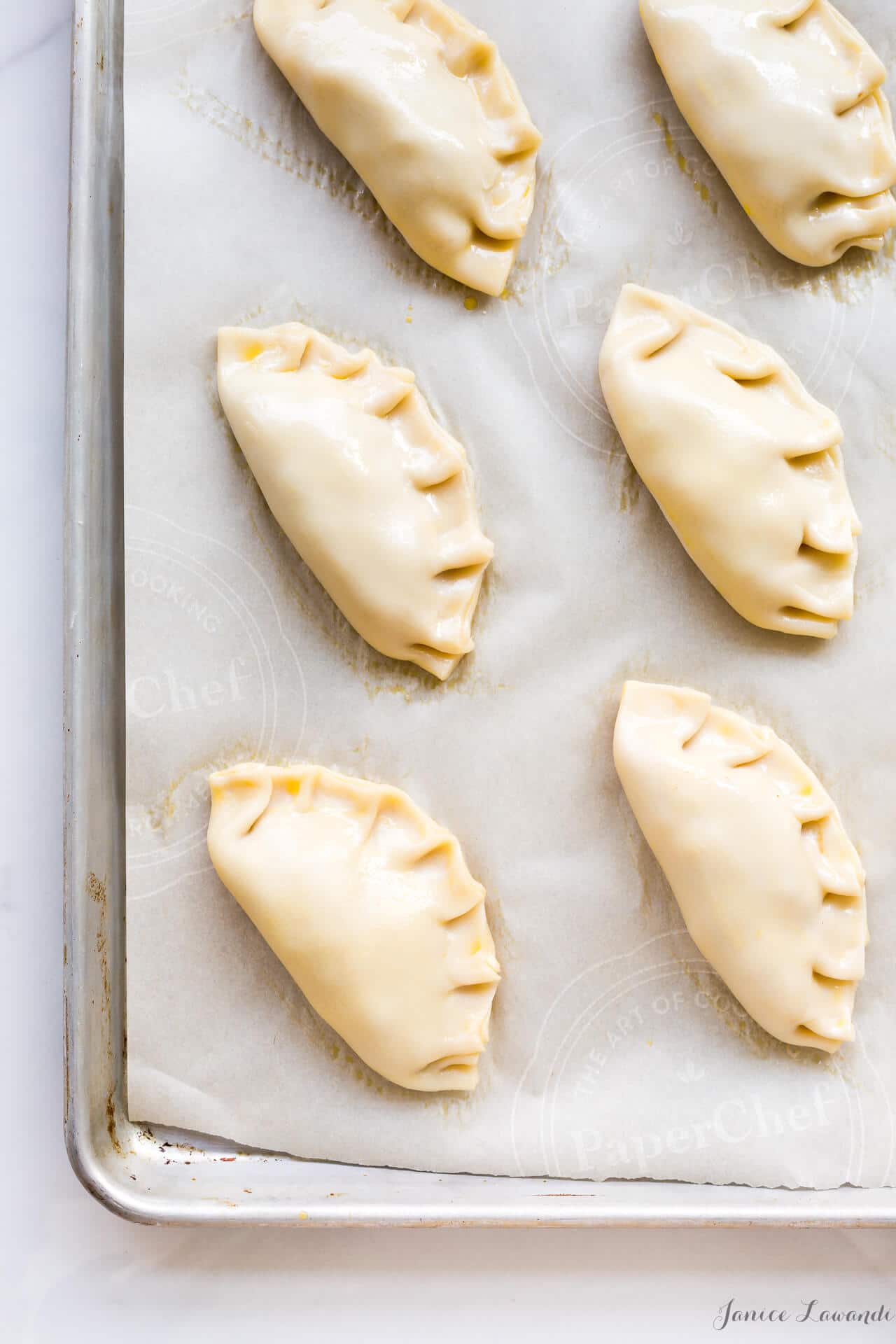 For most meat-filled hand pies like these, it's better to use meat that's already cooked. This way when you are baking them, all you have to do is worry about the pastry browning and baking through, and not whether or not the meat is cooked. Filling a meat pie with raw meat would mean you would have to bake these for a very long time, which wouldn't work for this recipe.
The cooked shredded meat is added to a skillet of sautéed apples and spices, before filling the pork pies. It's easy!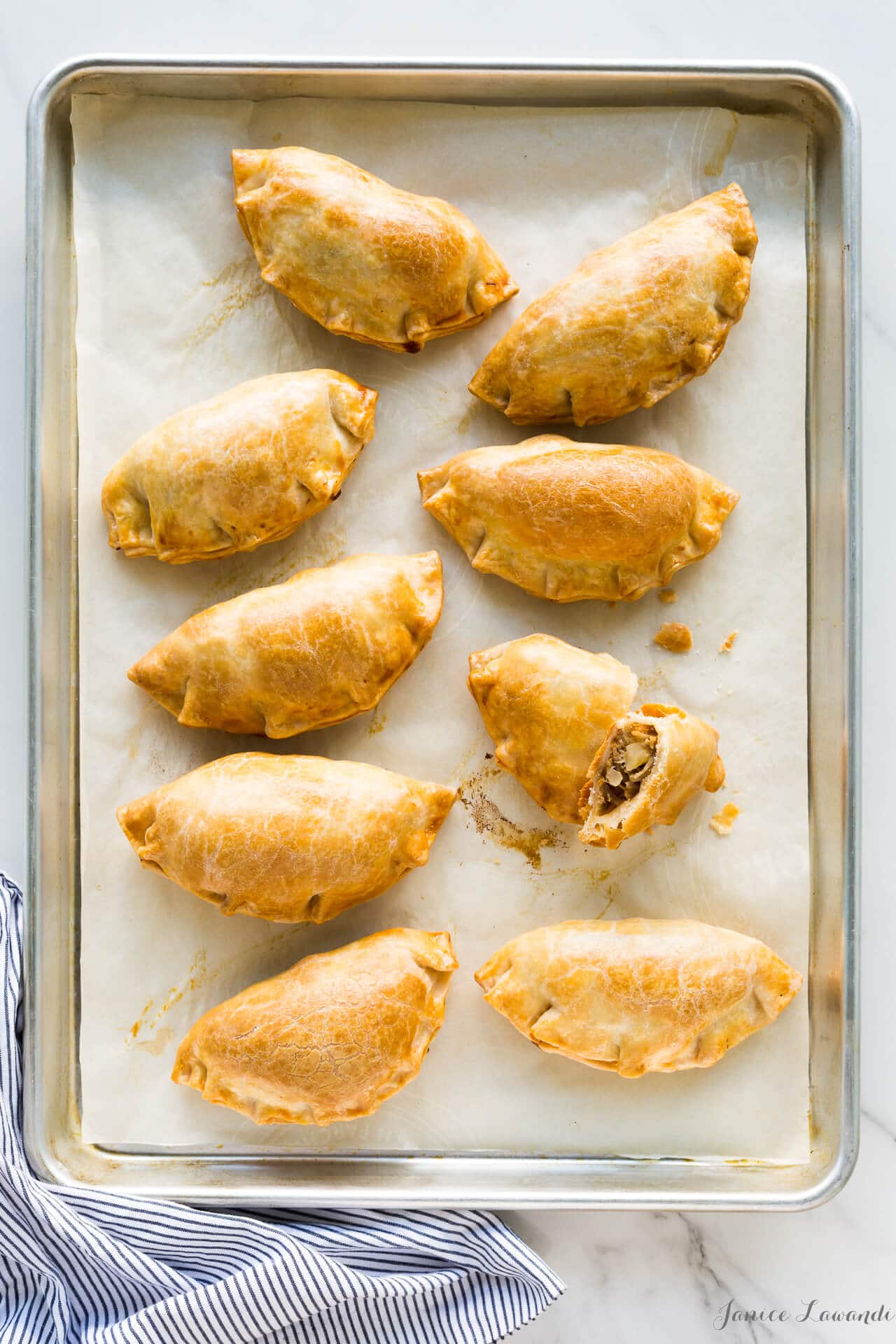 For more savoury baking ideas, try this recipe for savoury muffins made with capicollo, but you can use any cold cut you like!
📖 Recipe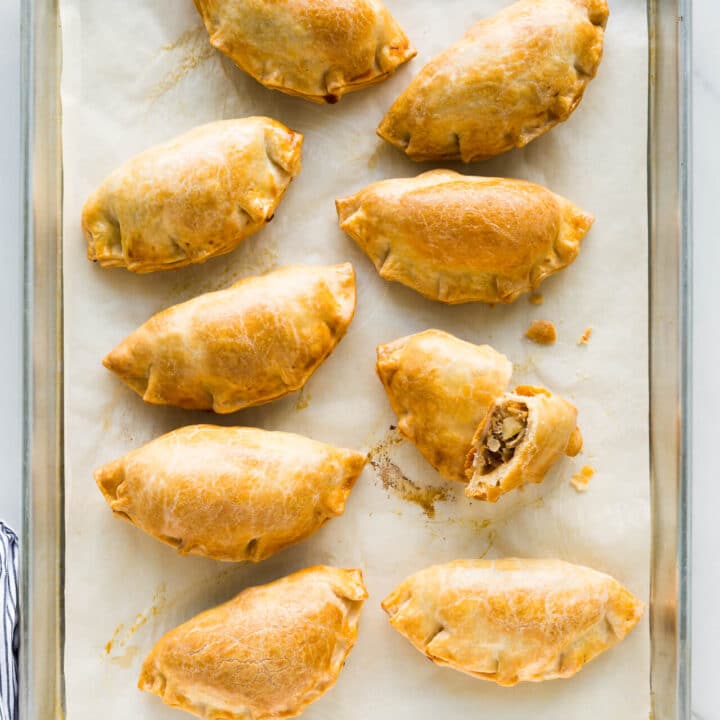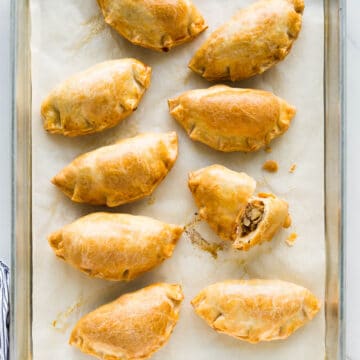 Savoury hand pies with pork and apple
These savoury pies are little hand pies filled with pork and apple that you can send kids to school with. They are made with frozen empanada dough for a simple weekend baking project to feed you through the week!
Ingredients
14

grams

unsalted butter

2

Cortland apple(s)

peeled and diced

1

branch

fresh thyme

1

package

Maple Leaf® Natural Selections® Slow Roasted Shredded Pork

200 g

1

large egg(s)

beaten

600

g

empanada dough

about 10 to 12
Instructions
Heat butter in non-stick pan over medium heat. Add the cubed apple and sauté to soften/cook the apple. Stir it carefully every so often so it doesn't burn.

Add fresh thyme, Maple Leaf Natural Selections Roasted Shredded Pork, salt and pepper. Stir to combine. Transfer to a dish and let cool.

Preheat the oven to 350ºF (175 °C).  Line a couple of baking sheets with parchment.

Place a round of empanada dough on your work surface. Place a heaping spoonful of the pork and apple mixture (about 1/12th of the mixture) in the center. Brush the edge with egg wash all the way around, then fold over the dough to form a half moon. Press the edges together very well, then crimp/shape the edge. You can use a fancy folding technique to pinch the edges or just use a fork. Place on the prepared baking sheets.

Repeat with the rest of filling/dough until you've made 10 to 12 pork pies.

Brush the surface of the hand pies with egg wash.

Bake in the preheated oven for a good 45 minutes, rotating the pans as necessary.
Notes
You can buy ready made, rolled out empanada (made with pork fat) at some grocery stores. It's sold frozen, so you will have to defrost it in the fridge overnight before making your pork pies.
If you can't find empanada dough, you can use the same weight of your favourite pie dough.
If you want a homemade empanada dough recipe, check ou the Simple Bites cookbook by Aimee on Amazon. I've tried her empanada dough recipe and it is excellent!
The Maple Leaf® Natural Selections® Slow Roasted Shredded Pork is available at grocery stores in Canada. I bought it at a Metro grocery store in Montreal.
Nutrition
This post is sponsored by Maple Leaf Natural Selections. I was compensated monetarily and with product. Thanks for supporting the companies that allow me to create content for Kitchen Heals Soul. As always, please know that I wouldn't work with a sponsor nor recommend a product if it wasn't worth it.

Please note this post contains affiliate links to Amazon. As an Amazon Associate I earn from qualifying purchases. If you buy a product I recommend, I will get a small commission, and the price you have to pay will not change in any way.