Everything you need to know about making butter tart pastry dough from scratch, whether to grease the muffin pan or not, some tips for baking butter tarts to ensure the crust is properly baked, why the filling may crystallize and how to avoid it, and of course, recipes for the all-butter pastry crust and butter tart filling without corn syrup.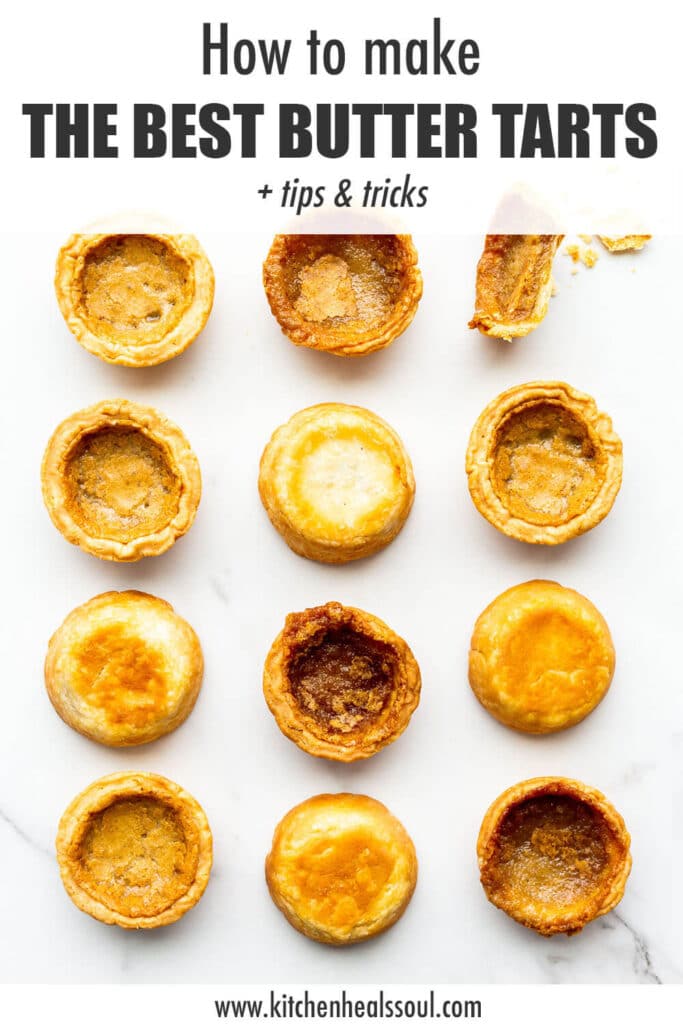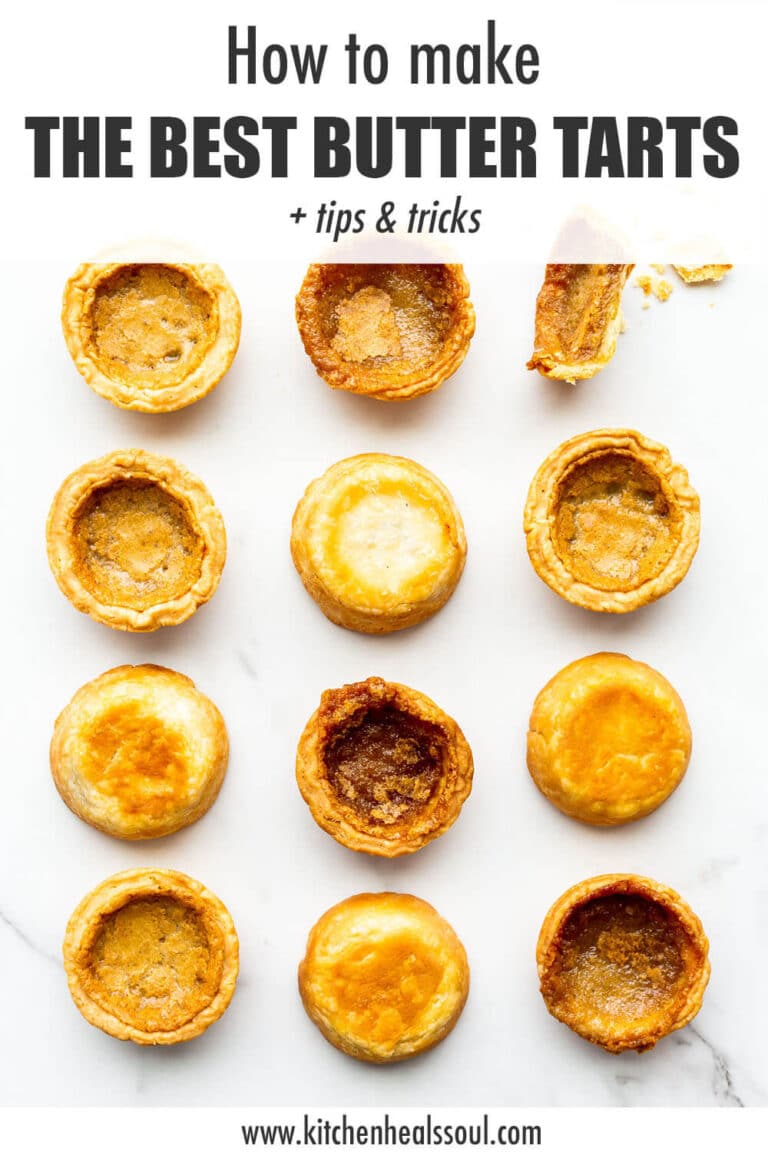 Disclosure: As an Amazon Associate, I earn from qualifying purchases.
Jump to:
Like any typical Canadian, I love butter tarts. The filling is great: it's sweet with brown sugar, with a thin dribbly syrup layer tucked under the sugary crust that forms as it bakes. And then, there's the all butter crust. It's flaky like a good pie crust should be.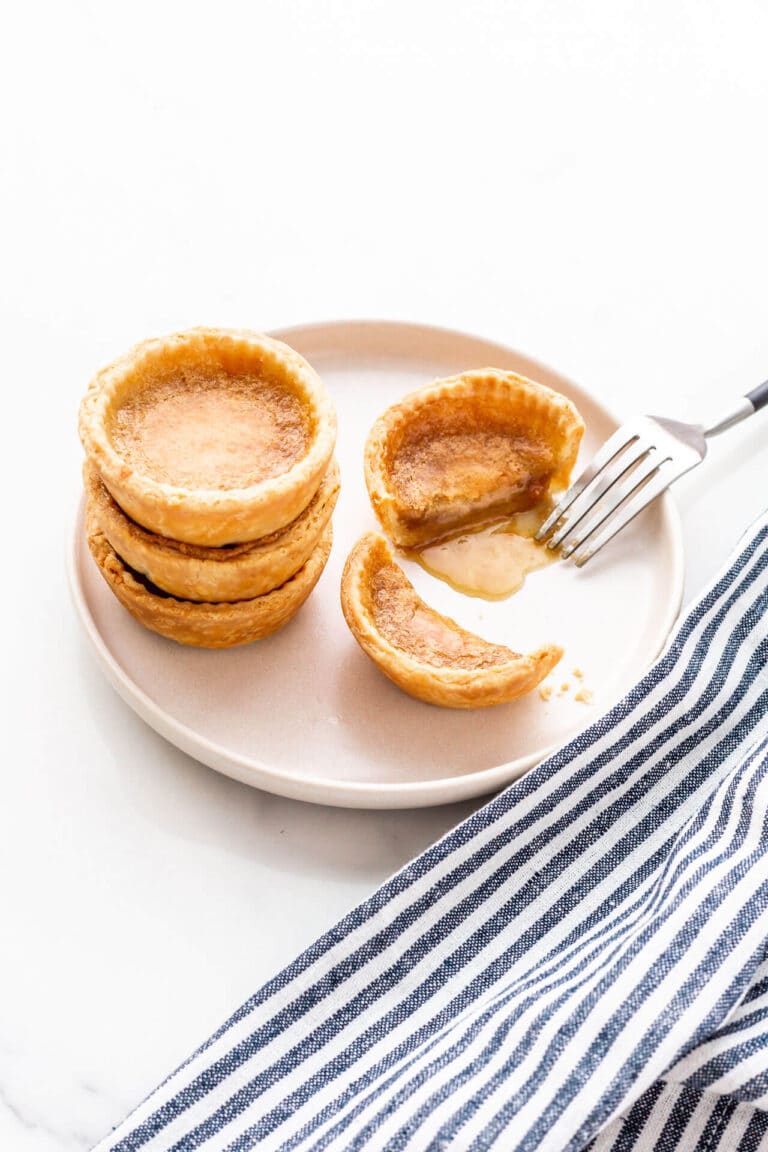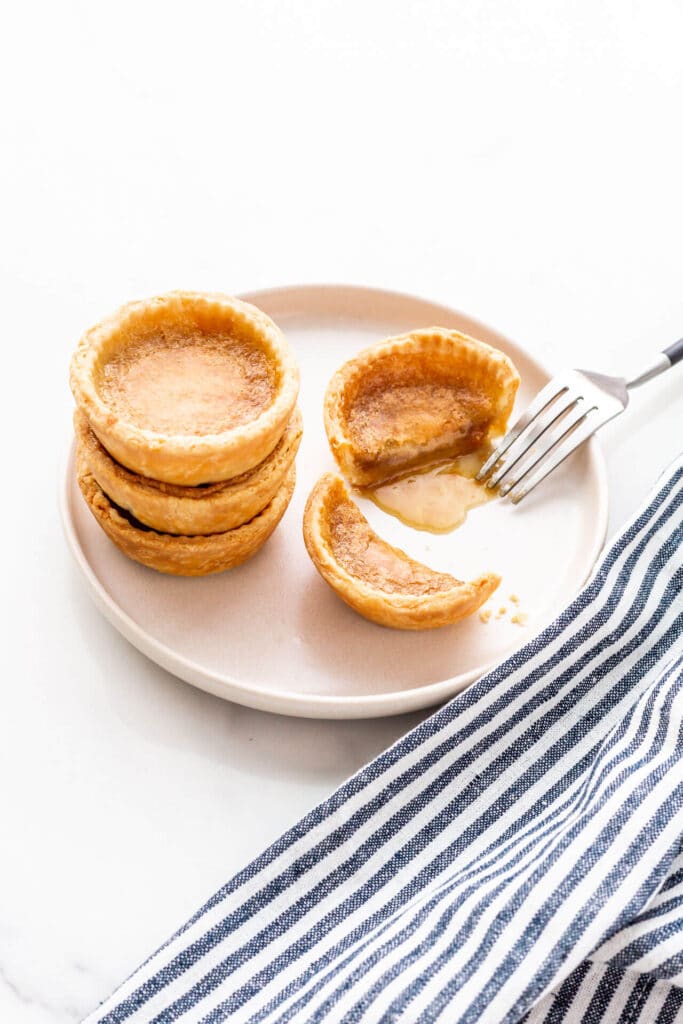 The downside to baking butter tarts from scratch is they can be a little tricky to get right though they are such a popular dessert. The problems that you may face include:
Difficulty getting the bottom of the tarts baked through properly.
The filling can overflow, rising and falling so it looks like they are empty almost.
The tarts stick to the pan and break when you try to unmould them.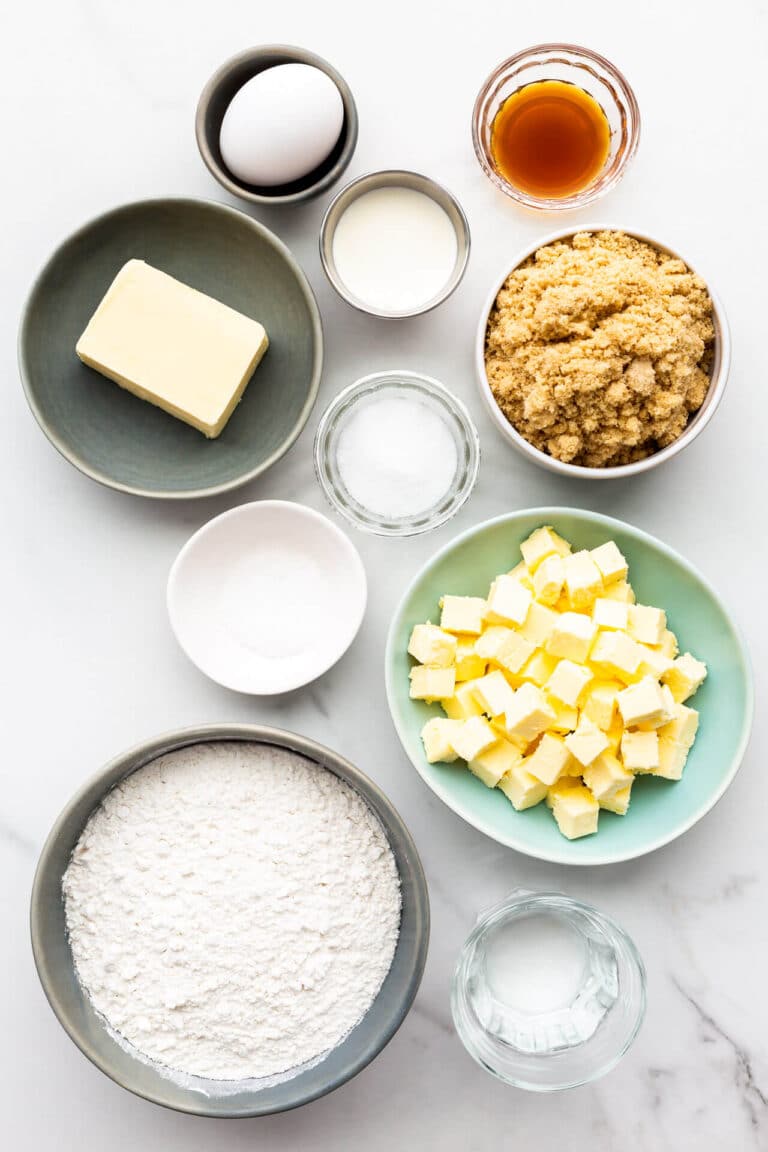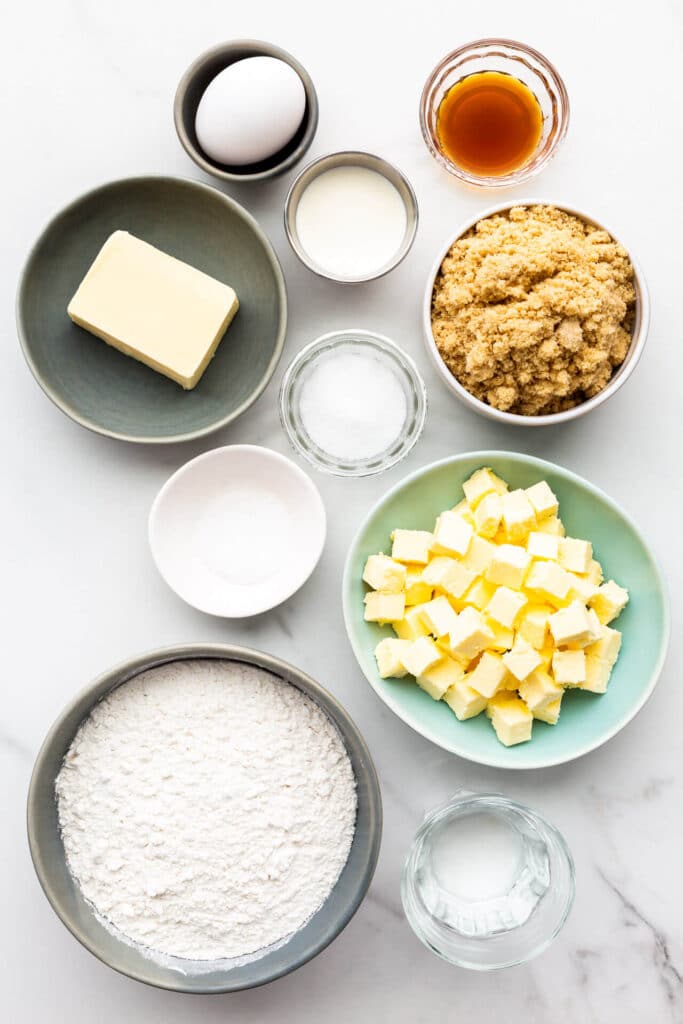 Butter tart recipe dos and don'ts
I've made hundreds of butter tarts and had a fair number of disasters (and tears), and now I can share with you all my tips and tricks so that your next batch of butter tarts made from scratch will be perfect!
The crust should be all butter
Some people love to make butter tart shells with shortening, but given I'm "team butter," that's just not how I roll.
I make the all-butter pastry dough by hand, working the butter into the flour mixture by rubbing it between my palms, quickly, until I get an even mixture that resembles coarse sand. You can tell when you're done because the white flour will have a warm golden yellow colour from the butter and you start to smell the creamy dairy notes of the butter.
Some people will add vinegar to the dough. This is to prevent gluten from forming and to make a less tough, more tender pastry shell. I don't think it's necessary but if you are concerned or have found your pie doughs are tough, try adding a teaspoon of vinegar when you add the water.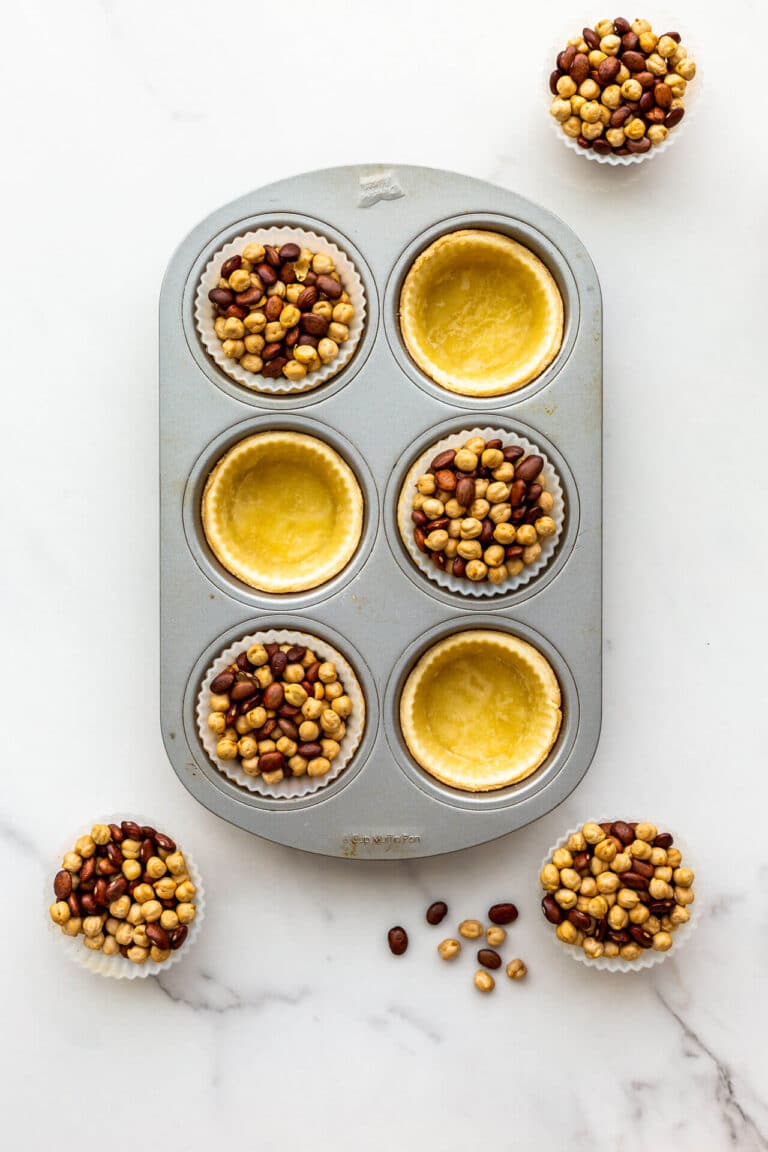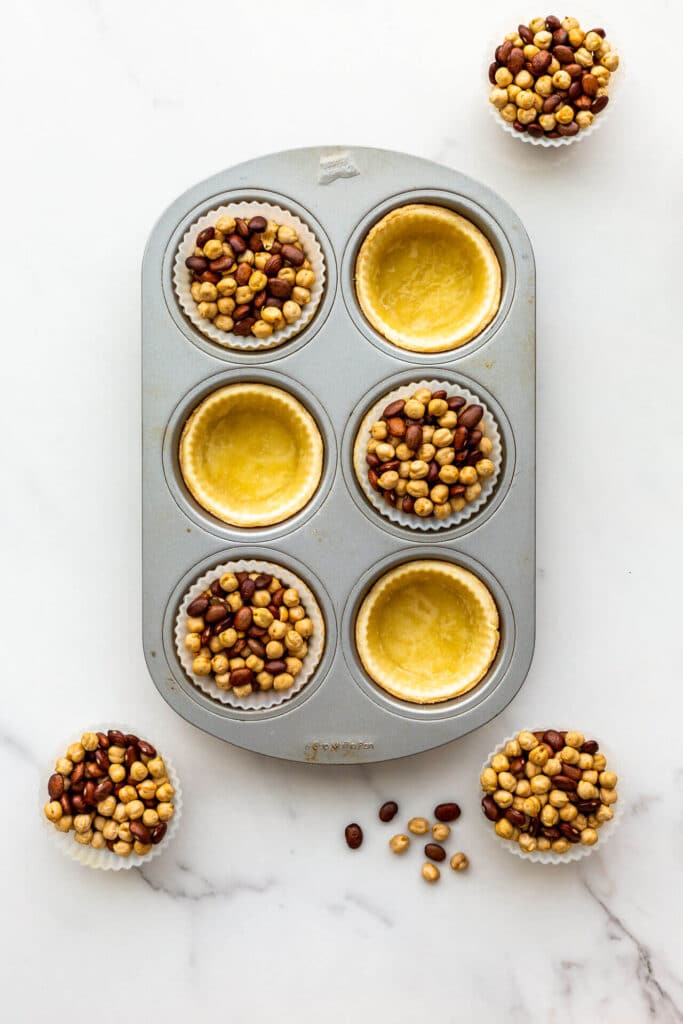 The thickness of the butter tart pastry crust is key
If you roll the dough too thin, your filling may find a tiny crack somewhere at the bottom, gluing down the tart as it bakes. When this happens, you are screwed. The tart is stuck in the pan.
If you roll the dough too thick (>¼"), your tart will be mostly crust. There won't be enough room for the filling and the crust probably won't bake properly on the bottom, especially if you don't blind bake it. Raw tart crust is the opposite of delicious.
I now consistently roll the dough to about 3/16". That's almost a quarter inch, but not quite. The crust is still thick enough that the filling doesn't seep through, but it's not so thick that it doesn't cook. At this thickness, I like the ratio of sweet filling to buttery crust.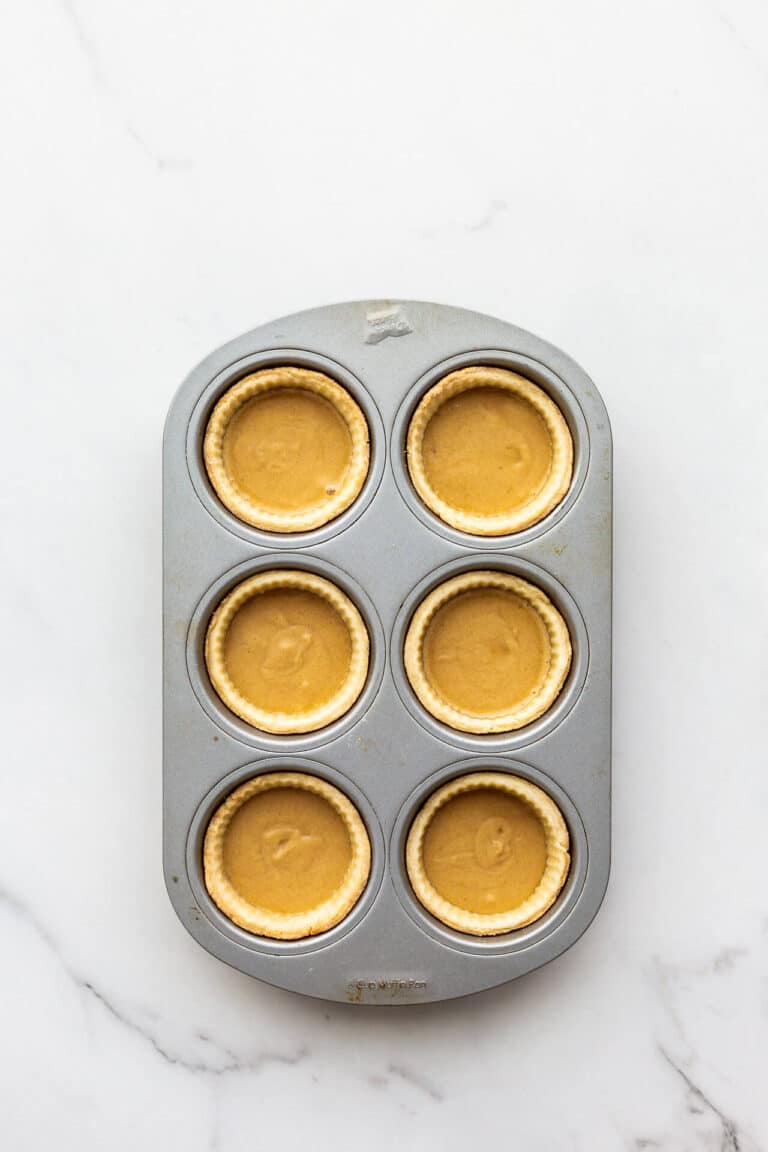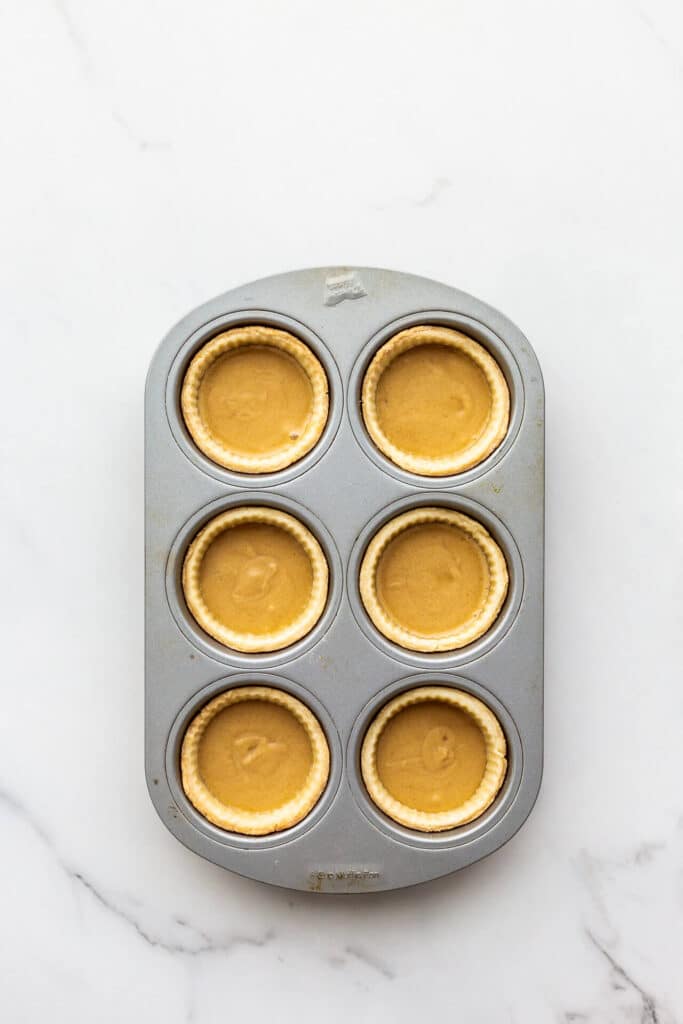 Do you grease the muffin pan for butter tarts?
For tarts in tart pans, you don't have to grease the tart pans and the tarts will unmould just fine. But for butter tarts in muffin tins, the tarts tend to stick because of the sugary filling.
I've tested baking the tarts in greased and ungreased muffin pans, and also with and without a small parchment round fitted at the bottom of each. And after doing many tests, I now realize that greasing the muffin pan for butter tarts wasn't helpful. The parchment didn't make much of a difference, but I feel that the greasing might actually have made the unmoulding more difficult.
You don't grease a pie plate, so why grease when you're making tarts with such a butter-rich crust? Don't grease the pan.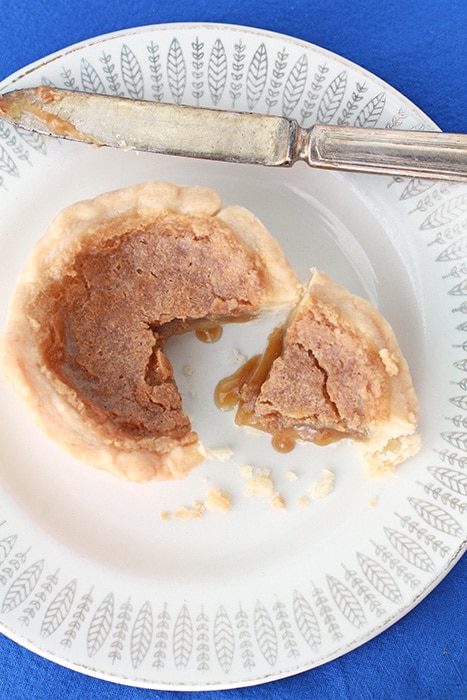 How to prevent a soggy bottom
Nobody likes it when pies or tarts are raw on the bottom and getting the bottoms of butter tarts to bake properly can be a challenge. Here are some tips:
Bake butter tarts on the bottom rack (the rack that you never ever use)! This ensures that your tarts will bake on the bottom, and not just the tops. This has worked really well for me and the bottoms even begin to turn golden brown this way.
Blind bake the tart shells with the help of silicone muffin liners and pie weights (or dried beans) to ensure that the crust is properly baked. I tried to avoid this extra step but, I don't think we can. If you blind bake the pastry first, then you can bake the filling perfectly without it boiling over.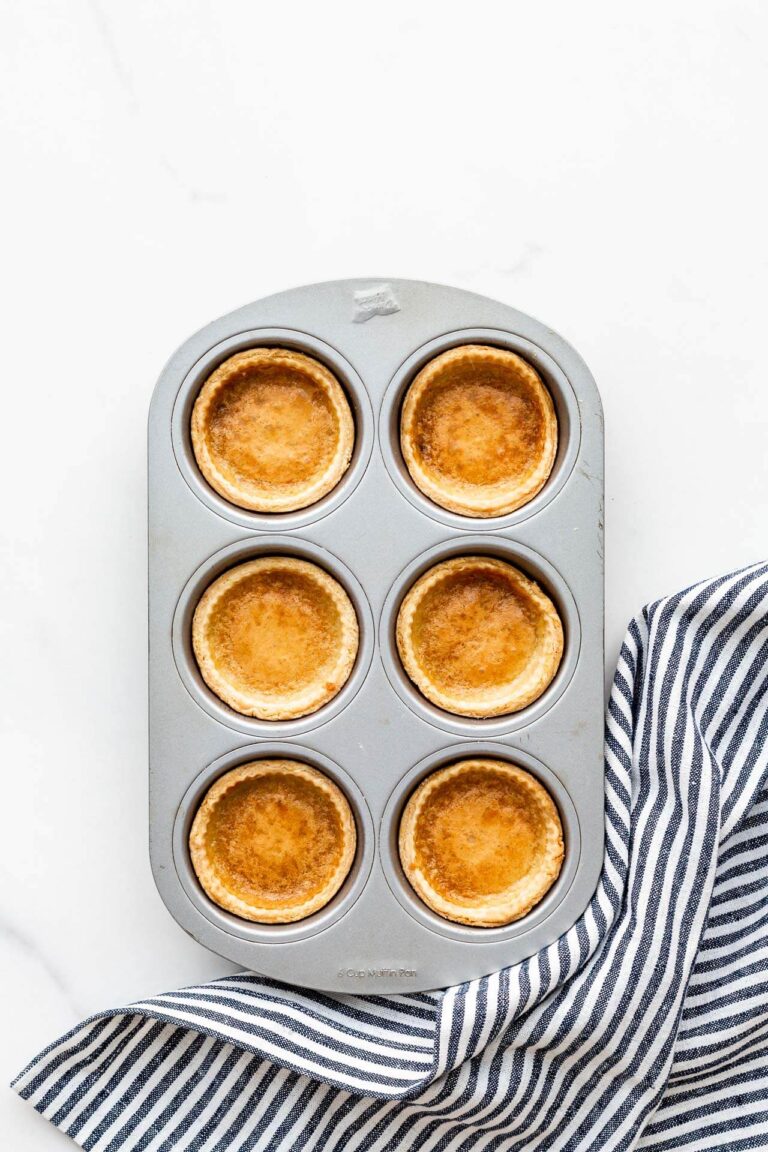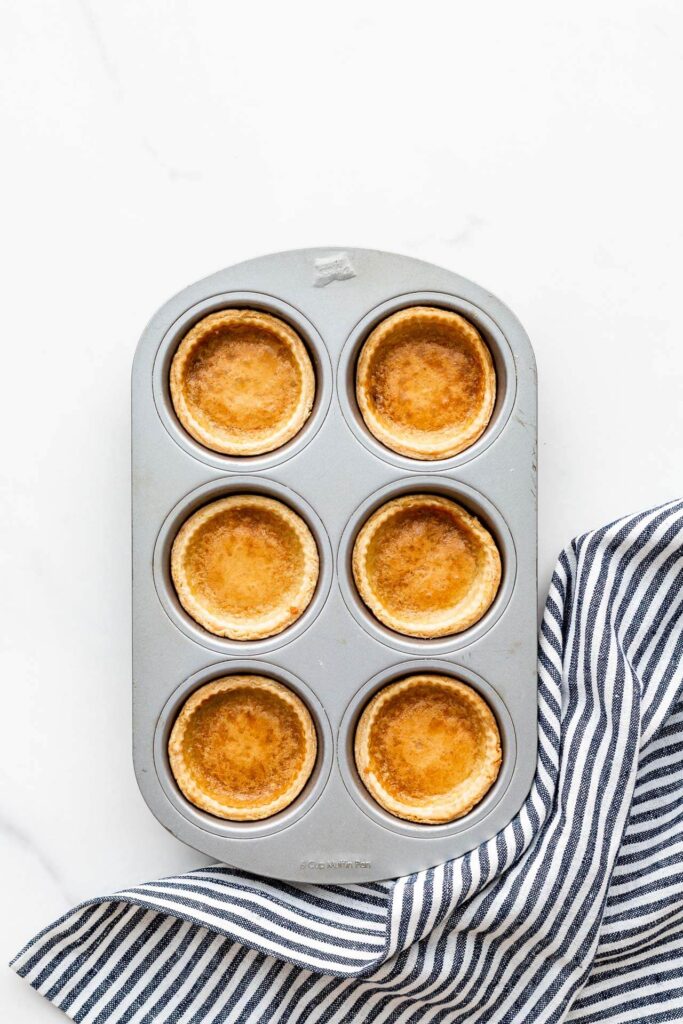 How to unmould them without breaking them
When the tarts are baked, do not unmould them until they are completely cooled. I repeat, DO NOT UNMOLD THEM UNTIL THEY ARE COMPLETELY COOLED. Yes, this statement is deserving of all caps and bold lettering.
If you try to unmould butter tarts when they are warm, or worse, straight out of the oven, you will likely break them. Don't hurry the cooling process. Just walk away, let them cool, and then you can start to unmould.
The most I do when they are hot is give them a little twist to loosen the edges, but when they are hot, the crust is too soft to get the tarts out of the pan.
To get the butter tarts out of the pan when they're cold, use a very thin knife blade or a tiny offset.
Give the tarts a twist again to make sure that the edges aren't stuck to the pan and the tarts can move freely.
Slide the tip of a thin palette or pairing knife between the crust and the pan, and use your finger on the other side of the crust to pull upwards (kinda like tweezers where one end is a knife and the other is a finger).
If you know of a better way of unmoulding them, please share, or if you have any tips to add, I'd love to read them.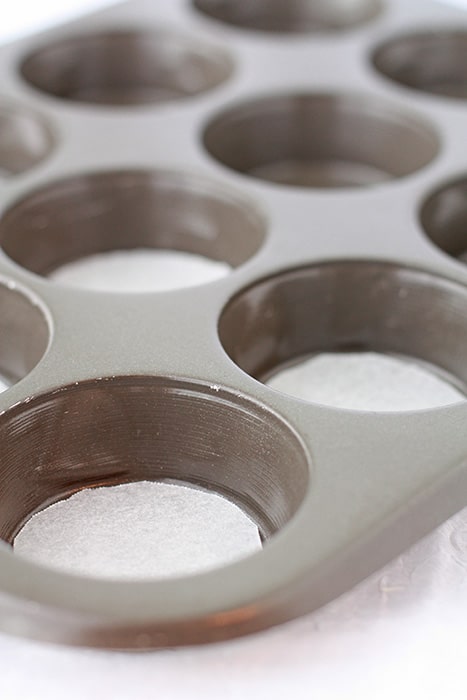 Getting the butter tart filling just right
Canadians will debate on whether they want a runny, gooey filling, or whether they want a more set filling, and that's a matter of personal preference. And don't get them started on raisin versus no raisin butter tarts, or whether you can add dried currants or coconut to them.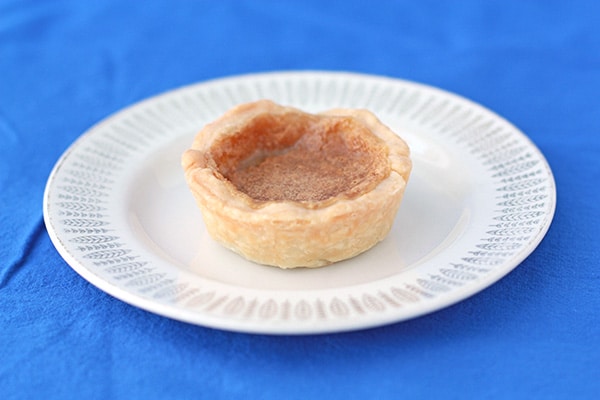 Filling recipes vary greatly and may include extra ingredients to prevent the caramel filling from crystallizing:
Some butter tart filling recipes have corn syrup: this is a method to reduce crystallization in the filling so ensure a silky smooth, gooey butter tart filling. The corn syrup introduces another sugar, other than sucrose, which reduces the likelihood that the filling will crystallize.
Some have white vinegar: this is another method to reduce crystallization of the caramel filling. The acidity of the vinegar will break down some of the sucrose, leading to a smoother filling. Another acid I've seen in butter tart fillings is lemon juice.
Some have maple syrup: maple syrup will not prevent crystallization but it adds a lot of flavour. If you'd like to use it to make your butter tart filling, by all means, do! Remember that with maple syrup, the baking substitution is to replace up to 70 grams (⅓ cup) of brown sugar with 83 mL (⅓ cup) of maple syrup. This will lead to a more runny, fluid middle that is less set. You can even do half brown sugar and half maple syrup, but again, the filling may be more runny. It all depends what you want!
Dark versus light brown sugar: you can use either dark or light brown sugar to make the filling for butter tarts. I prefer the mild flavour of light brown sugar, but either will work.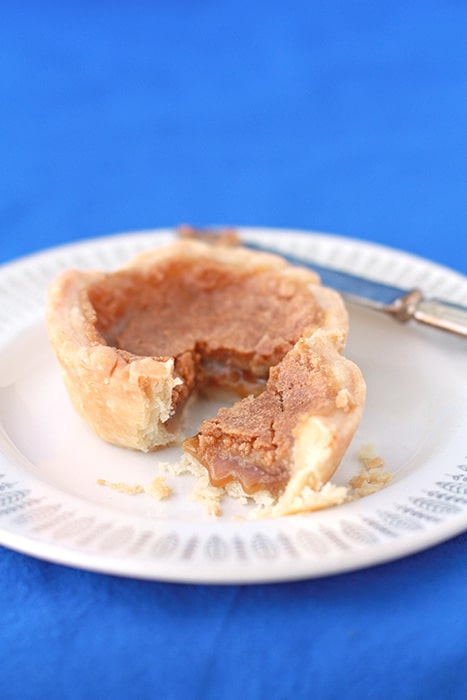 Frequently asked questions
Why do butter tarts crystallize?
The filling for butter tarts contains a lot of sugar and sugar is sucrose, which wants to crystallize. If you find your filling is too crystallized, try adding in a little corn syrup (just a tablespoon even) or add a teaspoon of vinegar or lemon juice. The acidity will help break down some of the sucrose into glucose and fructose, and these invert sugars will help keep the filling more fluid.
Another suggestion: don't over-bake the filling. I prefer to pre-bake the crusts empty, then fill and briefly bake the final tarts to avoid the filling boiling, which helps keep the filling runny.
How do you get them out of the muffin pan?
Getting butter tarts out of the pan is the most stressful part of making them at home.
First, when they come out of the oven, let them cool for about 5 minutes to firm up a little. Then you can use your fingertips to gently twist them in the pan to loosen the sides.
Once completely cooled, then you can pull them out of the muffin pan one by one using your fingertips. You can also use a pairing knife or an offset spatula to help you lift them out.
Do you need to store them in the fridge?
When I make a batch of 12 butter tarts, I usually store half at room temperature to be enjoyed in the next few days and half in the freezer, for future cravings. I don't store them in the fridge. I don't store pie in the fridge either.
Can you freeze them?
Butter tarts store well at room temperature for several days. Just let them cool completely before transferring them to a container. For longer storage, you can freeze them and they freeze very well. In fact, many Canadians enjoy eating cold butter tarts straight from the freezer! 
To store butter tarts in the freezer, let them cool completely on a wire rack then transfer them to a parchment-lined sheet pan to freeze solid. Once frozen, you can throw them in an airtight freezer bag. 
How do you defrost frozen butter tarts
I defrost frozen butter tarts on a large plate (or on a sheet pan), set in a cool, dry place. It takes an hour or two if you defrost them at room temperature.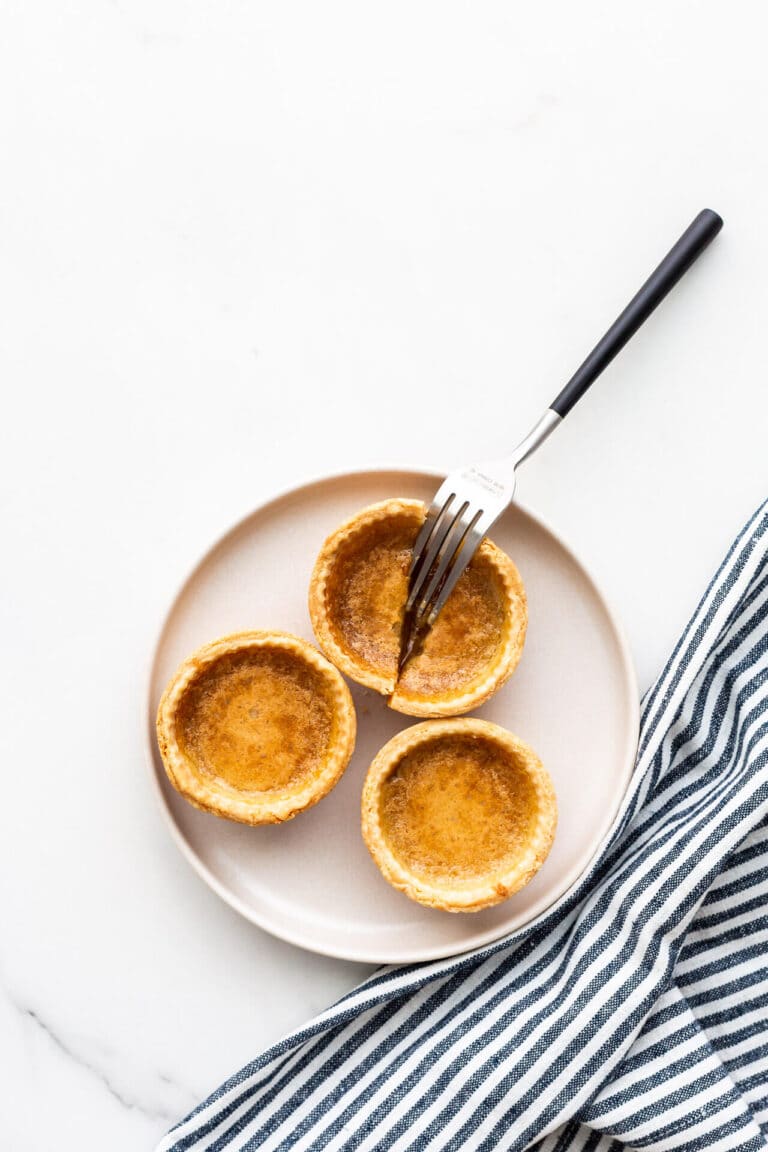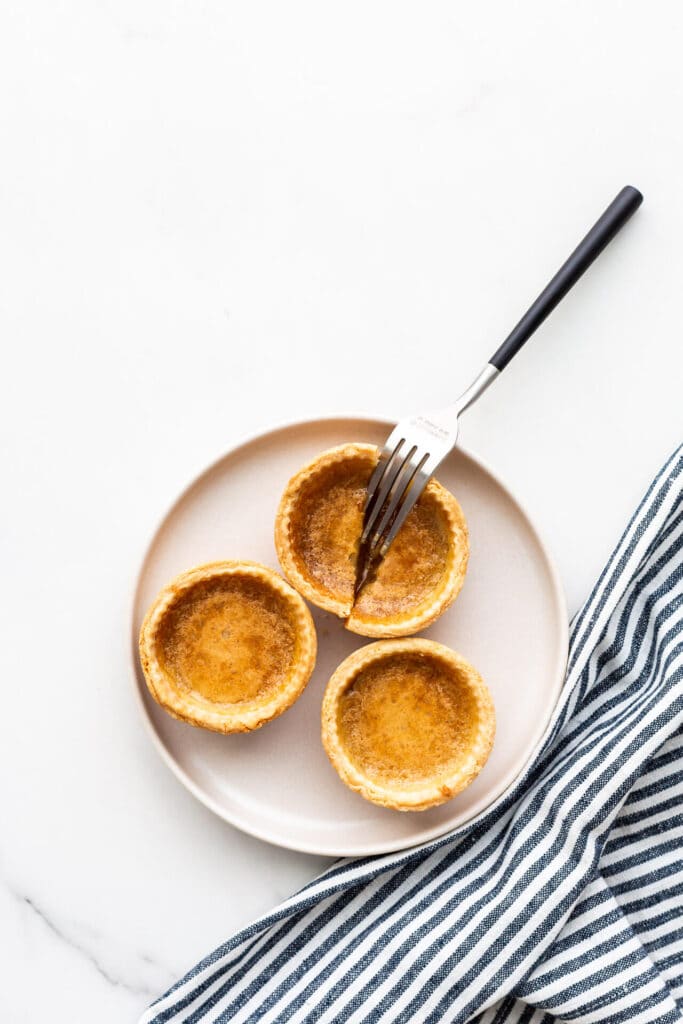 Here's a recipe for both the all-butter butter tart crust and the classic filling without corn syrup. This butter tart recipe makes 12 butter tarts in muffin pans.
📖 Recipe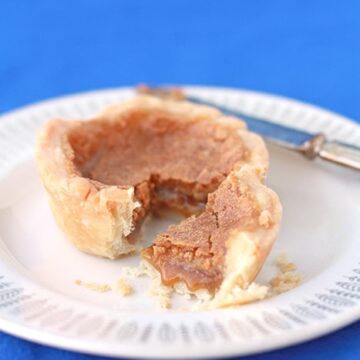 Butter Tarts with All-Butter Crust
Learn how to make Canadian butter tarts with a homemade crust with this easy recipe. No corn syrup and no vinegar needed!
Ingredients
All-butter crust recipe for butter tarts
280

grams

bleached all-purpose flour

10

mL

granulated sugar

155

grams

unsalted butter

very cold, cut into small cubes

85

mL

cold water
Butter tart filling recipe
Instructions
How to make all-butter pastry shells for butter tarts
In a large bowl, whisk together the flour, salt, and sugar.

Add the cubed cold butter to the bowl and toss it in the flour to coat it.

Working quickly with your palms and fingertips, rub handfuls of flour and butter together to work the butter into the flour until you get a mixture that has a coarse, sandy texture, with pieces of butter no larger than a chickpea. The mixture will have a golden yellow colour when you are done.

Sprinkle the mixture with the water. Work the liquid ingredients into the sandy mixture, whisking it in with the fork.

Clean the fork with your hands and switch to working the dough with your hands, quickly kneading it all together until you get a smooth dough.

Split the dough into two; roll each into a log, wrap in plastic wrap and chill for at least 1 hour.

When you are ready to roll the dough, simply divide each log into 6 pieces, rolling each piece into a 4 inch circle roughly, using a rolling pini. Carefully work each disk into the well of a 12 cup muffin pan.

Chill the tart shells in the fridge for at least 15 minutes while you preheat the oven to 400 ºF.

When the tart shells are very cold and firm and the oven is preheated, line each tart shell with a silicone muffin cup and fill with dried beans or pie weights.

Place the muffin pans on the bottom rack of the oven and bake them for 20 minutes, the edges will begin to dry out and turn golden when they have baked sufficiently.

Take them out of the oven when they are blind-baked, and let them cool slightly so that you can remove the silicone liners and pie weights.
How to make butter tart filling
Drop the oven to 375 ºF (190 °C).

In a medium bowl, stir together the melted butter, the brown sugar, the cream, the vanilla, the salt, and the egg,. Stir well.

If you want to make tarts with raisins or nuts, scatter a few at the bottom of each crust (see notes).

Divide the filling among the blind-baked tart shells. You'll place roughly 30 grams of filling per tart.

Bake the tarts on the middle rack of the oven for another 15 minutes. The edges of the crust should be golden and the filling will be puffed and golden, but will not be boiling yet. If it's boiling, the filling will be overcooked and sink.

Remove the muffin pans from the oven. Let the tarts cool for about 5 minute until they are firm, then gently twist them to make sure they will unmould when cooled.

Once cooled, unmold the tarts with the help of an offset spatula.
Notes
Ask a Canadian about butter tarts and whether they should contain raisins, dried currants, or nuts, and you will probably get a very passionate response. I prefer them without, but feel free to add up to ½ cup total of raisins or dried currants or toasted nuts, or a combination of these (adding up to ½ cup).
Nutrition
Serving:
1
g
Calories:
330
kcal
Carbohydrates:
37
g
Protein:
3
g
Fat:
19
g
Saturated Fat:
12
g
Cholesterol:
63
mg
Sodium:
176
mg
Potassium:
58
mg
Fiber:
1
g
Sugar:
18
g
Vitamin A:
588
IU
Calcium:
26
mg
Iron:
1
mg