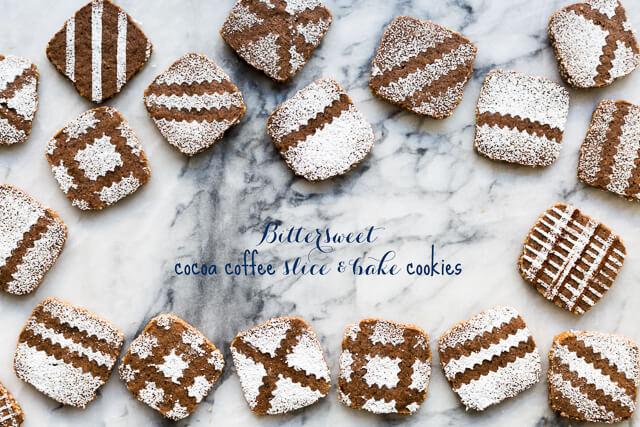 I made these cookies with a minimal amount of sugar (I don't think you could go lower than this) so that these cookies were more of a play on the bittersweet flavour of coffee beans and cocoa powder. I roll all of my icebox cookie doughs in turbinado because I am addicted to those crunchy edges. These bittersweet cookies were the perfect canvas for some powdered sugar stencilling. If you prefer a sweeter cookie, just double the sugar (use 100 grams granulated sugar in the cookie dough, which comes out to ½ cup).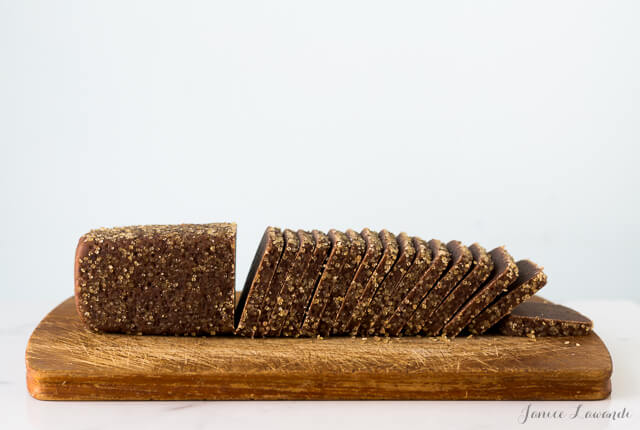 They are a slice-and-bake cookies so you should actually chill the dough overnight. If you want other slice-and-bake cooke recipes, try these fruitcake cookies, vanilla sablés, or another kind of chocolate cookie, chocolate sablés.
Bittersweet cocoa coffee cookies
These bittersweet cocoa coffee cookies have a delightful flavour of coffee and chocolate, and they aren't too sweet. They are perfect with a hot cup of tea.
Instructions
Whisk together the all-purpose flour with the cocoa powder, salt, and coffee grinds. Set aside.

In the bowl of an electric mixer fited with the paddle attachment, cream together the butter and the sugar.

Add the vanilla and beat in, scraping down the sides of the bowl as needed.

With the mixer running on low, add the flour mixture gradually. Then add the milk. Beat until a dough forms.

Dump the dough onto a clean work surface and pat together into a 7 ½-inch log. I pressed my cookie dough into a a rectangle so that my cookies would be pretty square (about 1 ¾"x1 ¾"). Roll the log of cookie dough in turbinado, pressing into all sides. Wrap in plastic wrap and store in fridge over night.

Preheat the oven to 350ºF. Line a baking sheet or two with parchment.

Unwrap the cookie dough and slice to about ¼" thick. You should get about 30 thin-ish cookies. Space them out on your baking sheet and bake for about 15 minutes until the surface looks dry.

Cool a couple minutes on the baking sheet before transferring to a rack to cool completely.

Stencil or sprinkle with lots of powdered sugar. Watch the gif on Instagram to see what I mean!
Give back
If you enjoy the free content on this website, say thank you!
Notes
Nutrition