This easy chocolate pound cake is flavoured with espresso, cinnamon, and cardamom. Makes a great snack but also you can serve slices of chocolate espresso pound cake topped with berries for a pretty dessert !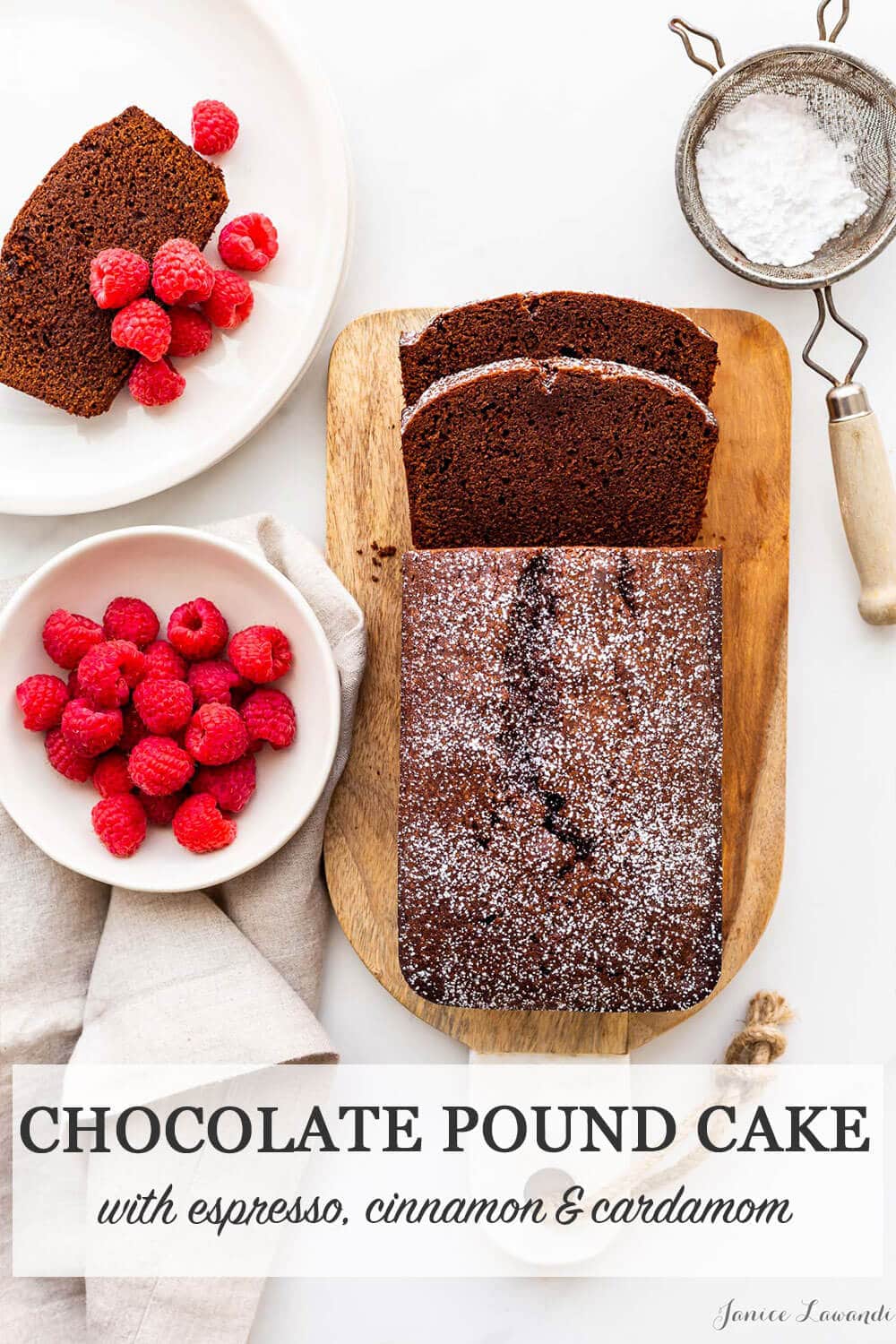 Disclosure: As an Amazon Associate, I earn from qualifying purchases.
When I'm feeling stressed, it's not necessarily a time for elaborate layer cakes. You know I ADORE layer cakes, but sometimes, I don't have the willpower to make them, though frosting a gorgeous Earl Grey cake is a very zen exercise that is quite meditative, actually. Still, sometimes I need a cake that requires… less effort. That's why I've been really into loaf cakes these days and single-layer cakes that are still stunning and satisfying, like this single-layer chocolate cake topped with a mound of whipped cream and strawberries, which also happens to be gluten-free, or this lemon raspberry cake topped with a thick layer of luscious lemon curd and a pile of raspberries. This banana cake with chocolate frosting is another great example. Cake doesn't have to be complicated but it still has to be delicious. Cue the chocolate pound cake.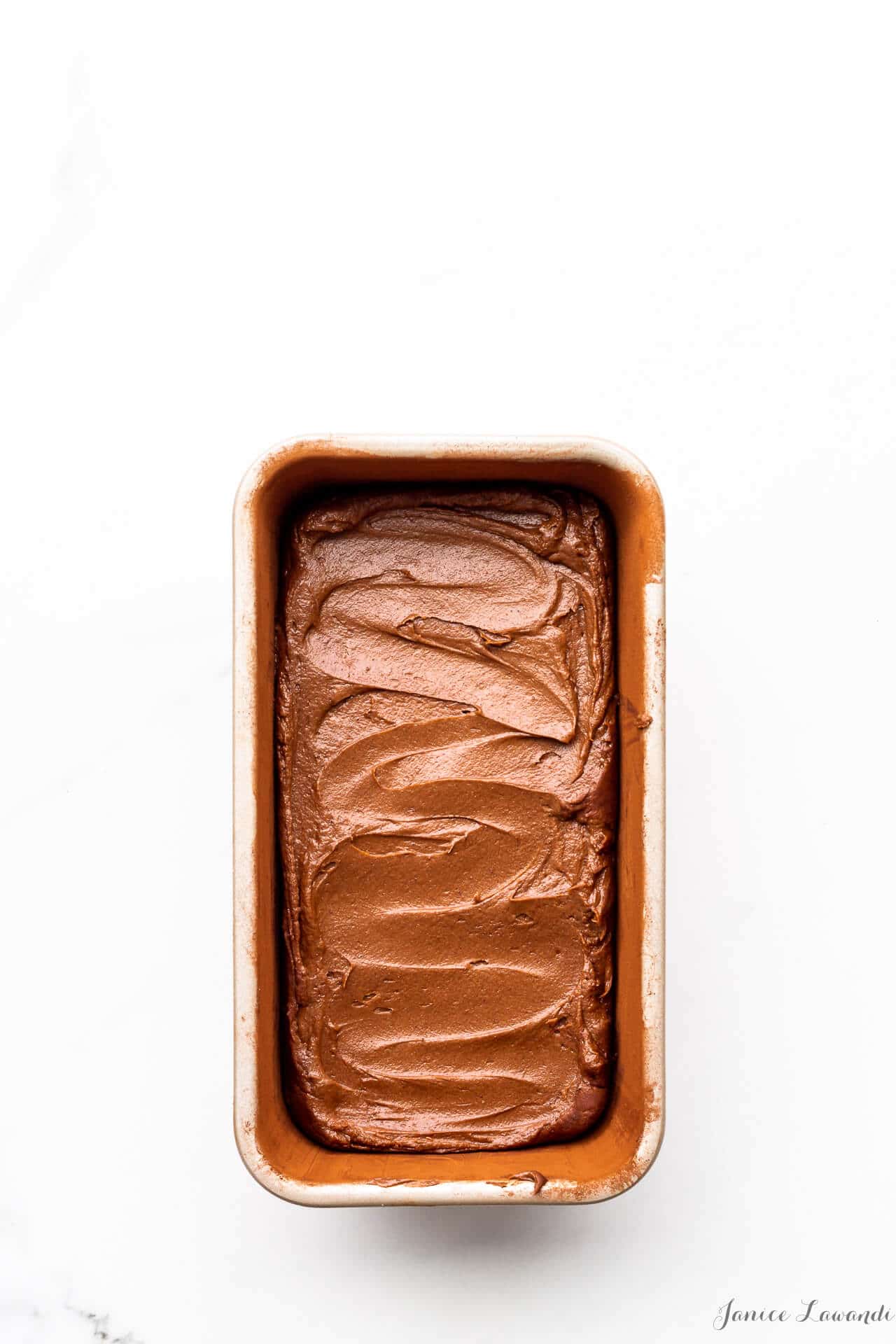 So on those days when you are craving cake, but you don't want stress, a recipe for chocolate pound cake is what you need. But that doesn't have to be boring! Add some espresso powder to make it a chocolate coffee loaf cake. Flavour the pound cake with warm spices like cinnamon or floral spices like cardamom. Slice pound cake and serve it with berries and you have an impressive dessert. Nobody needs to know you were actually tired when you baked it!
Pound cake recipes
Pound cakes, by definition, are essentially butter, sugar, flour, and eggs, in equal parts. The traditional pound cake doesn't require a recipe because the pound cake ratio is 1:1:1:1 of butter, sugar, flour, and eggs, by weight, so 1 pound of butter, 1 pound of sugar, 1 pound of flour, 1 pound of eggs. Since the weight of eggs can vary, many will weigh the eggs they are using, then measure out the same weight in butter, sugar, and flour. This means that a pound cake is ¼ butter, ¼ sugar, ¼ flour, and ¼ eggs, measured by weight. In fact, that's why the French refer to the pound cake as a "quatre quarts," meaning "four quarters." The batter for this chocolate pound cake comes together quickly and calls for ingredients you have in your pantry and fridge. This is a chocolate cake recipe with no frills, so no sour cream, no boiling water, no milk, and no buttermilk. But that doesn't mean it's boring. It's not quite a pound cake in that the ratio is a little off from the typical 1:1:1:1 recipe, but it's close enough and the texture is fantastic!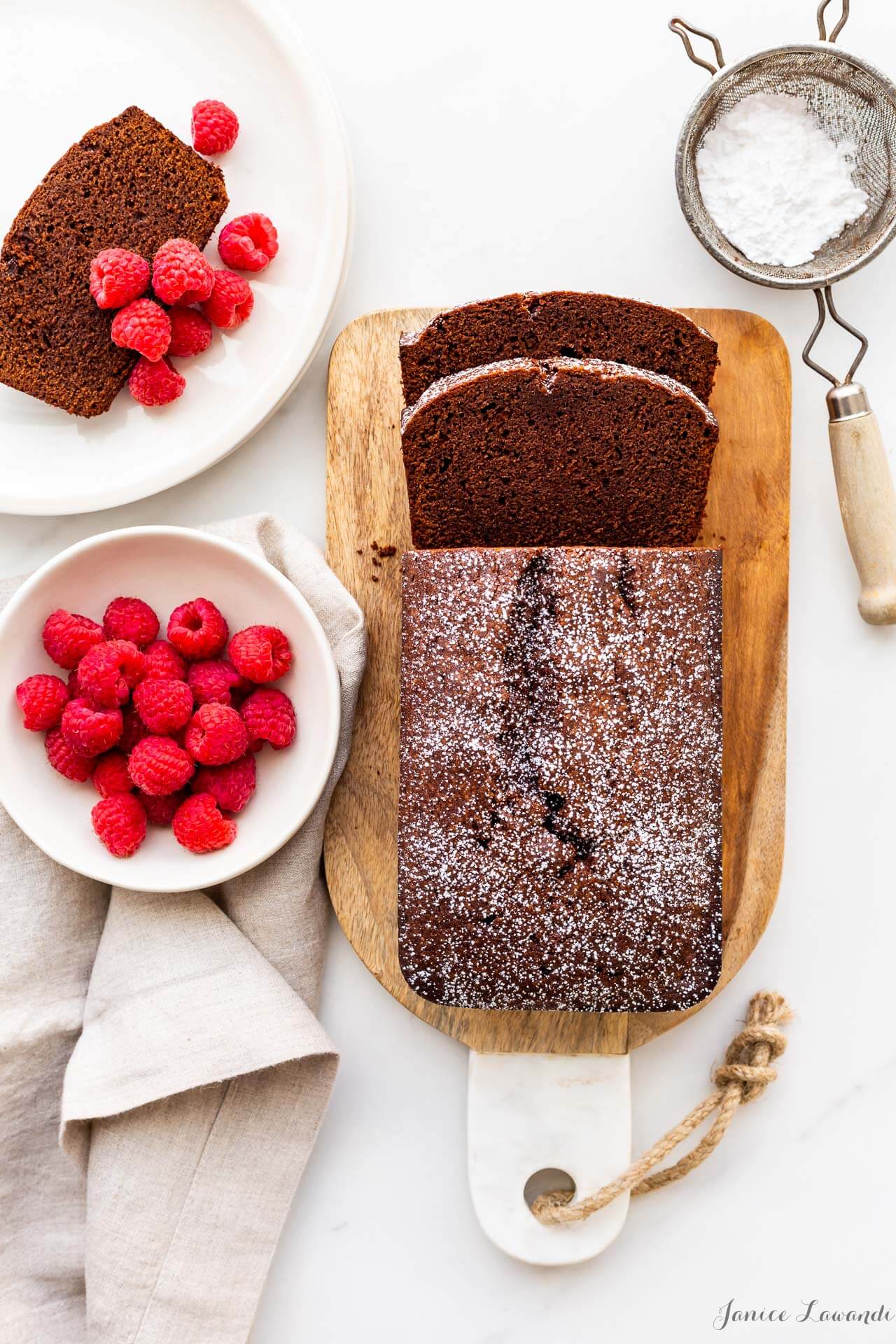 Replace flour with cocoa powder
The original recipe I adapted when making this cake isn't a chocolate cake at all, but that's where I started to get to this chocolate loaf cake recipe. To turn a vanilla cake recipe into a chocolate cake, one easy way to do this is to replace flour with cocoa powder. Do not replace all of the flour with cocoa powder in a recipe. You need to keep most of the flour for its structure building gluten properties because cocoa powder has zero gluten and the cake will most definitely collapse in the oven in the absence of flour. Replace a portion of flour with an equal portion of cocoa powder. I took out some of the flour (½ cup~60 grams) from the original and replaced it with cocoa powder (½ cup~45 grams) because I really needed a little chocolate that day. Consult this page of baking conversions to help guide you. The cake is sweet and chocolaty. The espresso and spices give it a little something that's not quite identifiable. If you prefer a play on vanilla and chocolate, you can also make this classic chocolate marble loaf cake or this big chocolate chip bundt cake made with sour cream.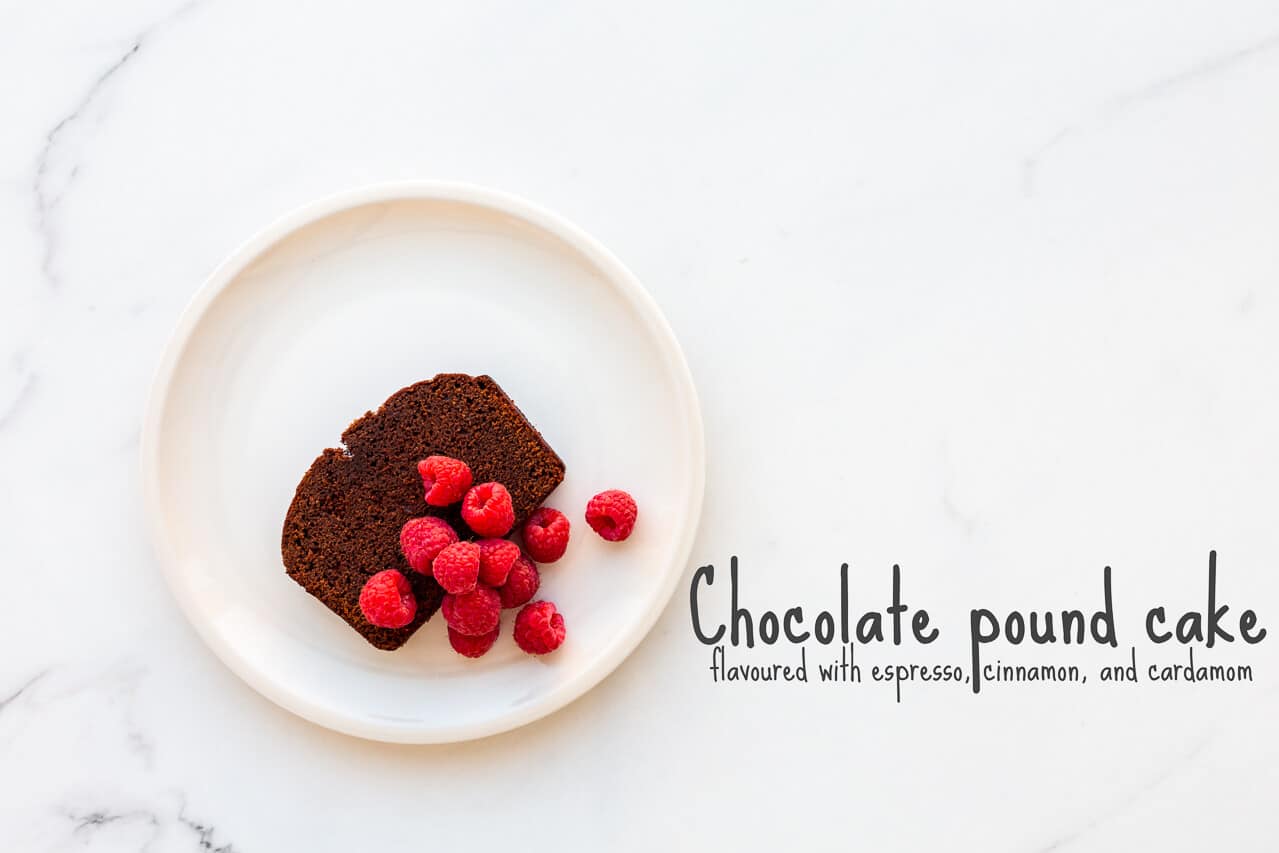 How to serve pound cake
Pound cake doesn't have to be fancy or elaborate and it shouldn't require hours of your time, but that doesn't mean it should be boring. Slices of pound cake served with coffee or tea in the afternoon are perfect. The slices of cake make a great snack or dessert to pack in a lunch box too. For dinner and dinner parties, you can serve slices of pound cake with whipped cream and fresh berries or even roasted rhubarb! Fun toppings are the way to go when it comes to the simple pound cake.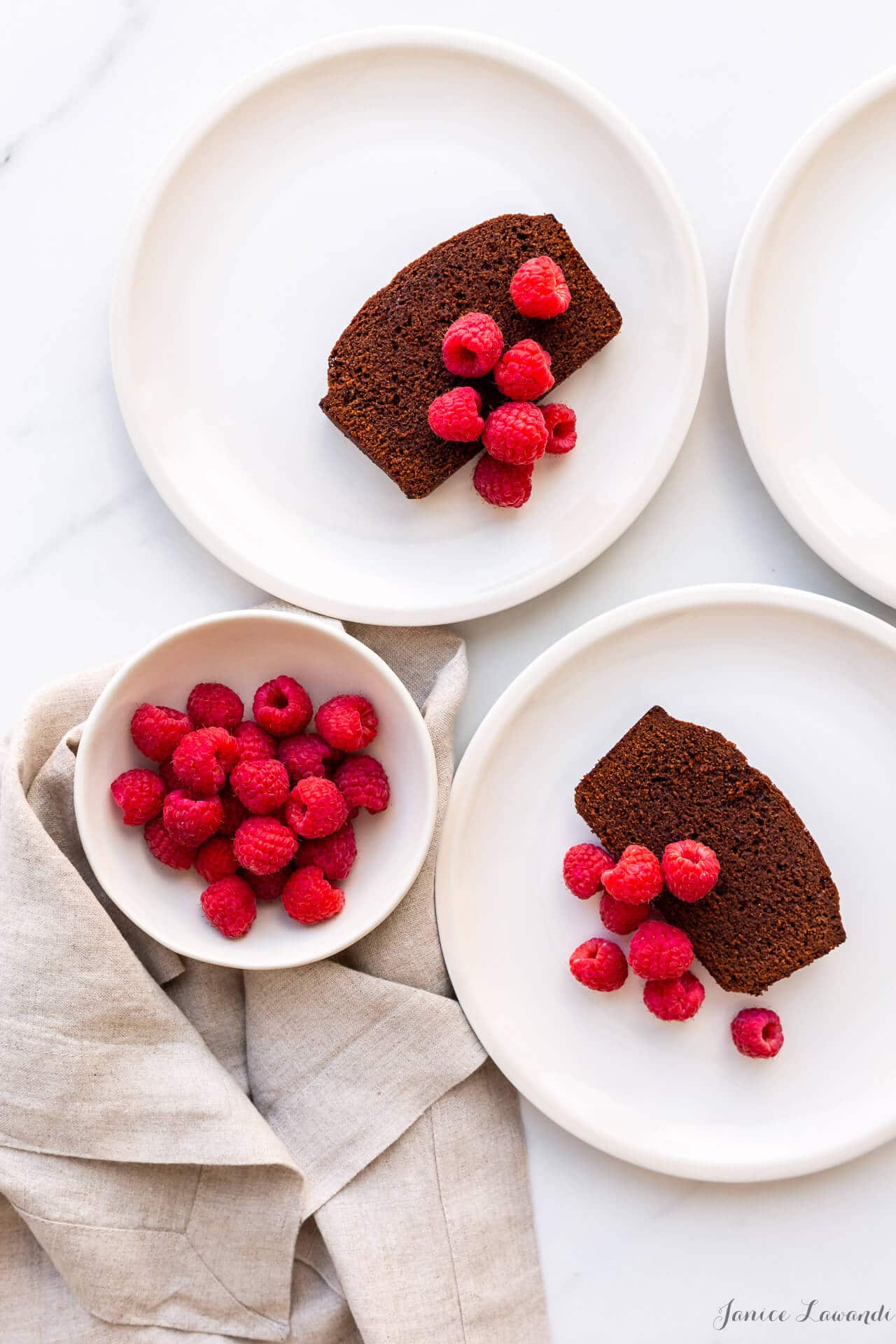 Chocolate espresso pound cake recipe
I baked this chocolate loaf cake in an OXO non-stick loaf cake pan that is slightly smaller than the usual 9x5in (this pan is closer to 8.5 in L x 4.5 in W). The gold finish is non-stick which makes unmoulding loaf cakes less stressful, but the finish isn't so dark that cakes bake too quickly on the edges. The OXO loaf cake pan is available on Amazon if you want to check it out!
📖 Recipe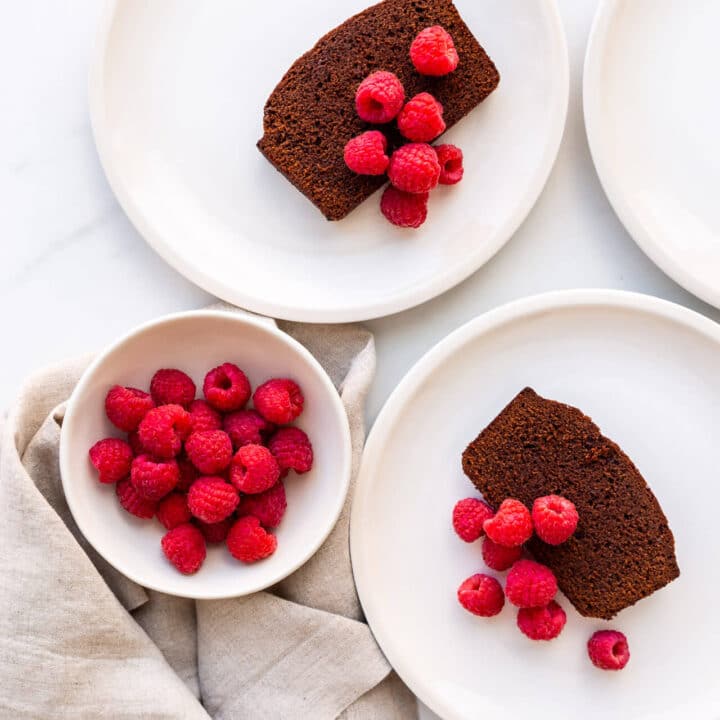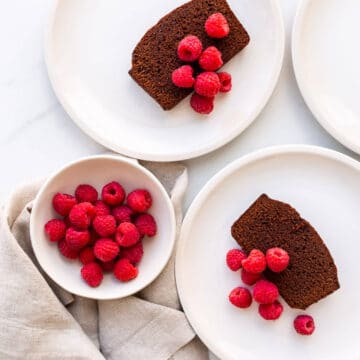 Chocolate Espresso Pound Cake
Learn how to make a chocolate espresso pound cake with this easy recipe.
Instructions
Preheat oven to 350°F (175 °C). Lightly grease a 9×5-inch (23x12.5 cm) loaf pan. Line with parchment, then grease and dust with cocoa powder.

In a medium bowl, mix together the flour, sifted cocoa, spices, salt, and baking powder. Set aside.

In a small bowl, whisk together the eggs and vanilla. Set aside.

In the bowl of an electric mixer fitted with the paddle attachment, cream the butter, sugars, and espresso powder until it is nice and smooth.

Gradually add in the egg/vanilla mixture. Scrape the bowl as needed with a spatula.

Gradually add in the dry ingredients, scraping down the bowl as needed.

Drop the batter into the prepared pan, smoothing the top.

Bake for 1 hour–1 hour 10 minutes. Remove from the oven

Let the loaf cool completely in the pan on a cooling rack.
Nutrition
Calories:
435
kcal
Carbohydrates:
48
g
Protein:
6
g
Fat:
26
g
Saturated Fat:
16
g
Cholesterol:
144
mg
Sodium:
113
mg
Potassium:
226
mg
Fiber:
3
g
Sugar:
31
g
Vitamin A:
837
IU
Calcium:
63
mg
Iron:
2
mg
This post contains affiliate links. If you buy a product I recommend, I will get a small commission, and the price you have to pay will not change in any way.