The season is short so make this Concord grape focaccia recipe quickly before they're gone!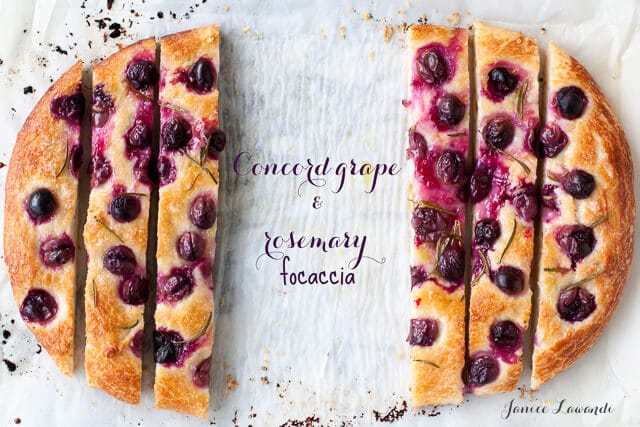 Disclosure: As an Amazon Associate, I earn from qualifying purchases.
I went to the market for apricots this last Tuesday. And instead of coming home with a bagful of apricots, I returned with a big basket of Concord grapes. It wasn't that I forgot about the apricots, but rather I think I missed the season. Baskets of Concord grapes were tucked away in the corner of just about every market stall selling fruit.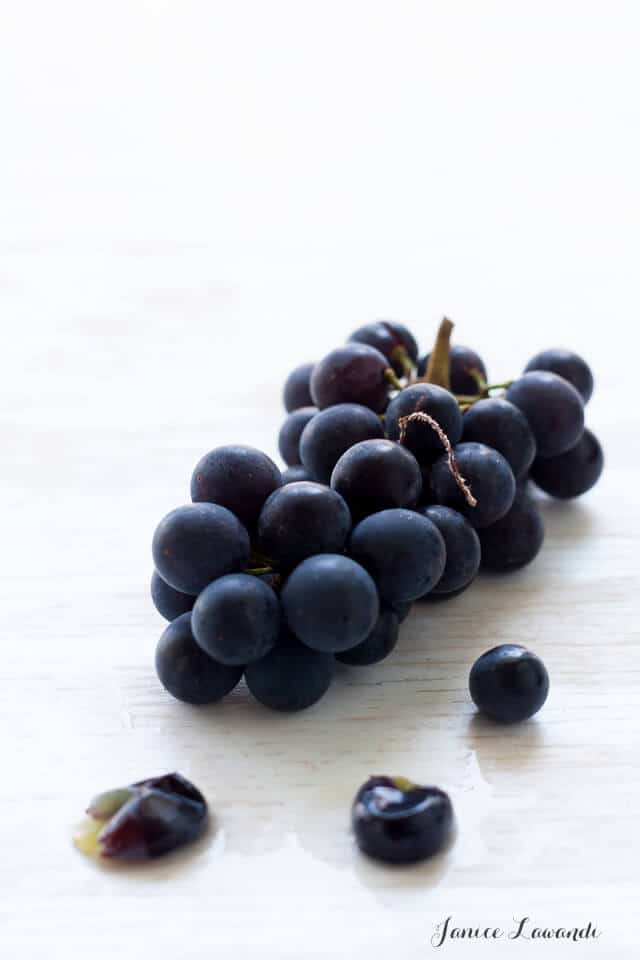 Oddly enough, before this year, I had never noticed the Concord grapes, but this week, they popped up everywhere: at the markets and grocery stores, even on the menus of my favourite restaurants. I figured I might as well give them a try.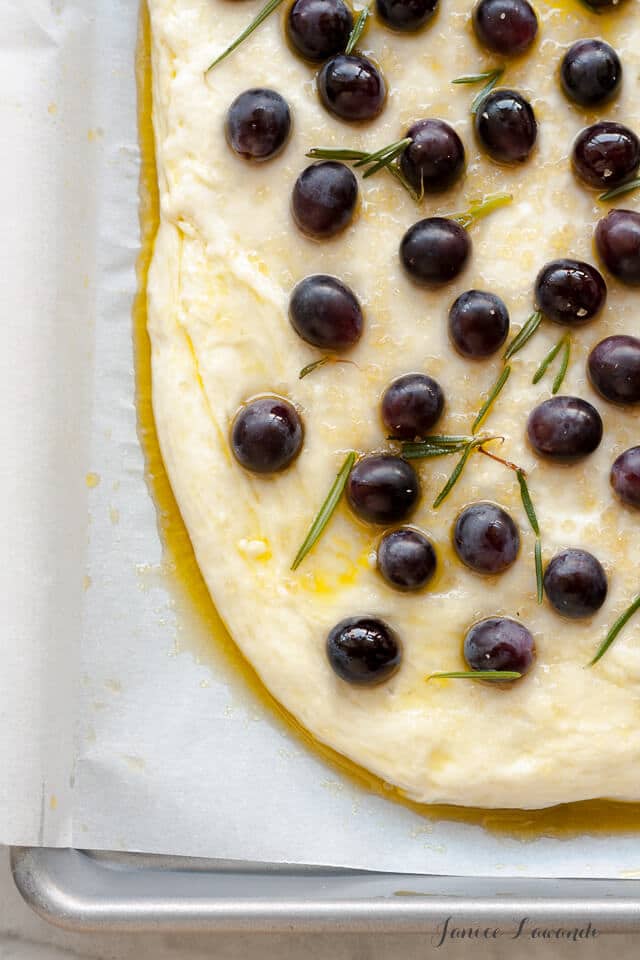 When I slipped a basketful into my market bag, I picked up some rosemary. I was thinking grape pizza, mainly because I had a good-sized ball of dough leftover in the fridge. Then when I sampled a grape, I decided to scale back my pizza plans and turn the pizza dough into a sweet focaccia.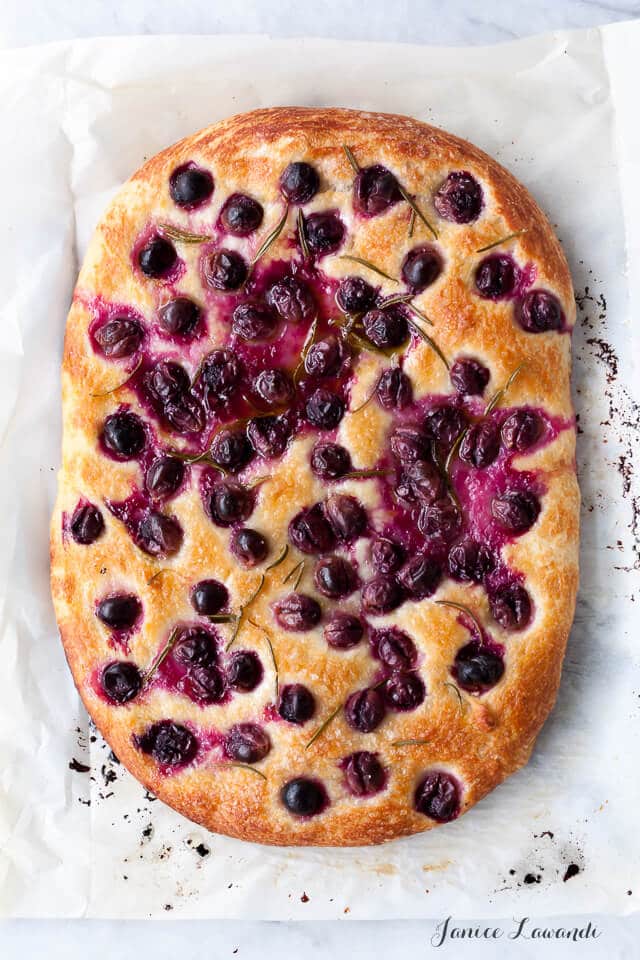 Well, turns out I really like Concord grapes if you scatter them over a generously olive-oiled pizza dough with sugar and rosemary. In fact, I loved it so much, I kinda ate the whole thing that very day. I had one of those afternoons, where I ate a slice and walked away, you know, for the sake of being "healthy," and then I went back for another. And then another. And then another until there was one piece left, at which point I said "screw it!" and I finished it off. Really, this is best eaten fresh the day it's made, right? Right!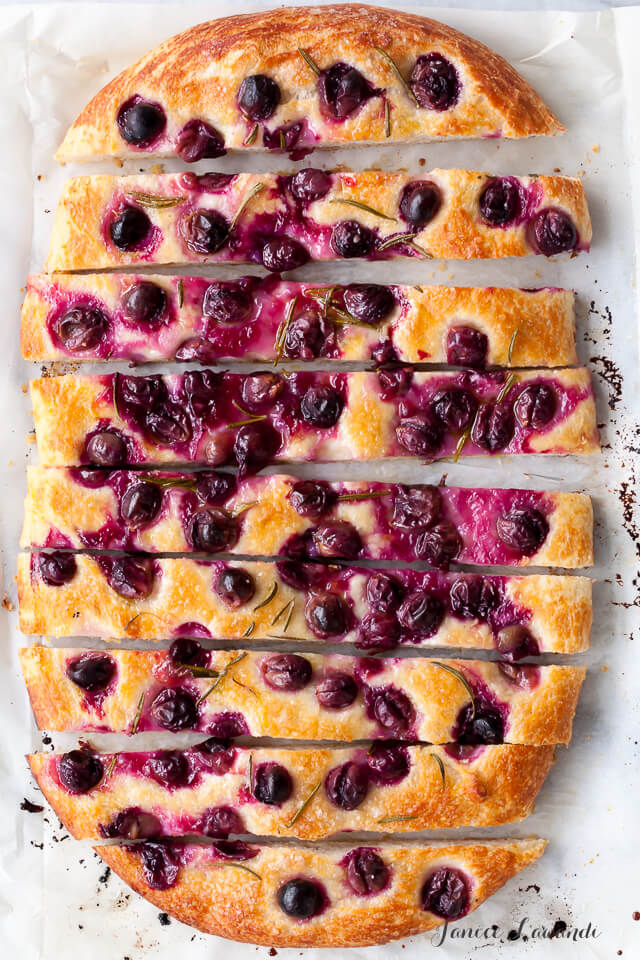 If you have more Concord grapes to bake with, I highly recommend this Concord grape peanut butter crumble, which is a ridiculously good dessert and not difficult to make. Or if you are looking for other focaccia recipes, try this savoury carrot focaccia.
📖 Recipe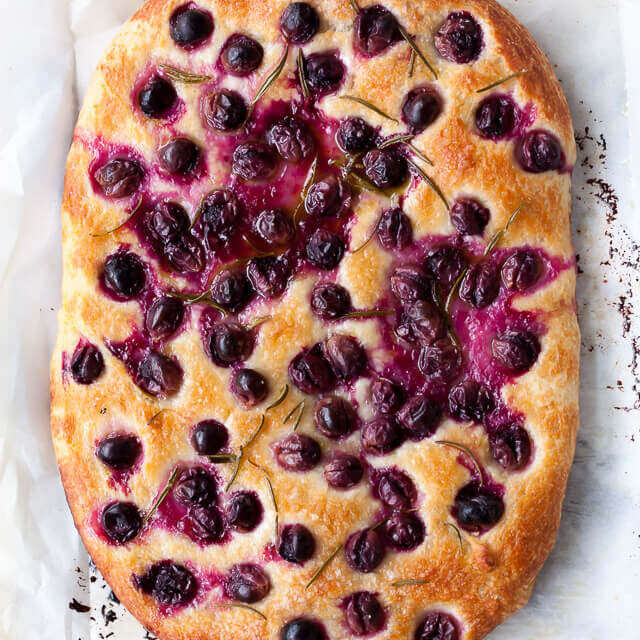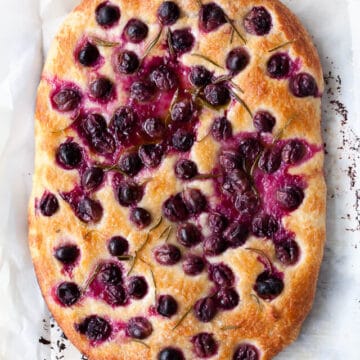 Concord Grape Focaccia with Rosemary
This grape focaccia is super easy: scatter Concord grapes over a generously olive oiled pizza dough with sugar and rosemary!
Ingredients
454

grams

pizza dough

homemade or store-bought

300

grams

seedless Concord grapes

or other ripe flavourful seedless grapes

30

mL

olive oil

30

mL

granulated sugar

2

branches rosemary

10

mL

turbinado sugar
Instructions
Spread/roll the pizza dough until it's about ½ inch thick then transfer to a parchment lined baking sheet. Cover and let rise 10 minutes.

Drizzle the olive oil over top and massage it into the dough, tucking a little of the oil under the edges of the dough too.

Let the dough rest 10 minutes. Meanwhile preheat the oven to 400ºF.

Sprinkle the granulated sugar over the oiled focaccia dough and scatter the grapes over top and then the leaves of rosemary (discard stems). Top with turbinado.

Bake for a good 30 minutes, until it is a nice golden brown color. Let cool slightly before slicing and serving.
Nutrition