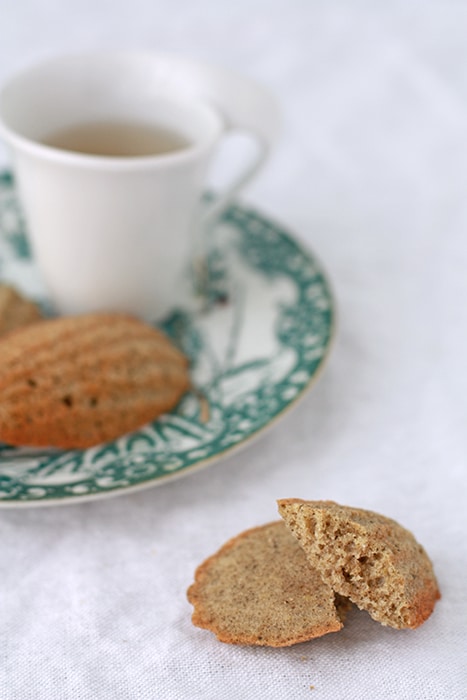 Tea isn't just for drinking. I've infused honey with lavender buds to make mini lavender cakes, and even flavoured a decadent earl grey chocolate tart topped with whipped cream. Tea in cookie form is also great, like in these lavender shortbread, which can also be made with lavender Earl grey or plain Earl grey tea.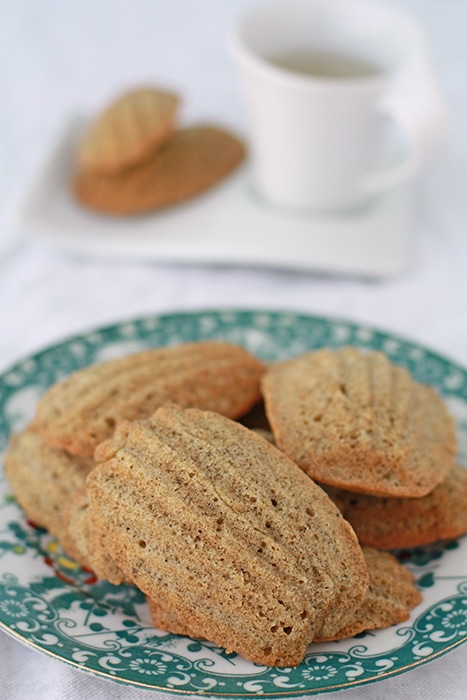 Disclosure: As an Amazon Associate, I earn from qualifying purchases.
The key to fluffy madeleines is resting/chilling the batter, baking them at high temperature to give them a burst of heat that will give them that signature hump, and also whipping the eggs and the sugar to the ribbon stage, which mechanically incorporates air that acts like a leavening agent. This recipe also calls for baking powder to give them madeleines an extra boost, though not all recipes do.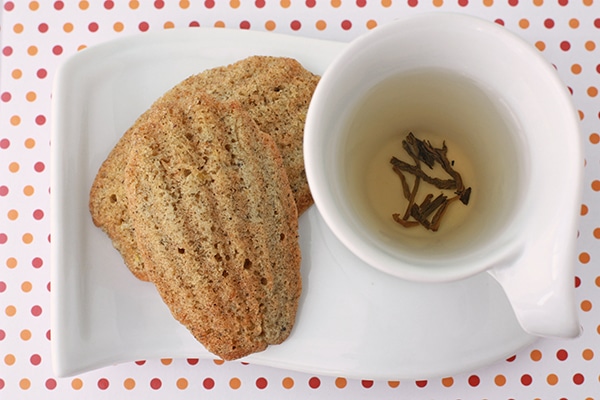 This recipe was halved from the original published in Martha Stewart Living (September 2011 issue pages 76 and 77). To grind the tea leaves, I used this Krups electric coffee and spice grinder which ground them to a pretty even fine powder.
📖 Recipe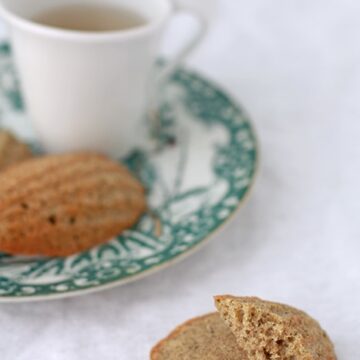 Jasmine Tea Madeleines
Instructions
Preheat the oven to 350°F (175 °C).

In a medium bowl, whisk together the flour, baking powder, and salt. Set aside for later.

In the bowl of an electric mixer fitted with the whisk attachment, whip the eggs with the sugars on high speed for about 10 minutes until they are a very light cream color and thick.

Sift the dry ingredients over the mixer bowl, and fold them in with a flexible spatula, carefuly.

Add the ground tea leaves, and fold them in until they are almost, but not totally incorporated.

Mix the melted butter with the vanilla and the honey in a small cup or bowl, and pour half of it over the batter. Fold it in, then add the other half of the butter mixture. Continue folding (with a couple gentle stirs) until all the ingredients are incorporated. Make sure to scrape the sides of the bowl, and make sure that you've gotten all the ingredients off the bottom of the bowl.

Let the batter stand for 10 minutes. Meanwhile, prepare the pans by very generously greasing them with melted butter, brushing it into the grooves, then dust with flour, tapping out the excess.

Dollop small spoonfulls of the batter into each slot of the pan, but do not overfill. Each slot will take a generous teaspoon or so. (Practice by baking a couple if you're unsure how much to put) Bake them for about 12 minutes, or until the edges are golden.

Immediately flip the pan over a wire rack to release all the madeleines to cool. Then re-prep the pan, and continue baking the rest of the batter.

Dust with powdered sugar just before serving, or serve them plain.
Nutrition
Calories:
68
kcal
Carbohydrates:
8
g
Protein:
1
g
Fat:
4
g
Saturated Fat:
2
g
Cholesterol:
25
mg
Sodium:
23
mg
Potassium:
19
mg
Fiber:
1
g
Sugar:
5
g
Vitamin A:
120
IU
Calcium:
8
mg
Iron:
1
mg