ou can create baked pumpkin donuts with a mini donut pan with this easy recipe, made with pumpkin purée and flavoured with cardamom, topped with a simple vanilla glaze and sprinkles.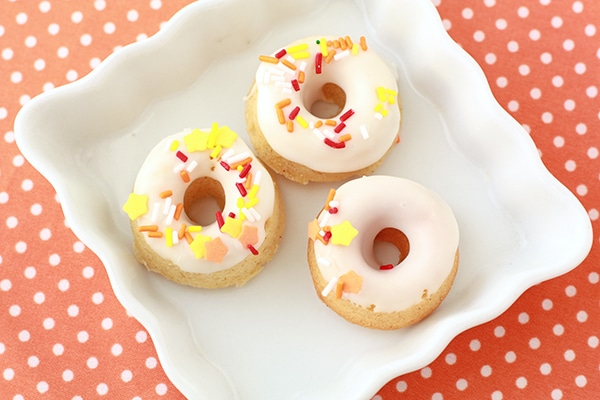 We need to talk seriously about pumpkins, and more specifically canned vs homemade pumpkin purée. This recipe and the next (coming soon) were made with pumpkin purée that I prepared myself. It's not hard to make pumpkin purée: I just roasted a pumpkin to cook it, then puréed the flesh in a food processor. The resulting light orange purée had a very fresh and light pumpkin taste.
If you would like to explore more recipes for baking with pumpkin, order your copy of the e-book All About Pumpkin so you can celebrate this star ingredient!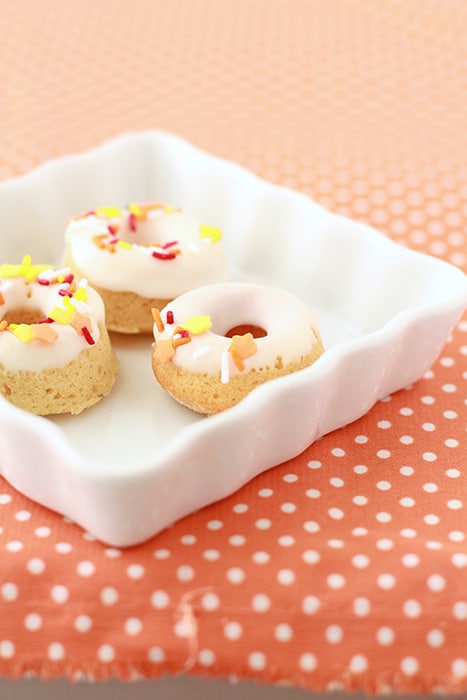 In a side-by-side taste test of canned vs homemade pumpkin purée, homemade won, hands down, though the taste is much more mild. The canned stuff tasted canned, and possibly a little metallic. Flavour-wise, homemade pumpkin purée wins, hands down. On the other hand, texture-wise homemade pumpkin purée can be watery, whether you roasted the pumpkin or boiled it. I've found that it's best to strain homemade pumpkin purée through a few layers of cheesecloth to extract some of that water so that the homemade pumpkin purée is thicker and less watery.
Another option would be to heat the purée on the stove to boil off the water and concentrate the purée. Just be sure to cool it down before using it. Also, make sure you keep an eye on it because the pumpkin could scorch on the bottom of the pan.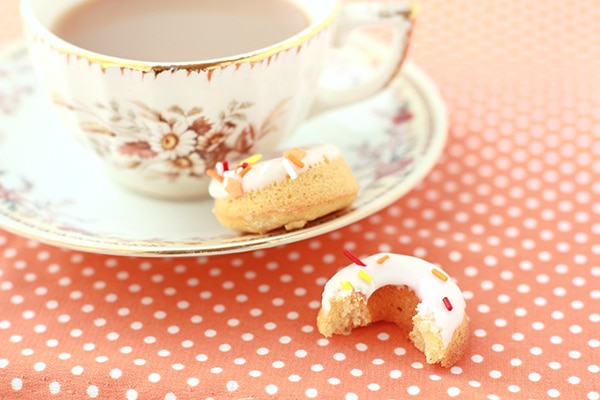 The trouble with a homemade purée is that when you add it into a recipe, the flavour gets lost because it's not as strong. I think this is why most prefer to bake with the canned stuff: the pumpkin flavour stands out better in recipes. This recipe only calls for ½ cup of pumpkin purée, so if you have leftover, you can make this pumpkin pie shake, or a pumpkin loaf cake.
These mini baked pumpkin donuts were made with homemade pumpkin purée, but an easy baking substitution is canned pumpkin. If you make this recipe with the canned stuff, expect a different result. You'll end up with doughnuts that have a deeper pumpkin flavour and colour. To make the batter for the donuts, you use the muffin mixing method, also called the two bowl mixing method, which is the easiest way to make a cake batter because all you need is two bowls and a whisk. The batter comes together in minutes without having to use an electric mixer.


The mini doughnut pan I used is available Amazon. I'd recommend buying two if you can so that you can bake more donuts at once. If you want to use a large donut pan, this recipe should make about 6 of them. Once you've invested in donut pans, the options are endless: you can make baked sour cream donuts coated in cinnamon sugar and baked chocolate donuts glazed with ganache, to name a few.
Mini baked pumpkin donuts
Baked pumpkin donuts made with pumpkin purée and flavoured with cardamom. The donuts are topped with a vanilla glaze and sprinkles, but you can also toss them in cinnamon sugar instead. Because they are not fried, baked donuts are a little lighter, cake donut.
Servings
30
mini doughnuts
Instructions
Preheat the oven to 350°F. Grease your mini donut pan with melted butter (I used this one from Amazon) . Set aside

In a medium bowl, whisk together the dry ingredients, i.e. the flour, baking powder, salt, and cardamom. Set aside.

In a separate bowl, whisk together the pumpkin purée, sugar, oil, vanilla, and the egg. Now add in the dry ingredients and whisk to combine.

Fill a piping bag with the batter, and pipe it into each of the molds to fill it about half-way.

Bake them until a cake tester inserted into one comes out clean (about 12–14 minutes).

Cool 5 minutes before inverting them onto a cooling rack to cool completely.

When doughnuts are cool, prepare the glaze by whisking together the powdered sugar, milk and vanilla. Adjust the consistency with more milk or sugar. Glaze should be on the thicker side, and not too liquid or it will dribble down dipped doughnuts.

Dip one side of doughnuts in glaze, then in sprinkles and set on a rack to dry slightly before serving.
Give back
If you enjoy the free content on this website, say thank you!
Notes
This recipe will yield 6–7 large baked pumpkin donuts if baked in a larger donut pan.
Nutrition