Leftover cake and cake scraps are not a problem when you have a recipe for cake truffles. These birthday cake truffles are the thing to make if you have leftover cake or if you have a cake that didn't quite turn out right. Never waste cake. Make cake truffles! As an Amazon Associate I earn from qualifying purchases.
Disclosure: As an Amazon Associate, I earn from qualifying purchases.
What are cake truffles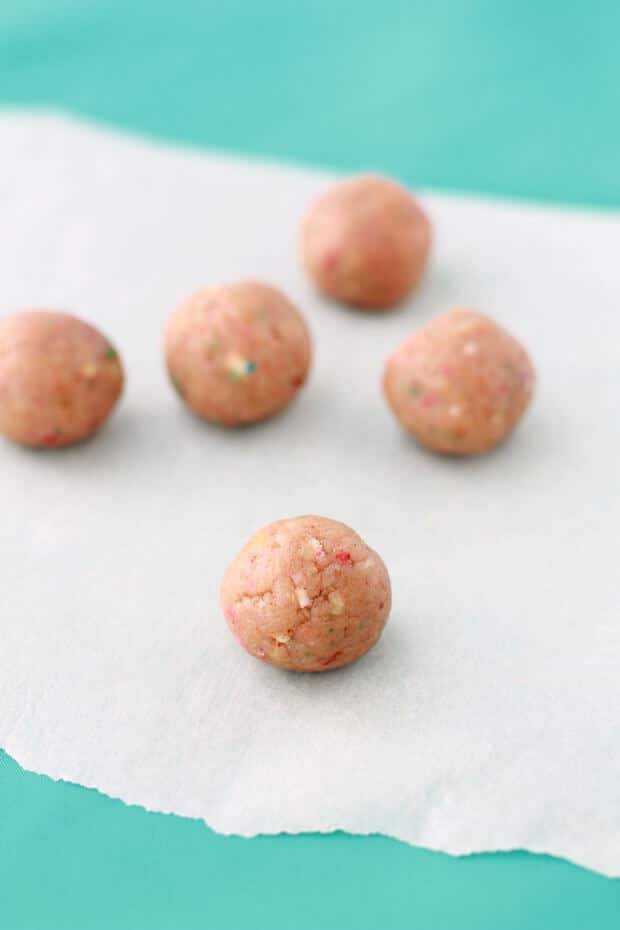 Cake truffles are like the adult version of cake pops. Bits of cake are mixed with a little liquid (like milk and vanilla, or you could also mix in some booze). Use just enough liquid to moisten the cake scraps so that they can be shaped into truffles. I've made Christmas cake balls (with leftover fruitcake), dipping them in either dark chocolate or white chocolate to finish them. This also helps them hold their shape so that you can give out the cake truffles as gifts!
Why Birthday cake truffles?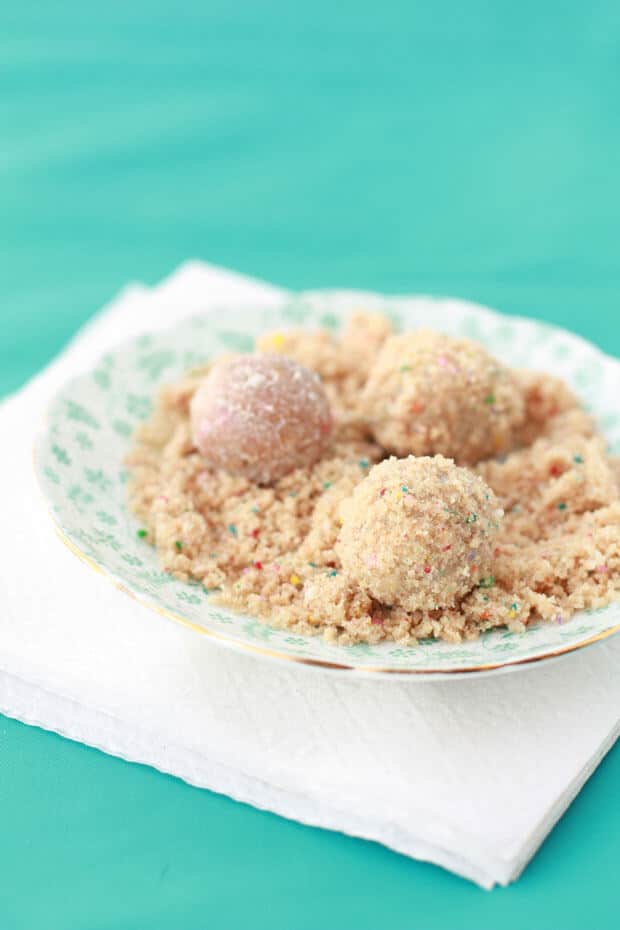 Christina Tosi made cake truffles cool by making birthday cake truffles, using scraps from her Milk Bar birthday cake. It's also a smart, money-saving business move to take the leftover scraps that would have been thrown out and to turn them into something else that you can sell. Birthday cake truffles are like bite-sized morsels of birthday cake, easy to make and super fun to eat.
To make birthday cake truffles, you will need:
some leftover cake: for birthday cake truffles, use leftover sprinkle cake (funfetti cake)
a binder: for birthday cake truffles, I used milk flavoured with a little vanilla, but you could also use booze, or even lemon curd, passion fruit curd, or grapefruit curd, or even a fudge sauce
a coating or hard shell: for birthday cake truffles, I used white chocolate. I've also used dark chocolate or milk chocolate. The chocolate coating will seal the cake truffles and preserve them. Covering the truffles in melted chocolate also allows you to coat them in something crunchy 
 a crunchy coat: for birthday cake truffles, use leftover Milk Bar birthday cake crumbs or milk crumbs, but you could also toast leftover cake to make cake crumbs, or chopped toasted nuts, coconut, sprinkles, ground buttered popcorn brittle, ground homemade graham crackers, etc.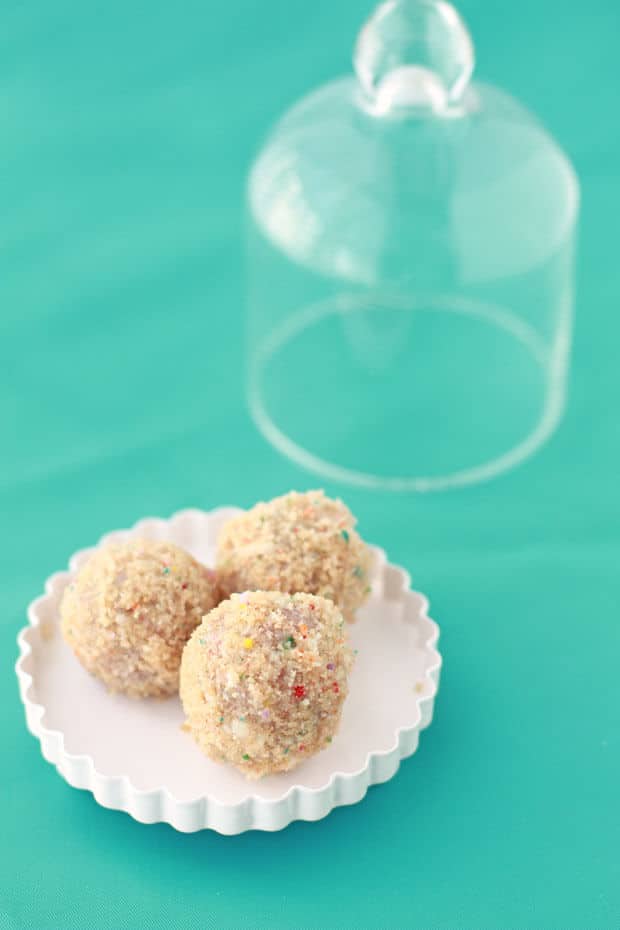 For the sprinkle cake and birthday cake crumbs, I used leftovers from making the Milk Bar birthday cake. This recipe is inspired by the carrot cake truffle recipe from the Milk Bar book available on Amazon—I highly recommend ordering this book if you don't have it yet!
📖 Recipe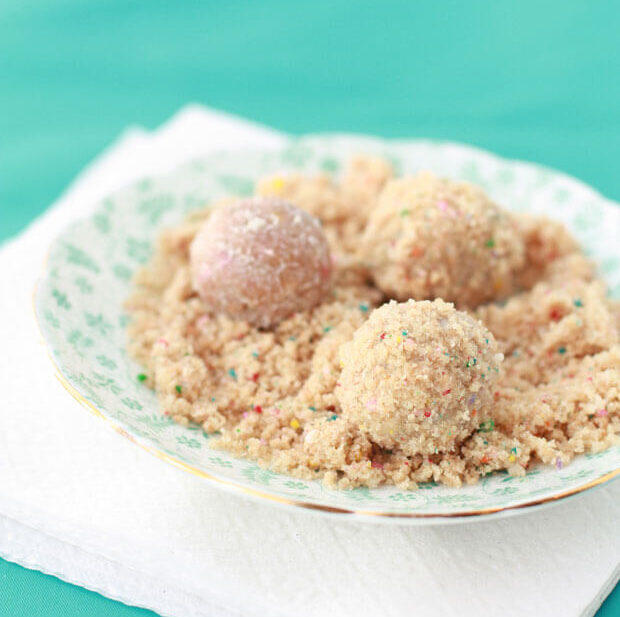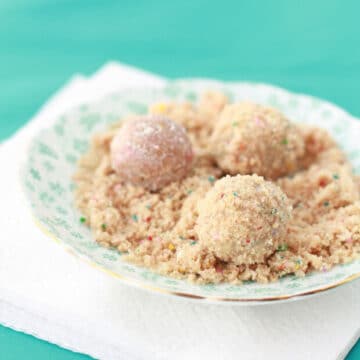 Birthday Cake Truffles
A recipe for Momofuku Milk Bar birthday cake truffles made from cake scraps. You can make cake truffles from leftover cake
Ingredients
55

grams

whole milk (3.25 % fat)

4

grams

pure vanilla extract

300

grams

birthday cake scraps

90

grams

Cacao Barry white chocolate

melted

140

grams

birthday cake crumbs

finely ground in a food processor
Instructions
In a small cup, combine the milk and vanilla. This will be your binder for your truffles. Set aside.

In the bowl of a mixer fitted with the paddle attachment, dump in your cake scraps. With the mixer on low, pour in half the vanilla milk. Increase speed to thoroughly mix.

Stop the mixer and test to see if you can squeeze a tablespoonful together and form a ball. If you can't add a little more vanilla milk, and mix again.

Form the truffle dough into about 24 equal balls, using your palms to shape them. Set them on a parchment-lined sheet. Place the sheet on the left side of your worktable.

Transfer the melted chocolate to a shallow bowl (if it's not already in one), and set it to the right of the sheet of truffles.

Have the crumbs ready in a shallow bowl to the right of the melted chocolate. Now that your worktable is set up, you are ready to start dipping and coating the truffles.

With gloved hands and working with a truffle or two at a time, dunk each truffle ball into the melted chocolate and rub it around between your gloved palms to thinly but evenly coat it with chocolate, then immediately drop the chocolate-coated truffle into the bowl with the crumbs, and toss it around the mixture with a spoon until it is completely coated with crumbs. Transfer it back to the parchment lined sheet while you dip and coat the others.

Transfer the cake truffles to a container and refrigerate them to set the chocolate and store them.
Nutrition