Brioche bread makes the best French toast. You can turn leftover bread into the most exciting stuffed French toast with brioche, using this recipe!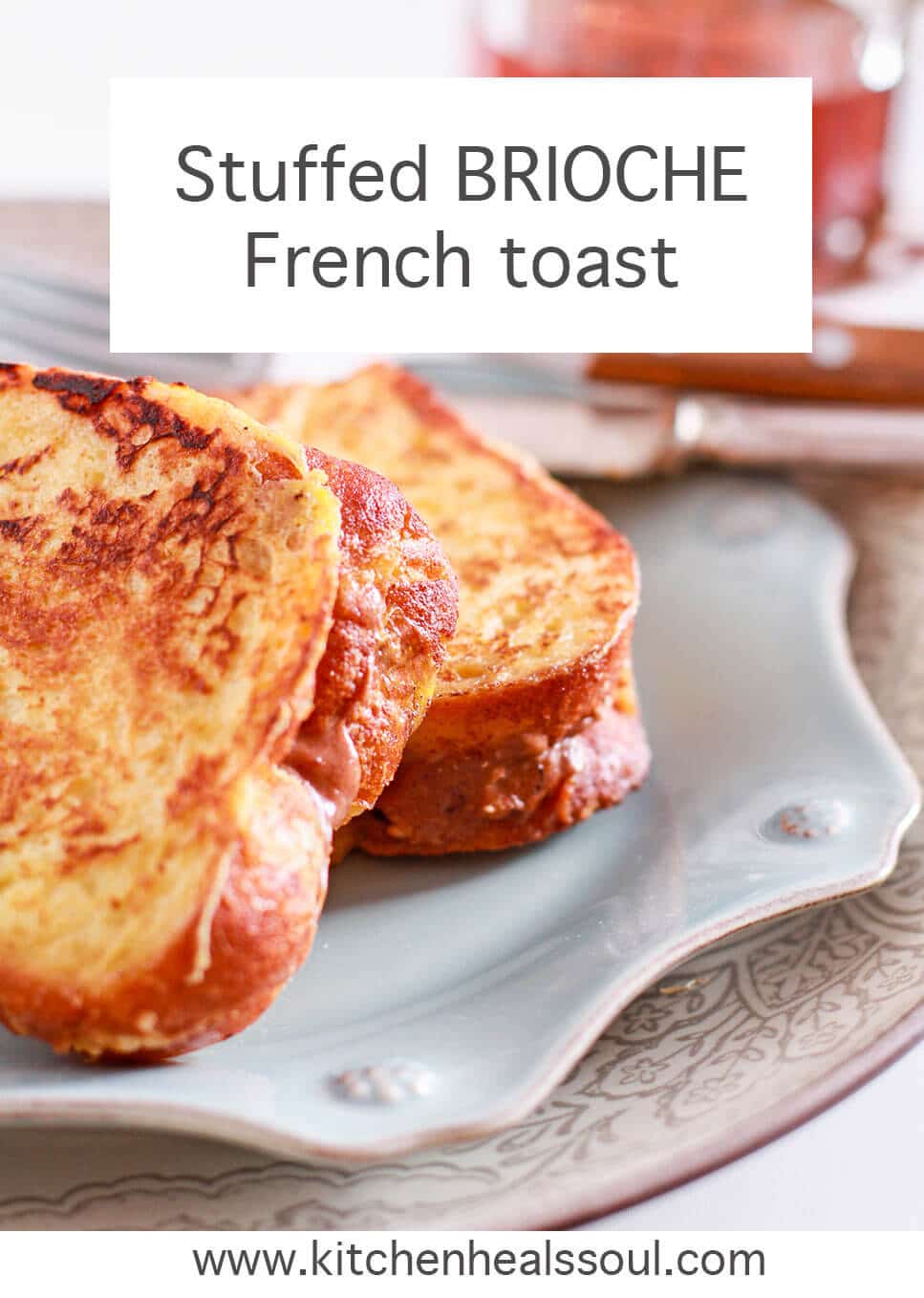 For the best French toast, use brioche bread!
You can make French toast with pretty much any kind of bread, even leftover homemade croissants or slices of baguette. All roads lead to French toast, though perhaps a little less traditional. But for the ultimate French toast experience, make French toast with brioche.
Why make French toast with brioche? Because brioche bread is an enriched bread made with eggs and lots of butter. Brioche is fluffy and tender, and when you dip it in an egg and milk batter before frying it in more butter, it makes the fluffiest, richest French toast you can make. The texture is so soft and cake-like inside.
Stale brioche is sad, especially if it's brioche you worked so hard to make by hand (or even if you made brioche with a kitchenaid mixer). That's okay because that's what French toast is for! Only good things can happen if you make French toast with brioche. Just do it!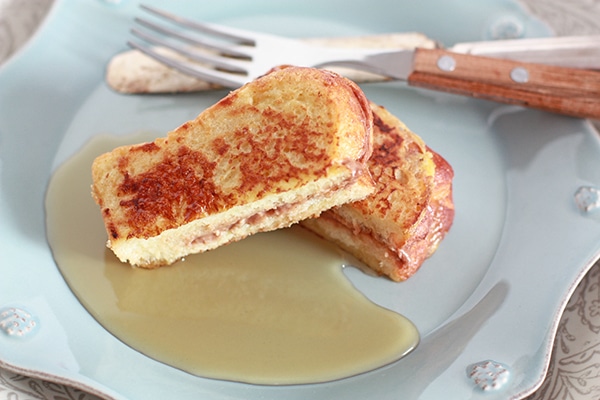 Disclosure: As an Amazon Associate, I earn from qualifying purchases.
See, that's the beauty of French toast (which the French call pain perdu, making reference to the fact that it's made with the "lost" bread that is stale): stale bread can be reinvented into something even better, while reviving its light texture.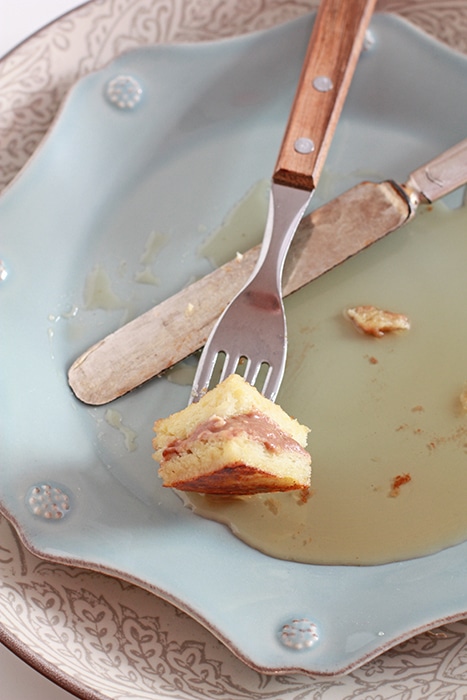 How to make stuffed French toast
Stuffed French toast might seem complicated, but it's actually quite simple. Essentially, you slice a loaf of stale bread into thick slices (at least 1 inch thick). Cut a slit horizontally into each slice along one edge to make a pocket that you then fill. If your filling is very sticky, you could probably just make a sandwich with two thinner slices, especially if your loaf came pre-sliced. Once stuffed, you dip each slice of stuffed bread in an egg batter, fry it in a little butter, et voilà!
Avoid making soggy French toast with this trick
It can be tricky to get French toast to cook properly on the inside without burning the outside, especially because you are frying French toast in butter. Lately, I've been frying my French toast first so that it is perfectly golden brown on the outside, then I transfer the golden French toast to a sheet pan and finish it in the oven at 350 ºF. Depending on the thickness of the French toast and how much you soaked it, it can take 5 to 10 minutes in the oven. This is a good trick if you like crispy edges on your French toast. You can even bake it longer if you prefer.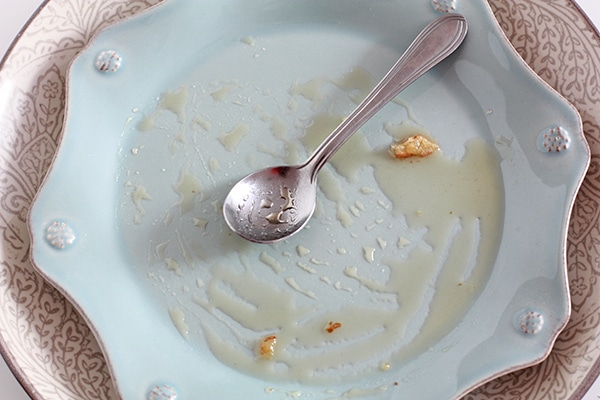 Stuffed French toast fillings
You could stuff your French toast with lots of different fillings. Peanut butter and jam would be a fun filling, homemade nutella, homemade maple butter, or a batch of three fruit marmalade during citrus season. For this recipe, I followed a Martha Stewart recipe for the filling and made this stuffed French toast with cream cheese and a homemade plum jam. This stuffed French toast is such a treat drizzled generously with Quebec maple syrup. Next time, I'd use mascarpone or ricotta instead of cream cheese because cream cheese is quite tangy.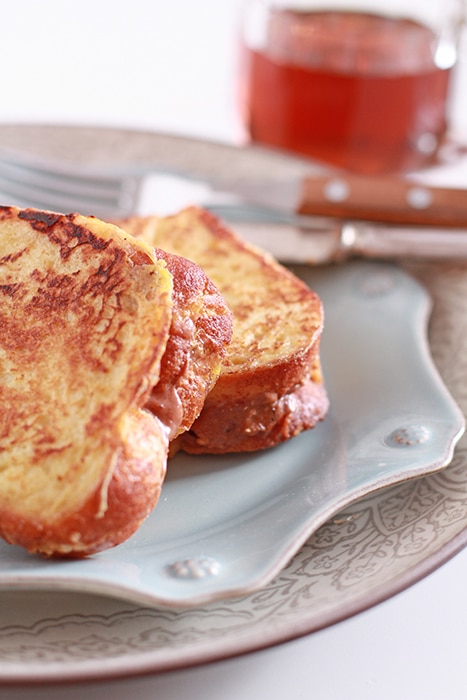 📖 Recipe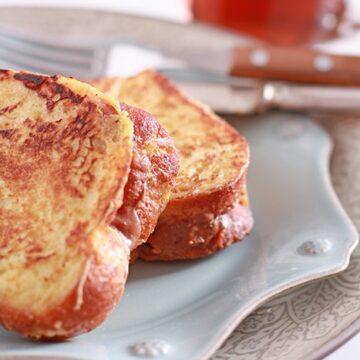 Stuffed Brioche French Toast
Ingredients
1

loaf

brioche

preferably stale; I got 8 slices out of my loaf, sliced into 1-inch thick slices

3

tablespoon

plum jam

or whatever jam you fancy

60

grams

Philadelphia cream cheese (full fat, regular)

or mascarpone, room temperature

2

large egg(s)

125

mL

skim milk (fat free)

¼

teaspoon

ground cinnamon

unsalted butter

for cooking the French toast

maple syrup

for drizzling
Instructions
With a small serrated knife, cut a slit in each slice, along an edge, to form a pocket that can be filled. Set aside.

In a small bowl, cream together the cream cheese (or mascarpone) and the jam.

Stuff each slice of bread with about a tablespoon of the jam and cheese mixture.

In a shallow dish or a pie plate, whisk together the eggs, milk, and cinnamon.

Meanwhile, preheat a fry pan over medium-high heat.

Soak each stuffed slice in the egg mixture for 5 seconds on either side.

Place a piece of butter in the heated fry pan, and fry the French toast in batches.

Serve immediately with a generous drizzling of maple syrup.
Nutrition
Calories:
500
kcal
Carbohydrates:
52
g
Protein:
14
g
Fat:
27
g
Saturated Fat:
15
g
Cholesterol:
244
mg
Sodium:
486
mg
Potassium:
111
mg
Fiber:
1
g
Sugar:
9
g
Vitamin A:
1112
IU
Vitamin C:
1
mg
Calcium:
117
mg
Iron:
1
mg