Baked apples are an easy fall dessert that require no special equipment or ingredients. You can top them with vanilla ice cream and a quick caramel sauce for a comforting fall dessert.
Types of apples for roasting
If you want to roast apples and have them keep their shape when served, use a firm apple that can withstand cooking. The types of apples
Apples that hold their shape:
Gala apples are sweet and hold their shape when baked, so are great for roasting
Honeycrisp apples are sweet and bake beautifully. These work well for roasting and in desserts like apple tarte tatin.
Granny Smith apples (green apples) that are firm and in season are best, otherwise if they are soft or out-of-season, they may break down.
Cortland apples that are firm and in season work decently well, but they will be very delicate once roasted.
Apples that don't hold their shape:
McIntosh apples and similar varieties are more appropriate for sauces and shouldn't be used for roasting unless you plan to purée them after.
Disclosure: As an Amazon Associate, I earn from qualifying purchases.
How to brown butter
Brown butter is my favourite kind of butter. Beurre noisette is the French baking term for it and it's made from butter. Don't confuse it with beurre de noisette, hazelnut butter.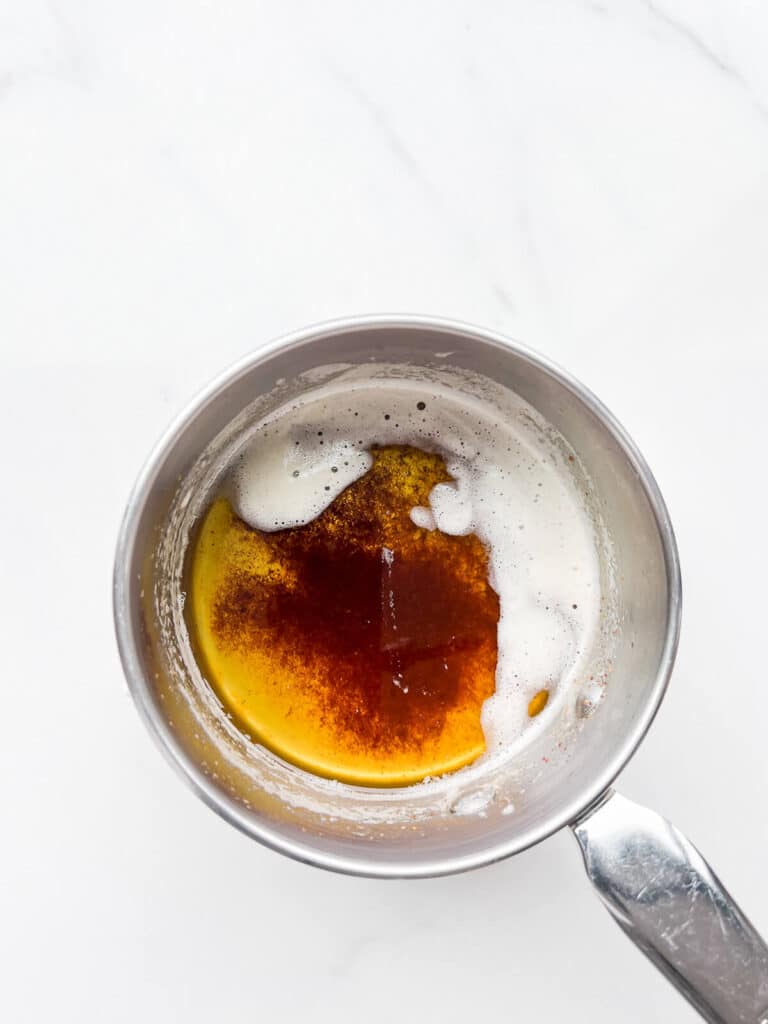 Browning butter is easy: you stick your butter in a saucepan and heat it on medium until the butter is fully melted and the milk solids turn golden brown delicious. I think this is one case when "the nose knows" because usually my nose can tell the butter is browned before my eyes have caught up with what's going on at the bottom of the saucepan. Every butter browning session is a moment of zen, standing over the saucepan, swirling every so often, listening to the sizzle, taking in the scent of butter.
I used brown butter to make this quick caramel sauce. It's a quick brown sugar sauce based on the recipe in the marmalade puddings post.
Remember that corn syrup in caramels and quick caramels helps prevent the caramel sauce from crystallizing.
I made this whiskey sauce slightly thicker by adding less water to the recipe, and also I flavoured it with some booze because, as I pointed out earlier, I knew this sauce would taste great with a little booze, and would be perfect served over baked granny smith apples.
In summer, you can serve it with roasted peaches. Of course, you can serve baked apples as is, but the vanilla bean ice cream on top makes it even better!
Note that I didn't core the apples, and instead I just cut them in half. For a more "sophisticated" dessert, you might want to core/remove the seeds.
📖 Recipe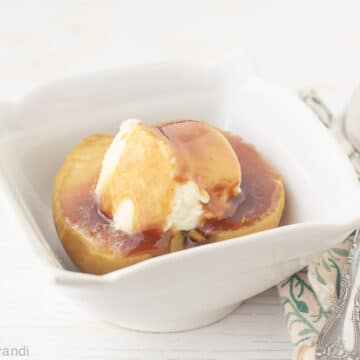 Baked Apples with Brown Butter Whiskey Sauce
Learn how to bake apples with this easy recipe! You can top them with a quick brown butter whiskey sauce and vanilla ice cream for an easy fall dessert.
Ingredients
Baked apples
4

Granny Smith apples

sliced in half

30

grams

dark brown sugar

115

grams

unsalted butter
Brown butter whiskey sauce
87

grams

unsalted butter

200

grams

dark brown sugar

30

mL

corn syrup

optional, but best to use to avoid the sauce crystallizing as it cools

60

mL

water

2

large egg yolk(s)

lightly beaten

30

mL

whiskey

I used Jack Daniel's
Instructions
Baked apples
Preheat the oven to 350 °F (175 °C) and line a rimmed baking pan with parchment. Cut your apples in half. If the halves don't sit flat with their cut side up, you can trim a thin slice off the rounded side of each apple half so that they can sit straight/flat in the pan.

Top each half with a tablespoon of butter and a teaspoon of brown sugar.

Roast the apples for about 40 minutes or until they are tender.
Brown butter whiskey sauce
While the apples are roasting, prepare the brown butter whiskey sauce.

Melt and brown the butter in a saucepan on medium heat until you can smell the nuttiness and the milk solids turn to a deep golden brown. Swirl the pan often so that the milk solids don't burn on the bottom.

Remove the saucepan from the heat, then stir in the cup of dark brown sugar, the corn syrup, and the water (carefully because the pan is hot!). Whisk the mixture over medium heat and bring it just to a boil, making sure that all the sugar is dissolved.

Pour half the hot sugar mixture over the yolks and whisk to temper the eggs, then add them to the saucepan. Bring the sauce to a boil and boil for 1 minute on medium heat, whisking constantly.

Strain the sauce into a heatproof container then stir in the whiskey.

When the apples are done baking, serve each half drizzled generously with brown butter whiskey sauce and with a scoop of ice cream.
Nutrition
Calories:
372
kcal
Carbohydrates:
44
g
Protein:
1
g
Fat:
22
g
Saturated Fat:
13
g
Polyunsaturated Fat:
1
g
Monounsaturated Fat:
6
g
Trans Fat:
1
g
Cholesterol:
103
mg
Sodium:
17
mg
Potassium:
147
mg
Fiber:
2
g
Sugar:
40
g
Vitamin A:
745
IU
Vitamin C:
4
mg
Calcium:
42
mg
Iron:
1
mg