Learn how to make this easy Earl Grey chocolate tart with whipped cream. You will start by making a graham cracker crust and filling it with an enriched dark chocolate ganache filling. The whole thing is topped with a mascarpone stabilized whipped cream for a decadent flavourful chocolate dessert.
This post is sponsored by Cacao Barry.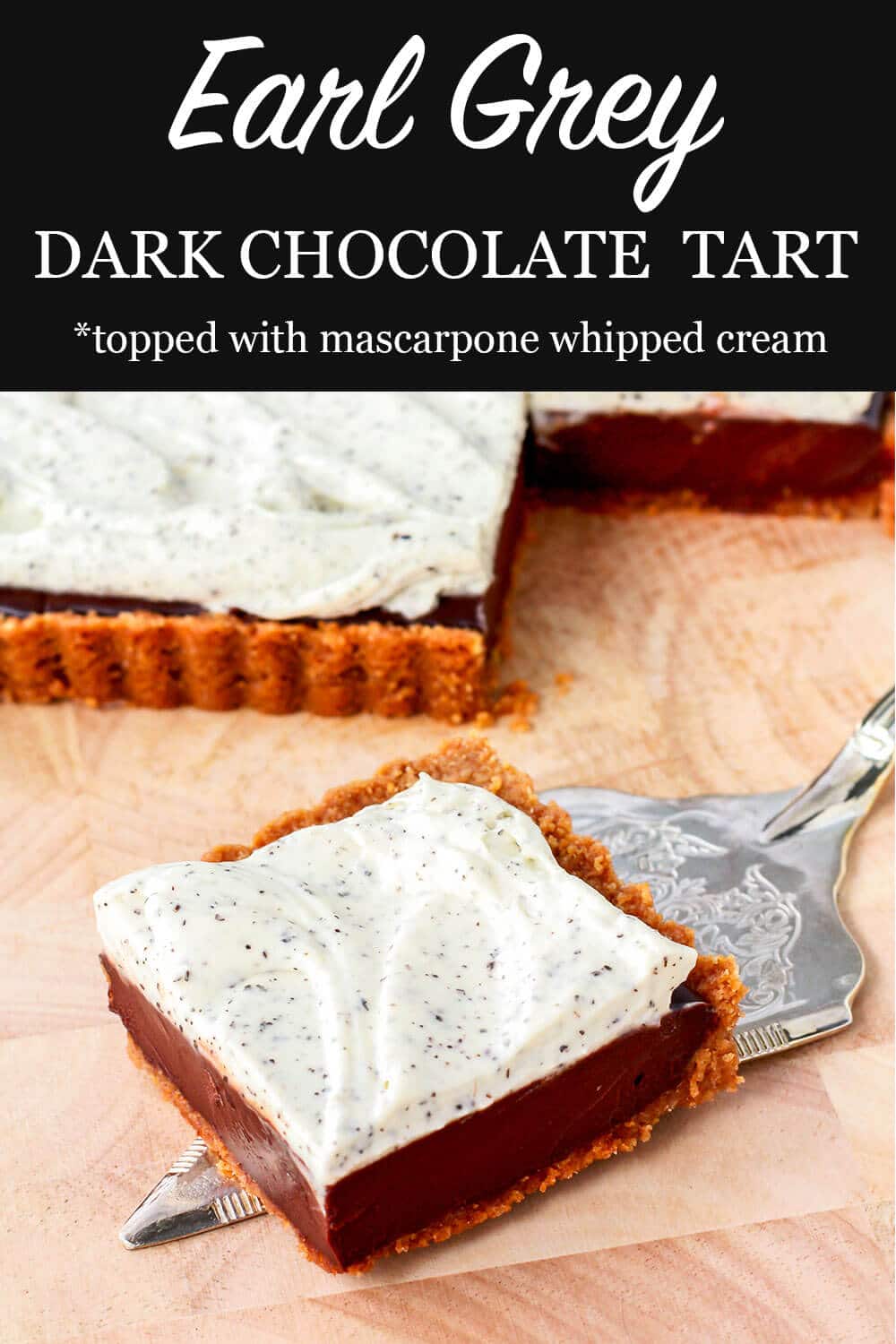 Disclosure: As an Amazon Associate, I earn from qualifying purchases.
I think one of the easiest tarts you can make is a chocolate tart that is filled with ganache and chilled in the fridge to set the filling. The dark chocolate ganache filling and whipped cream topping require no baking. The graham cracker crust is pressed into the tart pan and baked. No rolling pins are required for this crust!
I used leftover homemade graham crackers for this graham cracker crust, but by all means, use store-bought graham crackers or graham cracker crumbs to save time!
If you are a fan of tea-flavoured desserts, check out this recipe for Earl grey panna cotta tarts and this Earl Grey cake!
Jump to: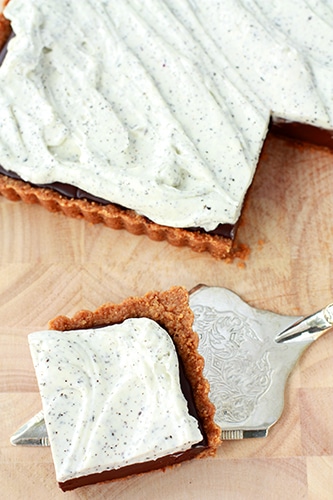 Ingredients
graham cracker crumbs made from graham crackers (but you can also just buy a box of pre-ground graham cracker crumbs!)
sugar, both granulated sugar for the crust and icing sugar (also called powder sugar)—if you aren't sure of the difference, please read all about sugar in baking
butter, preferably unsalted because we don't want the components to be overly salty
cream, both 10 % fat and 35 % whipping cream
loose leaf Earl Grey tea to infuse the filling and to add to the whipped cream topping
high-quality dark chocolate—I used 70% dark chocolate from Cacao Barry, but Lindt and Valrhona are also great options depending on your price point
vanilla accentuates and brings out the flavours in this recipe—use pure vanilla extract (storebought or homemade)
salt to balance out the flavours and also to make them pop more. I use Diamond Crystal fine kosher salt. If you are using regular table salt, use half the amount!
mascarpone cheese is added to the whipped cream to stabilize it, yielding a thick creamy whipped cream topping that is stable and doesn't weep.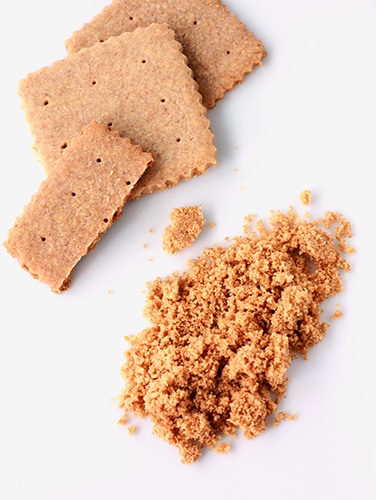 Baked graham cracker crust versus chilled
The recipe below has you bake the graham cracker crust. Baking it helps the crust stay together when sliced and served so that it is less crumbly. Technically, baking is entirely optional when it comes to graham cracker crusts.
If you want to make a no-bake chocolate tart, this recipe will work fine. To skip the baking step for the graham cracker crust, chill the tart shell while you make the ganache filling. Then pour the filling into the unbaked graham cracker crust and chill again to set the filling (preferably overnight), just like you would do for a no-bake cheesecake with a graham cracker crust. The crust will be a little more delicate without baking, but will still work well!
Special equipment
Remember to use a square tart pan with a removable bottom to make serving easy. Use this trick to remove the tart from the tart pan.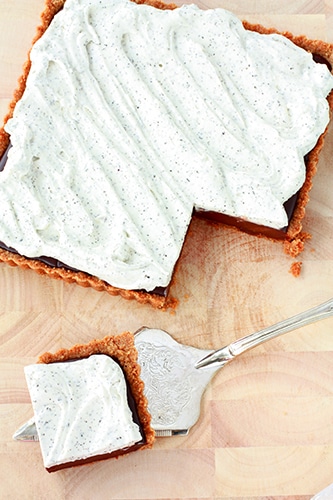 Dark chocolate ganache versus truffle filling
The original tart recipe is from Abby Dodge and was published in Fine Cooking. This is a gorgeous recipe for a decadent chocolate tart that is sure to please chocolate enthusiasts and lovers of all things graham cracker.
The ganache filling is referred to as a truffle filling because it's more than just a dark chocolate ganache made from dark chocolate and cream. The truffle filling includes a little butter, vanilla, and a pinch of salt to round out the texture and flavour of this no-bake chocolate filling.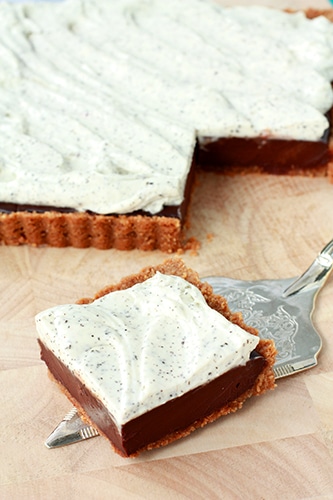 It's still just as easy as a simple chocolate ganache filling, and the butter helps add shine and stability to ganache fillings. Some will make the dark chocolate ganache filling for tarts with eggs (either whole eggs, egg yolks, or a mixture of both). Again, the eggs help with the emulsion. In this case, when egg yolks or whole eggs are added to a ganache mixture, usually the tart is baked in the oven to set or cooked on the stove, like for stovetop chocolate pots de crème.
Note that to make the best chocolate truffle fillings and chocolate ganaches, you should use the best chocolate that you can buy. For this recipe, I used Cacao Barry Ocoa 70% dark chocolate, which is a professional quality dark chocolate that you can buy in IGA grocery stores in Quebec and online from Vanilla Food Company. It comes in 1-kilo resealable bags as pistoles (which resemble giant flattened chocolate chips). The texture of the dark chocolate ganache filling is wonderfully smooth with this chocolate!
Substitutions
If you aren't a fan of dark chocolate, you can use milk chocolate, but you will have to modify the ratio of chocolate to cream to ensure the tart filling sets firmly. Check out this raspberry chocolate tart which has a milk chocolate ganache filling that you may prefer. You can use that exact filling with this graham cracker crust, though you will have to prepare more filling (1.25 times the milk chocolate ganache filling is required to fill a 9-inch square tart shell).
Do not use chocolate chips or compound chocolate for chocolate ganache. These are too sweet and contain unnecessary fats (often hydrogenated) that make for a less tasty filling. If you need help picking what chocolate to bake with, check out my guide to the types of chocolate for baking to find the best chocolate for every baking recipe.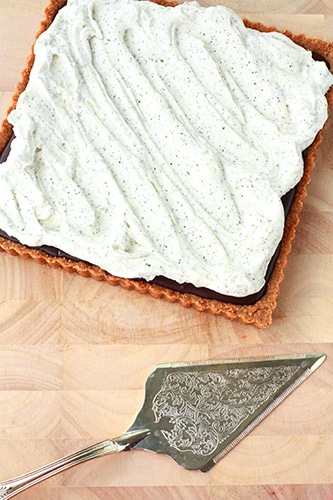 Mascarpone stabilized whipped cream
I topped this dark chocolate tart with whipped cream, but a more stable version of whipped cream made with mascarpone. When you incorporate mascarpone into whipped cream, you form a more stable whipped cream that is less prone to weeping. Mascarpone stabilized whipped cream can be used to garnish tarts and desserts without worrying that the whipped cream will deflate, lose volume, and break down.
Other ingredients to stabilize whipped cream include:
gelatin that is softened in cold water and then melted before adding to whipped cream—this is a favourite method of pastry professionals to stabilize fillings
cornstarch but this can leave a powdery mouthfeel so use with caution
yogurt (check out this fresh strawberry cream tart)
I added finely chopped Earl Grey tea leaves to the whipped cream topping, lending a slightly floral, citrusy note to the cream. I loved the look of the flecks of tea throughout the bright cream and these too could help absorb any moisture released from the whipped topping. Honestly, I'd use this mascarpone cream again for other recipes that benefit from refrigeration, like maybe for a trifle.
Other baking recipes infused with Earl Grey tea
If you like Earl Grey tea, you can also try these other Earl Grey tea-infused desserts:
📖 Recipe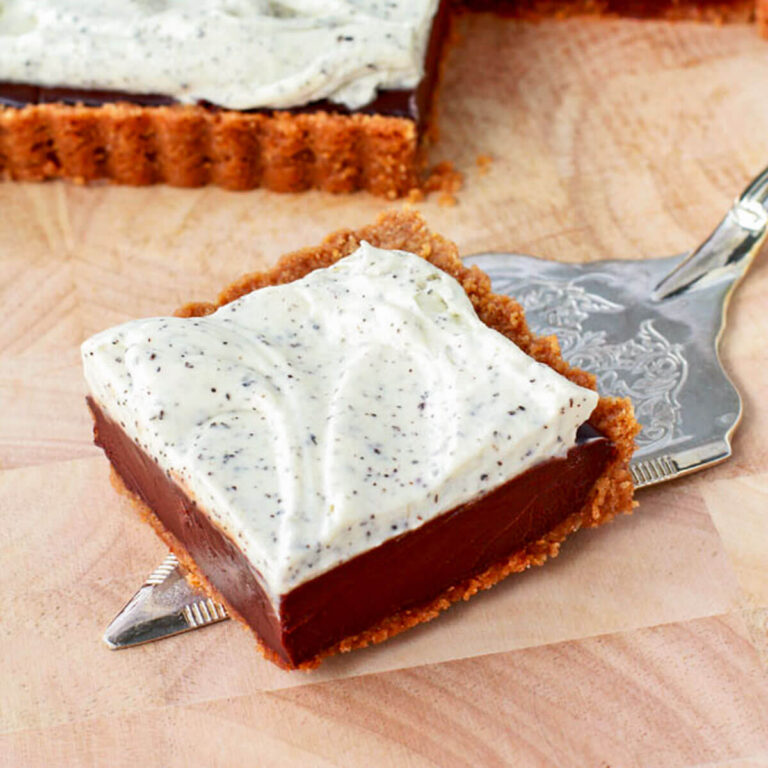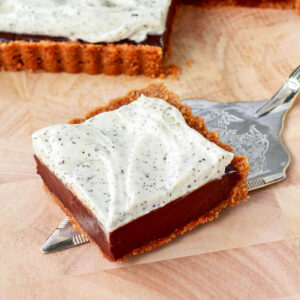 Earl Grey Chocolate Tart
Learn how to make a beautiful easy Earl Grey chocolate tart with whipped cream and a graham cracker crust. You can make this a no-bake dessert by chilling the graham cracker crust instead of baking it! The mascarpone helps stabilize the whipped cream topping so that it doesn't weep.
Ingredients
Earl Grey chocolate ganache fiilling
Earl grey whipped cream
250

grams

mascarpone cheese

188

mL

whipping cream (35 % fat)

50

grams

icing sugar

12

grams

loose leaf Earl Grey tea

finely chopped
Instructions
Graham cracker crumb crust
Preheat the oven to 350°F. Have a 9-inch square tart pan with removable bottom ready (like this one from Amazon), placed on a baking sheet so that you can easily transfer to and from the oven.

In a medium bowl mix the crust ingredients until the butter has evenly coated all the crumbs.

Pour the crust mixture in the tart pan, and press it out firmly and evenly all over the base and up the sides of the pan.

Bake the crust for about 10 minutes. Remove the pan from the oven and set it on a wire rack to cool. If you are unsure about this step, check out my tips on how to remove a tart from a tart pan.
Earl Grey chocolate ganache filling
Begin by simmering (not boiling) the cream in a small saucepan with the tea bags for about 10 minutes over medium-low heat. Remove the pan from the stove, but leave the tea bags in while you work on the chocolate.

In a large microwave-safe bowl, melt the chocolate with the butter in the microwave on power level 5, microwaving for 1 minute at a time, then stirring, and repeating, until it is all melted and smooth.

Remove the tea bags from the cream and add the tea-steeped hot cream to the chocolate mixture and stir until it is smooth (if the cream was a little cold, and the mixture appears curdled, just microwave it again for a couple minutes on power level 5, stirring every minute).

Add the vanilla and salt.

Let the chocolate ganache you've just made sit on the counter, for an hour or so, to cool and set just enough that it is still pourable, but not super liquid (you know what I mean?).

Transfer the ganache to the tart shell using a rubber spatula, being sure to not get chocolate on the edges, and also to not disturb the delicate edges of the crust.

Let cool completely, cover, and refrigerate until the filling is set, about 4 hours and up to 8 hours before proceeding with the recipe.
Earl Grey whipped cream
In the bowl of an electric mixer fitted with the paddle attachment, whip the mascarpone, cream, sugar, and tea leaves on low, to combine, then on medium-high, until the mixture is thick and holds firm peaks. Don't overbeat, or you'll make butter (tasty, but not what we're going for here…).

With an offset spatula, spread the topping over the set tart, leaving pretty swirls and peaks of cream. Don't worry if a little ganache is peaking through the cream. It looks better like that.
Notes
For a no-bake chocolate tart, skip the graham cracker crust baking step and instead chill the crust thoroughly while you make the filling. The no bake graham cracker crust might be slightly more delicate than a baked graham cracker crust, but the crust will still be sturdy enough to unmold and slice once the filling has properly set.
Ocoa is a dark chocolate produced by Cacao Barry. It has a 70% cocoa content and is not overly sweet! Ocoa is available at IGA stores in Quebec, or you can order it online from Vanilla Food Company and have it shipped across the US & Canada!
Nutrition
Serving:
16
g
Calories:
337
kcal
Carbohydrates:
27
g
Protein:
3
g
Fat:
24
g
Saturated Fat:
13
g
Cholesterol:
41
mg
Sodium:
121
mg
Potassium:
209
mg
Fiber:
2
g
Sugar:
13
g
Vitamin A:
460
IU
Vitamin C:
0.2
mg
Calcium:
54
mg
Iron:
3.2
mg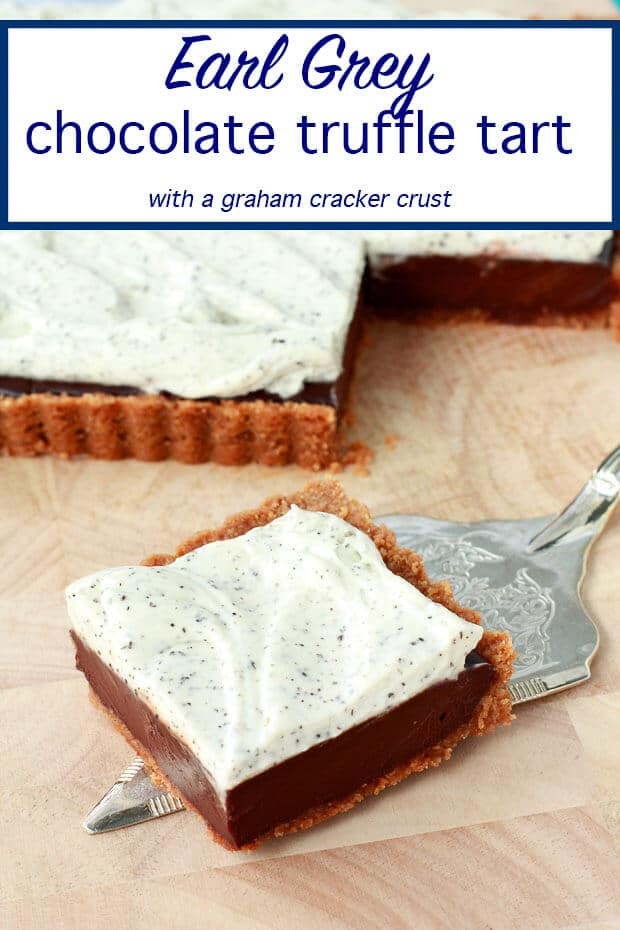 This post is sponsored by Cacao Barry. I was compensated monetarily and with product. Thanks for supporting the companies that allow me to create content. As always, please know that I wouldn't work with a sponsor nor recommend a product if it wasn't worth it.