Are you looking to get a gift for your favourite baker? Or maybe you have a friend who is a foodie with a sweet tooth. Here's a rundown of some amazing gift ideas for bakers (and foodies) to get that favourite person in your life who loves to bake and eat as much as you do!
THIS POST CONTAINS AFFILIATE LINKS. AS AN ASSOCIATE I EARN FROM QUALIFYING PURCHASES.
Please note that the photos of the products featured here were used with permission from the companies featured.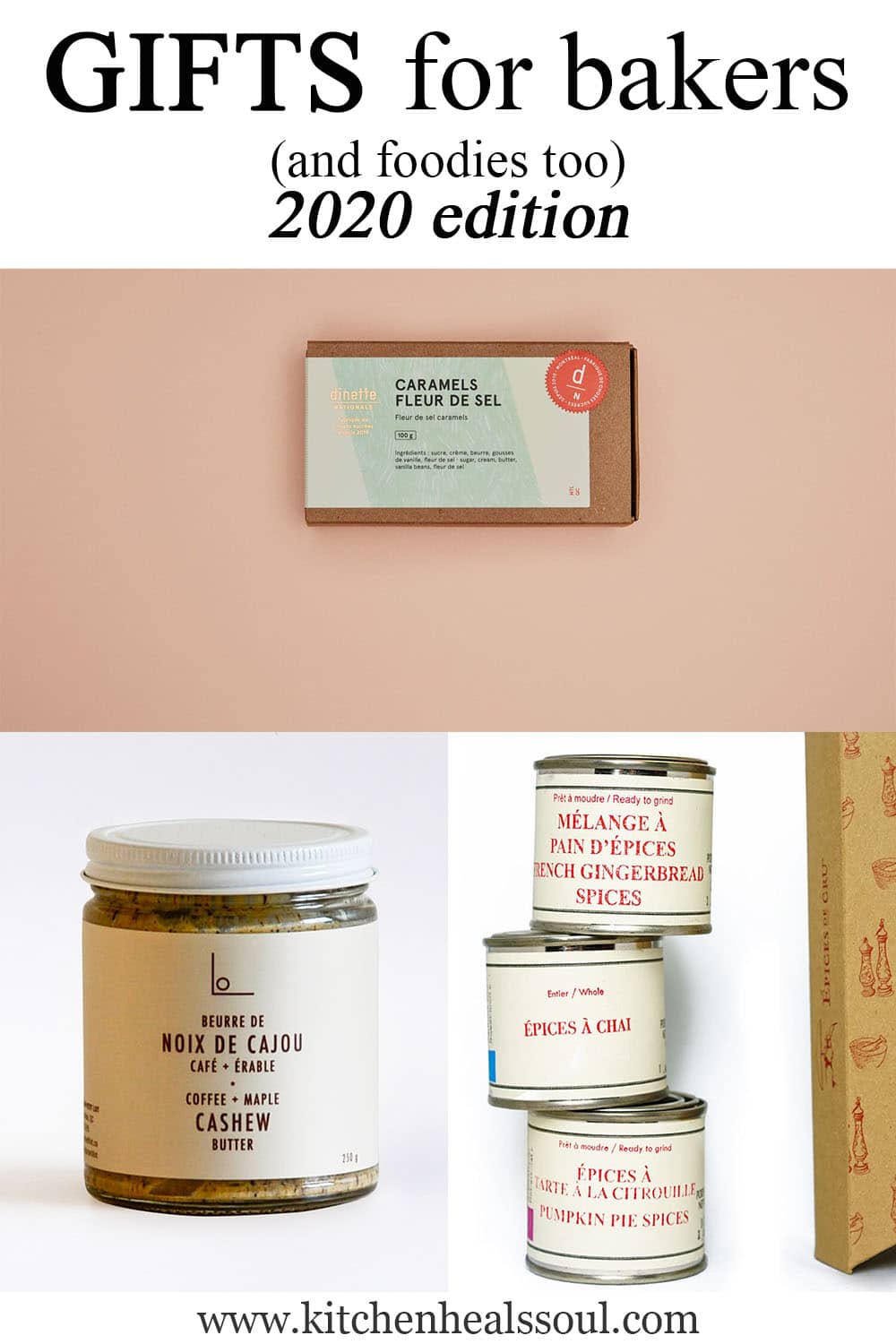 Disclosure: As an Amazon Associate, I earn from qualifying purchases.
Edible gifts
Here are some edible gifts that you can make yourself at home to give out as gifts:
A tin of homemade cookies is always appreciated around the holidays. Opt to share "dry" cookies, like jam-filled shortbread cookies, maple cream cookies, gingerbread cookies, slice-and-bake fruitcake cookies, spritz cookies, or even these buckwheat cookies with cocoa nibs. Check out this page of Christmas cookies that are perfect for gift-giving.
If you are short on time, here are some other options. Leave it up to the pros and it will make your lives a whole lot easier! The holidays are hectic enough. Consider ordering from these small companies!
Fun and fancy nut butters
Logan Petit Lot is a small company that I fell in love with a few years ago at a local craft fair. They produce nut butters and spreads in Montreal, Quebec. The company discloses where the ingredients come from so you know transparency is important to them. Their latest line of products includes a chocolate + sea salt peanut butter spread that I'm dying to try since I tend to make my own version of Nutella without hazelnuts!
I have given out their delicious Cashew butter with toasted sesame and maple and Cashew butter with coffee and maple as gifts at Christmas for many years and they are always enjoyed and appreciated. The company ships across Canada and to other countries too, but please note that the price of shipping will vary based on the destination and the dimensions and weight of the box.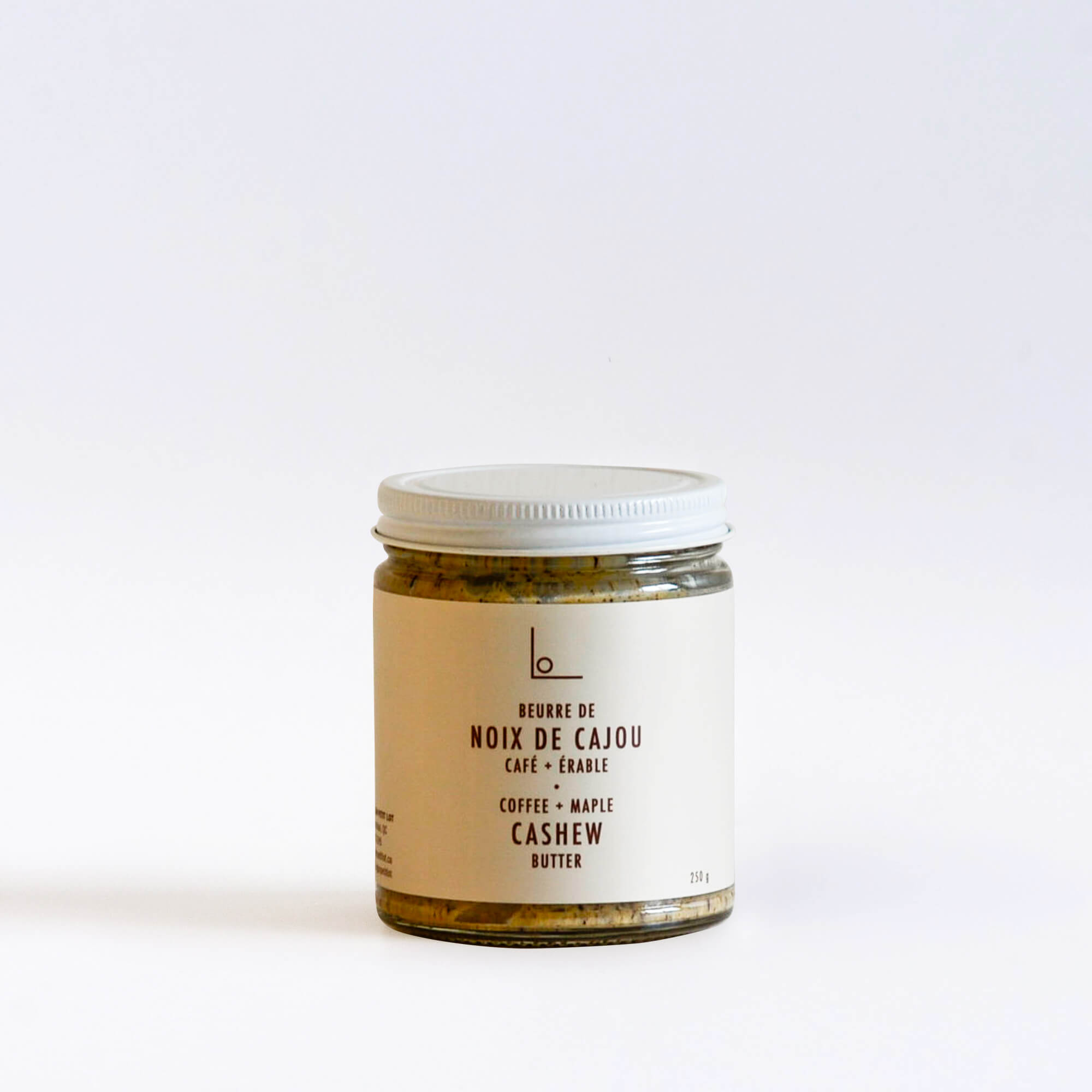 Spices from around the world
Épices de Cru is another fantastic Montreal company that is known and loved across Canada. They are dedicated to sourcing the best from the spice world, across the planet, and they package their spices in cute little tins. In my experience, whenever I come across a recipe with a spice I'm not familiar with, I know that they will probably have it. And the beautiful thing about their products, again, is that they disclose the countries of origin of their spices. Actually the origin has an impact on the flavour of the product so, for example, they sell Ethiopian black cardamom, Chinese black cardamom, and Indian black cardamom, and each one has a distinctive flavour profile. On their website, you'll find gift boxes and spice kits that would make great gifts. Shipping is free for orders over $45. Épices de Cru does ship internationally as well!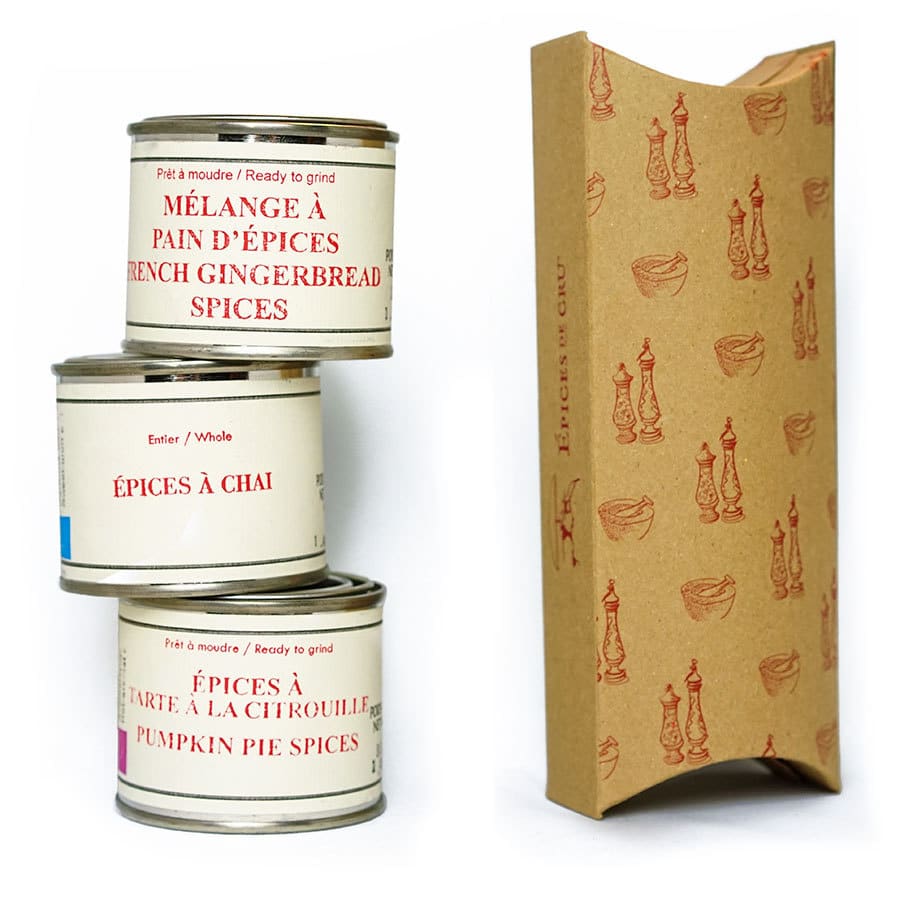 Small-batch candies from Dinette Nationale
If you want to send out sweet treats as a gift, Dinette Nationale is a favourite of mine. They make all kinds of fun treats, such as pâte de fruits, caramels, nougats (which I got for my dad one year because he loves nougat), candies, preserves, syrups, and granola. They do ship across Canada with Canada Post, and for international orders, note that there may be duty or other fees.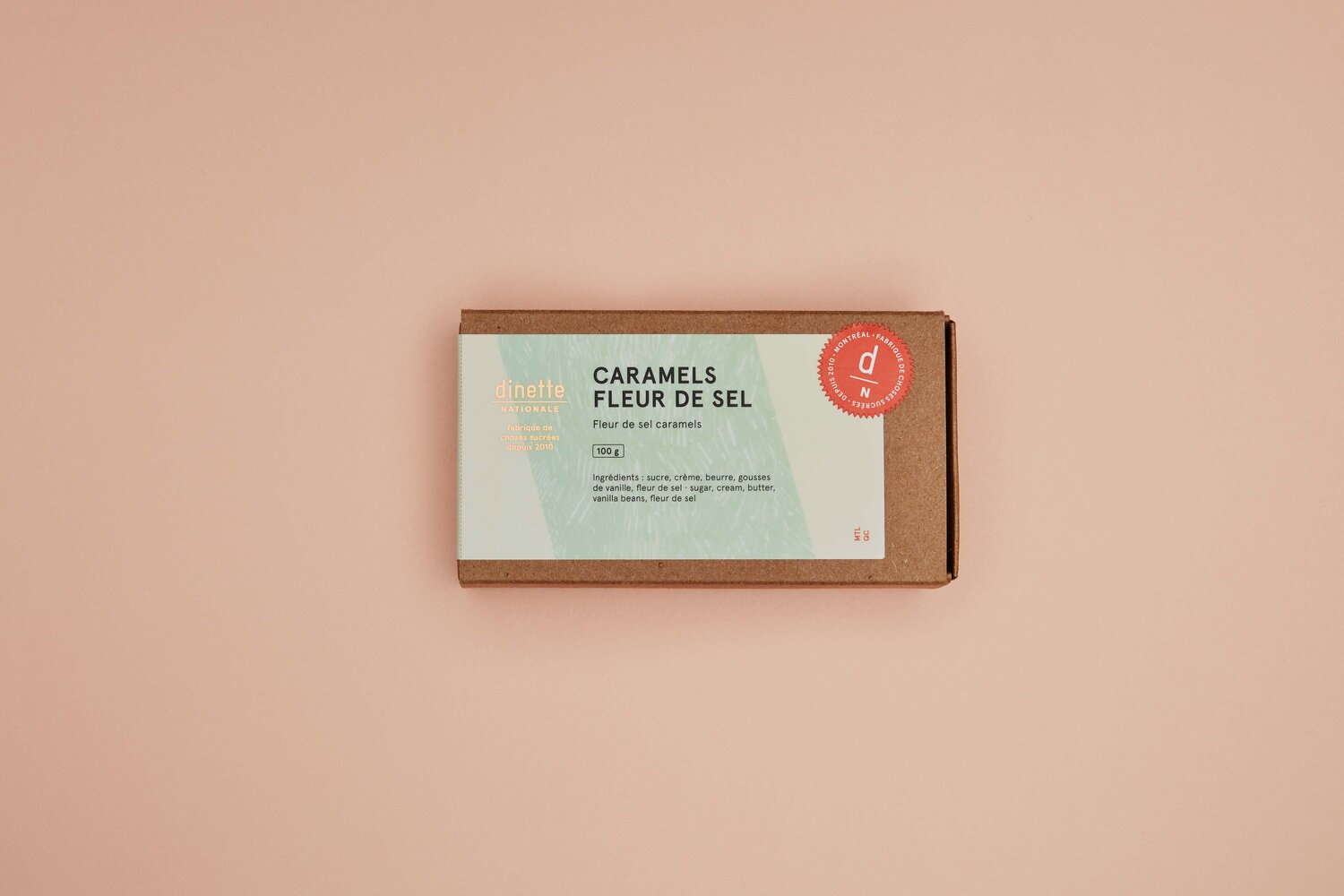 Fancy salts from La Pincée
La Pincée produces flavoured salt mixes that are great for finishing dishes but also for making gravlax. I always have a jar of La Pincée's classic salt blend in my kitchen (Number 1 in their series of salts). It's good on basically anything. I also love their Citronnée salt (Number 6 in the series), which I enjoyed on my garden tomatoes all summer long. You can't go wrong with any of their salt blends. I've bought the spicy salt (Number 10) and the BBQ blend (Number 5) for my dad, but they all make great gifts. La Pincée ships across Canada, but they also take international orders.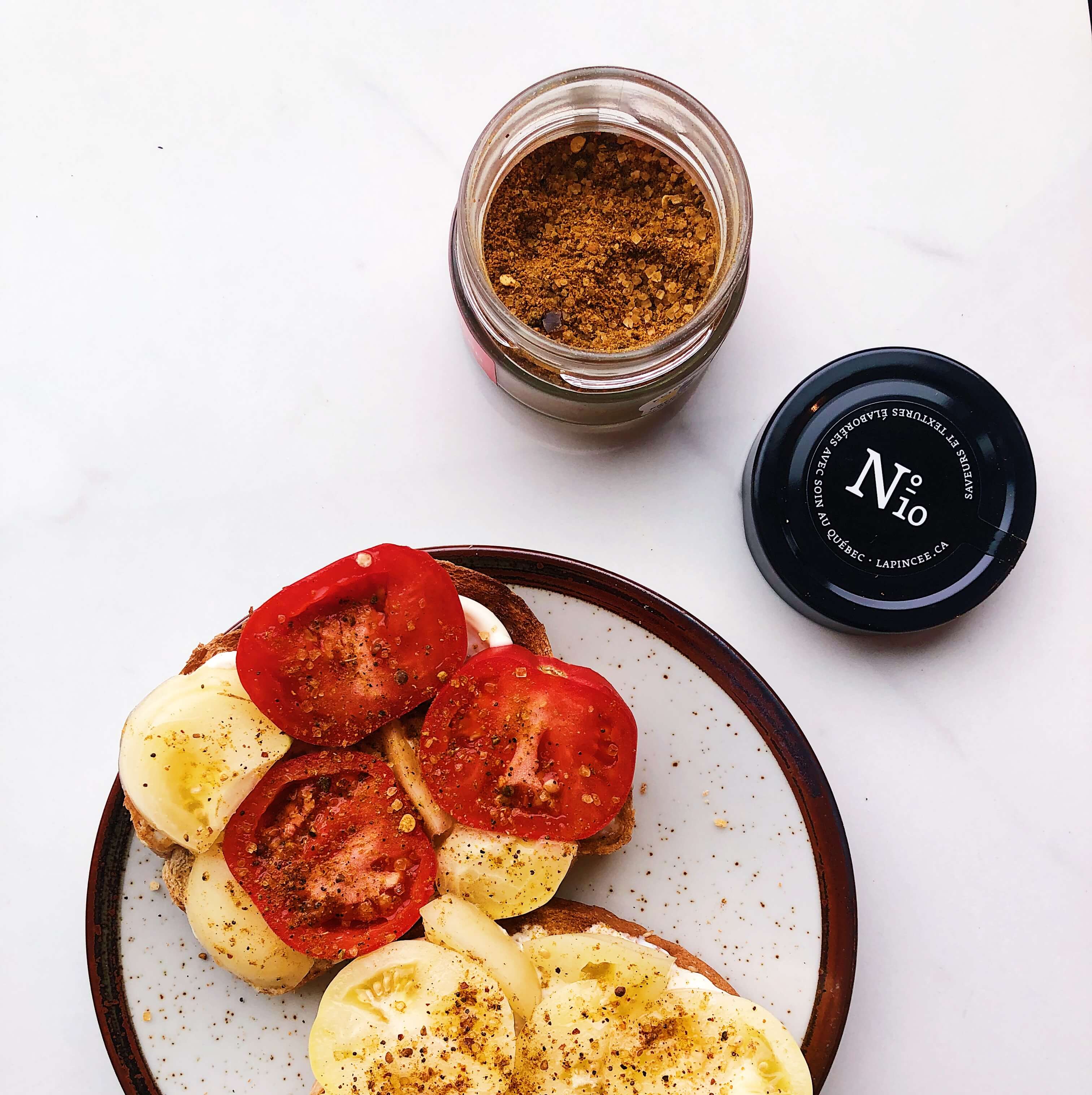 Special equipment that every cook and baker could use in the kitchen
A lot of bakers already have the basics in their kitchens to get the job done. But sometimes, it's nice to give them special items that are hand-crafted or a little pricier than what they'd usually spend on themselves. These gifts are truly special and will make great investments for the baker in your life who will no doubt love every one of these!
ThermoWorks Thermapens and digital thermometers
I recommend ThermoWorks fast-reading digital thermometers, specifically the Thermapen and the ChefAlarm (which can double as an oven thermometer if you use it with the air probe!
Baking conversion charts
The complete baking conversion charts bundle is a great digital gift for any baker, whether a beginner or an advanced baker.
Baking Conversion Charts Bundle
The conversion charts are for ingredients, pans, temperatures, volumes, weights, and more. They are packed with lots of information and useful tips and tricks! And they can be printed too! Buy them now!
Nordic Ware bundt pans and bakeware
Nordic Ware is an American company that makes high-quality bakeware. They are especially well known for their bundt pans, producing a wide range of styles that vary from classic to intricate shapes. Right now, I only recommend the Nordic Ware bundt pans. The bundts you see on this site are all baked in the Nordic Ware Anniversary pan, which has a classic silhouette. I've worked with the Heritage pan as well. These pans are heavy duty and if you treat them right and use them correctly, your bundt cakes won't stick to the pan!

I also highly recommend the Nordic Ware cookie stamps, which are beautifully crafted with sturdy wood handles. I've used them for these stamped soft gingerbread cookies and these stamped chocolate cookies. You can buy the Nordic Ware cookie stamps on Amazon, including the super cute star-themed winter cookie stamps, and they would definitely make a lovely gift.
Cake stand
I think a lot of bakers might now have a cake stand to display their cakes to serve to guests. Most of us tend to just use a dinner plate, but a cake stand is a really special gift. This Ateco turn table for cake decorating doubles as a stylish cake stand. Get it on Amazon.
French rolling pin
Having tested out all kinds of rolling pins of a variety of shapes, sizes, and materials, I still prefer French rolling pins made of wood. If there's somebody in your life who likes to bake, a gorgeous handcrafted rolling pin will make a beautiful gift. Check out this wood French rolling pin on Amazon.
Special thank you to the small businesses that allowed me to use their photos so that I could feature their products in this article. Please consider shopping from these small companies that are dedicated to creating quality goods.